The Cincinnati Zoo & Botanical Garden is releasing two of its manatees back into their native Florida waters after they have undergone a successful rehabilitation.
Manatees Pippen and Truffleshuffle are the 19th and 20th graduates of Cincinnati Zoo's on-site rehabilitation program since the zoo joined the U.S. Fish and Wildlife Service's Manatee Rescue and Rehabilitation Partnership (MRP) over two decades ago. Only two U.S. zoos outside Florida are active members of the MRP program.
"It's tough to see them go," Cincinnati Zoo's manatee curator, Winton Ray, admitted, according to a 
press release
 dated Sept. 16, "but it's also a moment to celebrate."
"Our role in the MRP is to rehabilitate sick, injured, and orphaned manatees that have been rescued and so they can ultimately be released back into the wild," Ray further explained.
Ray called it "an honor" for the zoo to be involved in the program and have the opportunity to "help these amazing animals get a second chance at life in the wild."
Manatee males Pippen and Truffleshuffle have been companions at the zoo's Manatee Springs enclosure since one of them arrived in October 2019. The pair's return to their native Florida waters will be a gradual process, and they will not necessarily be released together.
Before returning to the wild to fend for themselves, the pair will make a pit stop at SeaWorld Orlando, chaperoned by Cincinnati Zoo's head veterinarian and its manatee keepers. They will have the chance to reacclimate to the weather and temperature conditions in Florida before their caretakers release them.
Truffleshuffle, Cincinnati Zoo explains, will likely be released in early 2021. It is anticipated that Pippen, the smaller male, may need more time before he is ready to return to the ocean.
The Florida manatee—Trichechus manatus latirostris, nicknamed the "sea cow" for its herbivorous diet of seagrasses and other aquatic plants—was downgraded from endangered to threatened in 2018. The species, however, remains at risk from both environmental factors and human intervention.
Factors such as habitat degradation, red tides (a surplus of sea algae), and unusually cold spells of weather pose a threat to manatee numbers, explains the
Marine Mammal Commission
. The large, slow-moving creatures are also regularly struck by boats at sea, often sustaining fatal injuries.
According to the
U.S. Fish and Wildlife Service
, the manatee's extant population is now doubly protected under the Endangered Species Act and the Marine Mammal Protection Act. As of 2020, there are approximately 6,300 manatees living in Florida waters.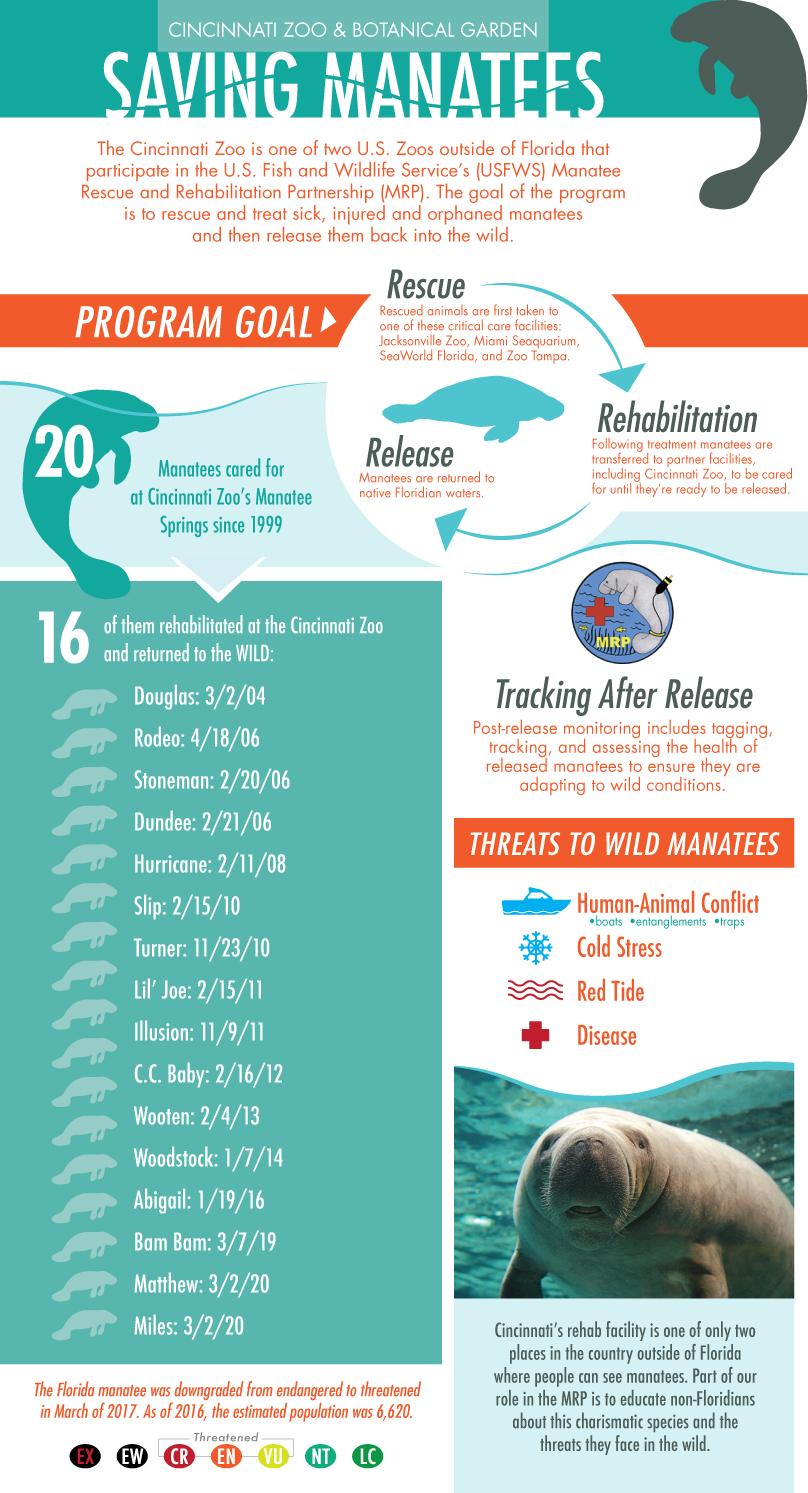 After Pippen and Truffleshuffle's departure, Cincinnati Zoo will be halting the admission of new manatees to its Manatee Springs enclosure until the spring of 2021, according to the 
press release
. During this time, visitors to the zoo will still be able to visit the enclosure's snapping turtles, alligators, crocodiles, snakes, and fish.
Sept. 18, however, marked the very last day that visitors to Cincinnati Zoo were able to see Pippen and Truffleshuffle in the manatee enclosure before the pair are set to embark on their onward journey, and their final destination to Florida waters that they'll soon call home.
We would love to hear your stories! You can share them with us at emg.inspired@epochtimes.nyc