Not many of us can claim to be both a high-achieving businesswoman and an internationally-recognized high-endurance athlete, but Rhonda Vetere has both titles under her belt. She's been recognized as one of the 50 Most Powerful Women in Technology by the National Diversity Council for her influence in the tech industry, as well as the Ironman Bronze All-World Athlete for completing nearly 100 Ironman 70.3 events (the number refers to the number of miles covered in the triathlon race). In the following interview, American Essence spoke with Ms. Vetere about her unique perspective connecting STEM (science, technology, engineering, math) and sports and their shared attributes of innovation, problem-solving, and focus.
American Essence: As a global tech leader and high-endurance athlete, how do you manage to balance your corporate responsibilities and your fitness routine?
Ms. Vetere: I've always found that my fitness improves my business acumen and vice versa. I'm as steadfast in my preparation for races and events as I am with board meetings and key initiatives. From the laid out plans to the last minute tweaks, the routine, the commitment, and the feeling when I cross the finish line help me stay motivated and balanced with everything I do.
American Essence: In your opinion, what are the key qualities or skills from athletics that translate well into the corporate world?
Ms. Vetere: I'm a firm believer in the "Sports-STEM Connection." Studies have shown the strong link between the mindsets of athletes and those involved in STEM industries. ... In technology, we are always forced to pivot and adapt, re-think the problem from a new angle, and, at all times, remain goal-oriented. I find that former (or current) athletes thrive in these industries as they have faced similar challenges physically and mentally.
American Essence: Can you share an instance where facing a particular challenge led to unexpected growth and learning?
Ms. Vetere: Through the years, I've completed 23 mergers and acquisitions, all with their own set of individual challenges. The largest of which stretched across 162 countries and saved the company $150 million. I was running on empty.
During 2020, I was able to take a step back and re-evaluate. My team was spread across 95 countries and working around the clock. ... I scheduled "wellness breaks" during business hours to allow for appropriate time to decompress, take a walk, meditate—whatever was needed. My workforce truly appreciated this pivot, and you could tell in the results they produced. Now I know, as do we all, the importance of these mental health checks, especially under extenuating circumstances such as a global pandemic.
American Essence: As a high-achiever, how do you strike a balance between pushing your limits and avoiding burnout during difficult times?
Ms. Vetere: When times are challenging, or I'm fatigued, I've learned to listen to my body and to push it in different ways, then to go back to the regimen with renewed focus and motivation. ... It's also important to have a "why." For me, knowing why I'm doing something—like the NYC SEAL Swim to honor my father and grandfather—helps me to keep training without getting burned out as easily. It's about prioritizing what's important in your life and executing on it. Cut out what doesn't serve you and run toward what does.
American Essence: Can you share some strategies you use to maximize your time and productivity throughout the day?
Ms. Vetere: I highly recommend creating a list at the top of each week and day to outline key goals, action items, and aspirations looking ahead. I've found this helps to keep me organized and motivated, ready to tackle the challenges of the week ahead, and proud of my accomplishments from the week previous.
Take care of yourself. Not just your body, although that's important, but also your mind. You will find it pays off in spades.
American Essence: Your racing schedule seems meticulously planned. How do you adapt when unexpected work demands arise?
Ms. Vetere: Thank you, I work hard to plan a calendar of events that keep me motivated without fear of exhaustion. My year is planned as soon as the Ironman 70.3 schedule is released, including my professional commitments, my nutrition, my travels, and my overall training. However, life doesn't always go as planned, so I go back to the drawing board and re-evaluate at each stage and before each race to make sure I'm present, I'm ready, and I'm focused.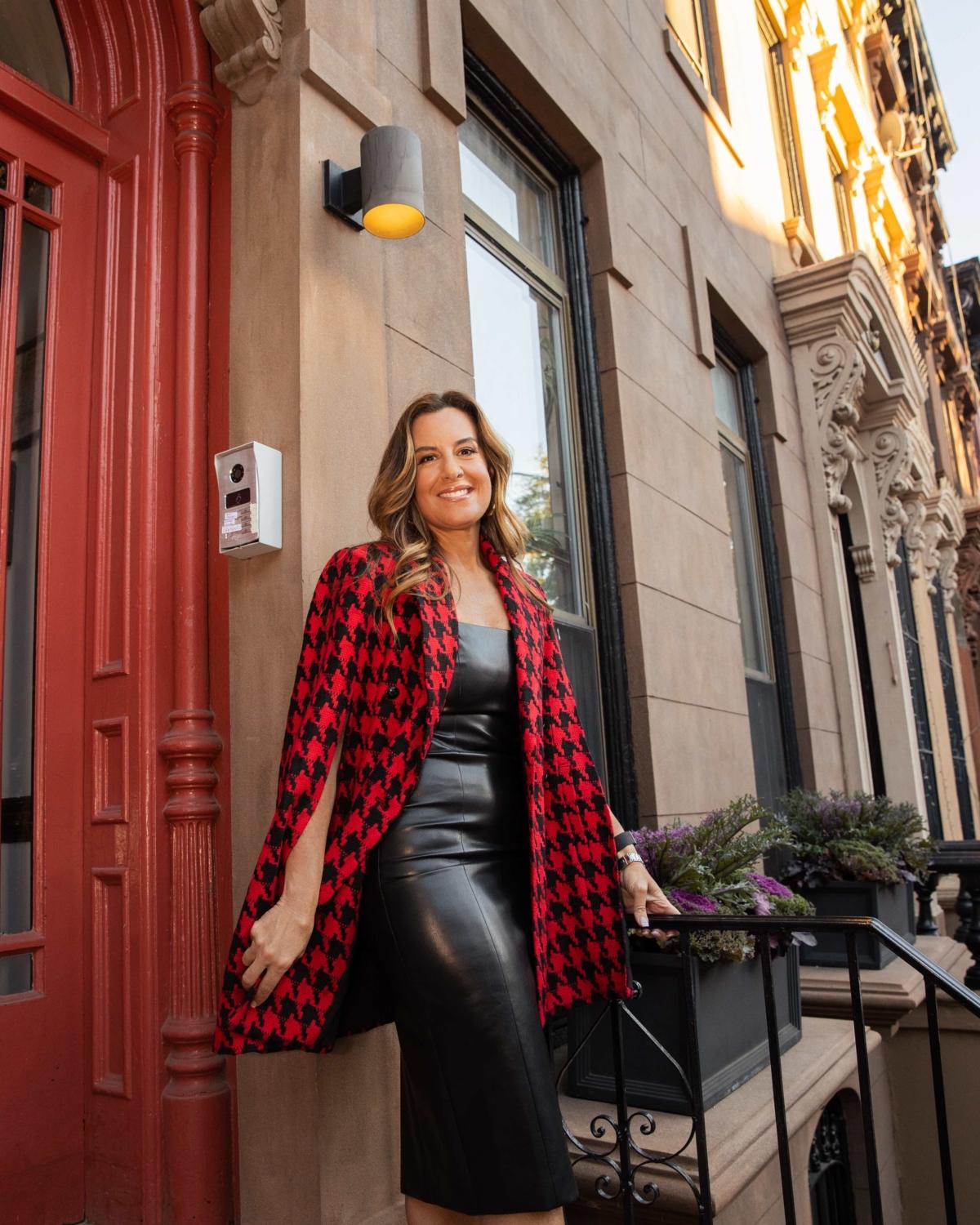 American Essence: How has your perspective on competition evolved throughout your athletic journey?
Ms. Vetere: I've loved the transition I've experienced over the years in focusing less on competing with others, and more on competing with past versions of myself. I see this as a healthier mindset that encourages personal growth without adopting the toxic comparative mindset we see so often in this society. Do it for you, no one else.
American Essence: Can you share a favorite quote or mantra that motivates you during tough races or work situations?
Ms. Vetere: "The credit belongs to the man who is actually in the arena ... who at the best knows in the end the triumph of high achievement, and who at the worst, if he fails, at least fails while daring greatly, so that his place shall never be with those cold and timid souls who neither know victory or defeat." —Theodore Roosevelt
This is also in the foreword of my book, "Grit & Grind: 10 Principles for Living an Extraordinary Life."
American Essence: How do you define success in both your professional and athletic spheres?
Ms. Vetere: Success for me is knowing I tried my absolute best and didn't give up. It's not about being first in the race, it's about making sure you cross the finish line. That translates into both my professional and athletic careers.
American Essence: What message do you have for individuals striving to grow stronger from challenges, whether in their careers or personal lives?
Ms. Vetere: One of the quickest ways to grow both personally and professionally involves getting a mentor outside of your industry. It can shift your whole perspective, and I've found incredible success myself by embracing these different vantage points. Find someone who has done the time to earn some respect in their career and see if they'd be willing to let you buy them a coffee sometime. The wisdom you can get from these meetings can absolutely transcend industries.
American Essence: Can you share with us your training regimen and how you prepare for races like Ironman 70.3?
Ms. Vetere: I train…a lot. From time in the pool to how I nourish my body, I find ways to stay active and to consistently challenge myself, so my body stays strong. I pay attention to altitude, travel days, dehydration, all the ways of preparation, and I am in tune with my body to make sure it's ready for each event. I'm doing my 100th Ironman this month in Finland, so I guess you could say I have plenty of experience from which to draw.
American Essence: Tell us more about your philanthropic efforts to encourage girls to enter STEM fields.
Ms. Vetere: I'm very honored to be included in the Serengeti Girls Run every year, which is a 55-mile run across the African wilderness over the course of three days accompanied by armed guards as we pass through swaths of lions, zebras, and more. It's an intense three days that gives back to the incredible female empowerment initiatives of the Singita Grumeti Fund.
The run aims to raise funds and awareness of the challenges facing girls and women living in nearby communities and aims to seek sustainable solutions. The ultimate goal being to secure opportunities for women to become leaders in conservation across their communities. Singita Grumeti Fun programs include secondary school, vocational studies and  university scholarships, life skills and enterprise development training, environmental education, and internships. I'm proud to be involved with the work they're doing to empower thousands of women.