While there aren't many truly great productions of this ilk, a handful or so of the feature films about composers and performers of Classical music are must-see movies whose appeal can and should extend far beyond that particular genre's already established and dedicated fan base.
The following are my top five all-time favorites in this category, all of which I've seen multiple times each and, with every subsequent viewing, I pick up on something I had previously missed.
'Amadeus' (1984)
The finest, highest-grossing and most-awarded film of its kind, director Milos Foreman's "Amadeus" was also the first movie about Classical music which found a wide, mainstream audience.

Rather than framing the title character (Tom Hulce) with lionized, ivory-tower reverence, Foreman and screenwriter Peter Shaffer ("Equus") paint him as a spoiled wunderkind who got away with his often frat-boy behavior by composing what most consider to be the greatest works in the history of the genre.

This, of course, drove the envious, jealous, far-too-serious, and way-less-talented Antonio Salieri (Oscar-winner F. Murray Abraham) up a proverbial wall.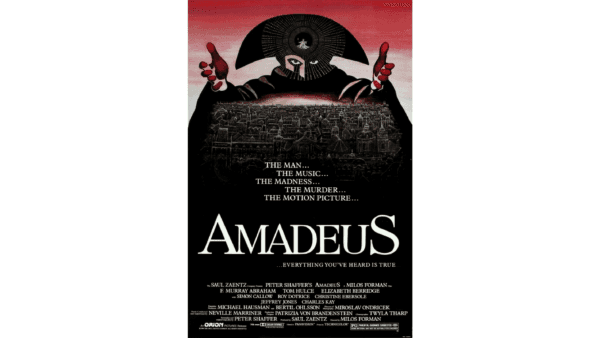 It should come as no surprise that Mozart's music (conducted by Neville Marriner) is the centerpiece of the production and is as diverse and wide-ranging as the 161-minute running time would allow.
For those who've only seen "Amadeus" in a theater (or not at all), it's well worth seeking out the "R" rated Director's Cut Blu-ray from 2001 containing 20 minutes of additional footage.
'Immortal Beloved' (1994)
For those who've reveled at his uncanny ability in playing non-fictional characters (Sid Vicious, Winston Churchill, Joe Orton, Lee Harvey Oswald, Herman J. Mankiewicz), the idea of watching Gary Oldman transform himself into Ludwig van Beethoven wouldn't initially seem like much of an acting stretch (for him, at least).

The beauty of Oldman's phenomenal performance here is in witnessing just how much his nuanced, understated, and close to the vest rendering slowly creeps up on the audience, eventually leaving us emotionally drained.
As with "Amadeus," the eclectic choices of music (conducted by Sir Georg Solti and performed by the London Symphony Orchestra) are every bit as transcendent, hypnotic, and powerful as the acting, including winning supporting turns from Isabella Rossellini and Valeria Golino, as well as filmmaker Bernard Rose's measured and assured writing and direction.
'Pavarotti' (2019)
An initially unlikely candidate to make a movie about Luciano Pavarotti, director Ron Howard more than proved his previous winning documentary about the Beatles ("Eight Days a Week") was no fluke.
Matching the brio and lust for life of its eponymous subject, "Pavarotti" was labeled by a few as being a rose-colored-glasses biography, which is patently incorrect. Howard's film certainly touches on the tenor's personal ebbs and foibles; the trouble is, he just didn't have that many of them.
It would also be nice to say that the film introduced Pavarotti to a larger audience. This is technically true, but the man had been reinventing himself for the entirety of his career and his many collaborations with non-classical artists (Elton John, U2, Eric Clapton, Sting, Frank Sinatra) showed his willingness to stretch artistically and beyond the sometimes snobby, elitist boundaries and tastes of Classical purists.
By anyone's definition, Pavarotti was a renaissance man who never allowed himself to remain content with the status quo and continued branching out until the very end. The first "Three Tenors" album he made with Placido Domingo and Jose Carreras remains the biggest-selling Classical album of all time.
'Maria by Callas' (2017)
When one watches then reviews biographical documentaries which are narrated exclusively by the subject of the film, one must be leery, especially if said subject is still alive.

In two recent such movies about Rita Moreno and Clarence Thomas, the former was a glorified vanity project and the latter a reflective recounting from a man noted for his desire to say as a little (about everything) as possible.

"Maria by Callas" bears much in common with "Listen to Me Marlon" (recently reviewed in full

here

), as the subject is deceased and there is little to no chance what is said can be taken out of context.
A woman for whom the term "Diva" was practically invented, Callas addresses her on-and-near-off-stage reputation with the same type of frank openness she uses to describe her troubled upbringing, failed romances, and her many professional peaks and valleys.
Director Mark Volf's exhaustive sifting through TV interviews, news reels, home movies, private correspondence, still photos, and unpublished journals yields a treasure trove of information that, if nothing else, rights a few mistruths associated with perhaps the greatest soprano the world as ever known.
'Hilary and Jackie' (1998)
Emily Watson (as Jackie DuPre) and Rachel Griffiths (as her sister Hilary) both received Oscar nominations for their portrayals as non-fictional musicians whose professional and personal lives took radically different trajectories.

Cellist Jackie found almost instant success while Hilary's career as a flautist eventually floundered, leading to an early retirement and her starting a family. The friction between the two heightened when one developed a roving eye for the other's mate but was somewhat resuscitated down the road for the most tragic of reasons.
Director Anand Tucker and screenwriter Frank Cottrel Boyce received considerable blowback from several of Jackie's professional acquaintances for their perceived "inaccurate" portrayal of her; however, a book released after the movie was made, written by Hilary and her brother Piers, contained essentially the same material.
Siblings tend to be more informed in such matters and neither came off as having axes to grind.
Once again, the music here is a de facto character in the movie, which features a haunting score by Barrington Pheloung, Elgar's entire "Concert for Cello and Orchestra," and with the remainder containing pieces closely associated with Jackie, performed by cello virtuoso Caroline Dale.
All above titles are available on assorted streaming services. For options, visit JustWatch.com