The nameless workers who toil on the factory floor year after year.
Playwright Dominique Morisseau puts them front and center in "Skeleton Crew," now at Broadway's Samuel J. Friedman Theatre, presented by the Manhattan Theatre Club.
It's the winter of 2008 and workers at a metal stamping factory in Detroit, Michigan wonder if the plant may shut down for good. People are being laid off with increasing frequency, with those remaining pushed ever harder to maintain work quotas. Rumors of a closing are ever-present, with continual instances of theft and sabotage on the assembly lines only adding to the already-existing tension.
The story focuses on four factory personnel, all bound together by the need to keep their jobs. Faye (Phylicia Rashad), the worker's union representative, is approaching her 30th year at the plant. Well aware of the difference between a severance package of 29 years and one of 30, it's a milestone she's determined to reach. Shanita (Chanté Adams) is a single woman expecting her first child who wants to earn as much as she can before taking maternity leave. Dez (Joshua Boone) is an angry young man with no intention of remaining a factory worker forever. Often insubordinate, which continually puts him in the crosshairs of supervisor Reggie (Brandon J. Dirden), Dez only intends to stay until he saves enough money to buy a garage and become his own boss.
Characters at the Crossroads
It's not long before Reggie informs Faye the plant closing rumors are true. She's getting advance notice due to their long friendship. Faye and Reggie's late mother were very close and 15 years ago Faye was instrumental in getting Reggie his first job at the factory. Reggie also asks Faye not to inform her co-workers until an official announcement is made. However, staying silent puts Faye in an uncomfortable position as she tries to balance the respect and trust she has for Reggie with the need of the workers to know the truth.

"Skeleton Crew" is about the fine line each person must walk as they attempt to balance their own needs with those of the people around them. This premise is especially personified through Reggie as he works to get the best deal he can for the employees while also trying to impress his bosses in his handling of the closure. That way he can be assured of a position elsewhere in the organization, something especially important to him as he has a family of his own to support.

The territory covered in "Skeleton Crew" is not at all new, with several plays tackling similar themes in recent years. What make this show stand out is how real Morisseau makes her characters, each adding their own distinct perspective as they attempt to negotiate their personal survival in an ever-shifting landscape.

Dirden is the standout among the cast. His character's attempt to manage these conflicting priorities eventually pushes him to the limit. A scene where his inner turmoil finally boils over ends in a round of applause from the audience as he attempts to regain his own sense of self-worth.
Rashad is excellent as Faye, a long-time worker who is able to pretty much ignore most company rules, such as smoking in non-smoking areas, but can't avoid her own day of reckoning. She, like everyone else, finds she must decide which battles to fight and which to walk away from.
Boone is good as Dez. The character's attitude poses a marked contrast to the factory "lifers" in the story. Though the very traits that make him prepared for life away from the plant put him in conflict with the cog-in-the-machinery world he temporarily inhabits.
Adams strikes a powerful note as a woman determined to make it on her own terms. She is also quite believable in projecting a feeling of one not as cynical as Faye or Reggie, yet wise enough to understand how the world works. Her scenes with Boone also have a nice teasing chemistry.
Strong Support Backstage
Credit must also go to Ruben Santiago-Hudson's direction. His work demonstrates a firm grasp of the material—and the potentially soul-crushing world it depicts—as he works with the cast and crew to bring it to life. The end product has more than a few flashes of humor to accompany the gritty feel of a dangerous world lurking just outside the factory walls. One that sometimes manifests itself inside the walls as well.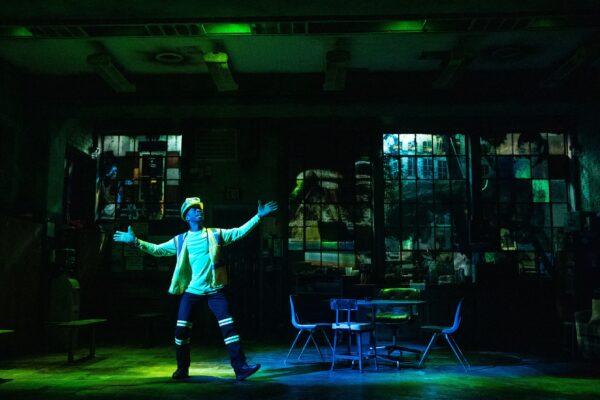 Michael Carnahan's set of the employee break room is outstanding. The area featuring everything from employee lockers to a refrigerator and microwave, all of which look as having long since passed their expiration dates. The place is also filled with various signs and notices, some which carry a rather personal message. Rui Rita's lighting work complements the story nicely.
Peopled with characters and situations that feel quite real and relatable, "Skeleton Crew" offers an intense story of human survival and what it takes to remain true to oneself.
The show also adds a bit of a musical twist thanks Adesola Osakalumi's dance moves. These interludes occur as the play shifts from one scene to the next. While not at all necessary to the flow of the story, they are still quite enjoyable to behold.
'Skeleton Crew' Samuel J. Friedman Theatre 261 W. 47th St. 212-239-6200 or www.telechage.com Running Time: 2 hours (1 intermission) Closes: Feb. 20
Judd Hollander is a reviewer for stagebuzz.com and a member of the Drama Desk and Outer Critics Circle.