LINCOLNSHIRE, Ill.—"The Sound of Music" first played in New Haven, Connecticut, as a pre-Broadway tryout on Oct. 3, 1959. After the show, its composer Richard Rodgers, its lyricist Oscar Hammerstein II, and the show's performers waited for the town's critical reviews to come in.
When the newspapers came out with bad reviews, everyone was crestfallen, believing that after all their hard work the show was a flop. Everyone, that is, except for Hammerstein. He dismissed the critics and predicted that the musical would become the biggest hit on Broadway.
Hammerstein was right. "The Sound of Music," which opened on Nov. 16, 1959, in New York City, not only became one of the most popular musicals of all time, but it also followed up the stage production with one of the biggest blockbuster movies ever in 1965.
Musical Blockbuster
Hammerstein had the pulse of the public right because he was more in tune with them than were the elitist critics of the day. He knew that people were searching for inspiration and wanted goodness to triumph over evil. That is why "The Sound of Music" has been enchanting audiences for more than half a century and will continue to do so for years to come.
While there have been many reincarnations of the show in the Chicagoland area, this newest revival at the Marriott Theatre in Lincolnshire, Illinois, is one of the best ever. Elegantly directed by Nick Bowling, it unfolds with a fresh spirit infused with powerful energy.
The story takes place against the background of the Nazi invasion of Austria in 1938 and was written in the 1950s, yet the musical comes across as very modern—a contemporary lesson on the importance of love, family, religion, and courage.
The show—with a book by Howard Lindsay and Russel Crouse, which was based on Maria Augusta Trapp's "The Trapp Family Singers"—begins with the heavenly sound of the nuns in lyrical song set against Collette Pollard's scenic archway design and Anthony Churchill's backdrop projection of a mountainous Salzberg.
The production also is enhanced by the artistic talent of Sally Dolembo's costume design, Jesse Klug's lighting, Michael Daly's sound design, and the musical supervision of Patti Garwood.
It doesn't take long before the innocent Maria appears at the von Trapp household. She has been sent from the abbey to become a governess for Capt. Georg von Trapp's seven children. The captain has withdrawn from life since his wife died, and his children are suffering because of it. The emotional repression of the household changes, though, because of Maria's nurturing and her indomitable love of life and music.
New Faces, Familiar Songs
Addie Morales is a compelling Maria who, with a velvety soprano voice, attempts to sing away her fears with "I Have Confidence" and tries to impart a positive outlook to the children with "My Favorite Things."

Erik Hellman, who plays Capt. von Trapp, stands out with a portrayal of moral strength, refusing to give in to the monstrous Nazis as they try to force him to betray his ideals and his country. His singing of "Edelweiss" is a moving, heartfelt moment that will bring a lump to the throats of those who love their country.

The children, who grow to love Maria—as does the captain—not only sing in lovely harmony with "Do-Re-Mi" but also demonstrate some wonderful dance moves given to them by choreographer William Carlos Angulo.

The seven children include some special turns, such as Omi Lichtenstein, adorable as Brigitta; Campbell Krausen as Liesl in a duet singing "Sixteen Going on Seventeen" with Emmet Smith as the telegram delivery boy Rolf; and other charming kids played by Milla Liss, Archer Geye, Olivia O'Sullivan, Brody Tyner, and Reese Bella.
In addition, Heidi Kettenring gives a terrific portrayal of the social snob Elsa Schraeder who plans to become the captain's new wife. At her side is Rob Lindley, playing the cynical, self-serving entrepreneur Max Detweiler, who believes the captain's children will help his business.
Another superb highlight of the production is golden-voiced Daniella Dalli as the Mother Abbess singing "Climb Every Mountain." What's amazing about this poignant song is that Hammerstein wrote its lyrics while he was suffering from stomach cancer, from which he died nine months after "The Sound of Music" premiered.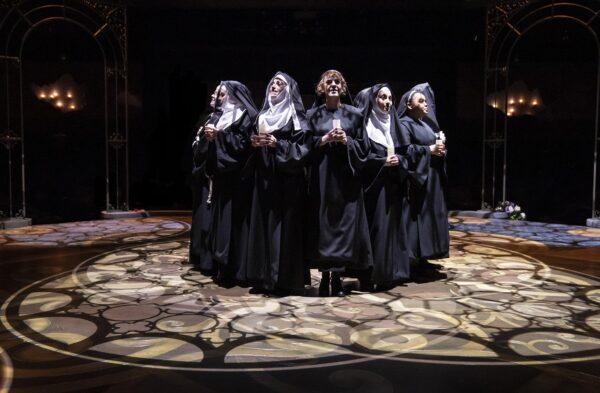 A fantastic, must-see for couples, families, and anyone who wants to experience one of the most intoxicating and captivating productions to come out of Broadway's Golden Age, this show is a musical gift for our difficult times.
'The Sound of Music'
Marriott Theatre 10 Marriott Drive, Lincolnshire, Ill. For Information: 847-634-0200 or visit
MarriottTheatre.com
Runs: 2 hours, 30 minutes Closes: June 5, 2022