G | 2h 13min | Musical, Romantic Comedy | 1956
Margaret Landon's partly fictionalized biography of Anna Leonowens is about the widowed British educator who served the 19th-century king of Siam (modern-day Thailand). It inspired several heavily fictionalized stage and screen adaptations, one of the most memorable being director Walter Lang's film.
Anna (Deborah Kerr), tasked by the outwardly boorish but inwardly benevolent king (Yul Brynner) to modernize Siam with the best of Western culture, becomes governess to his numerous wives and children. Both are so headstrong that a playful tug-of-war follows, with her holding her ground on some issues and ceding ground on others.
Soon, the king is forced to fight a different kind of war, one that requires womanly tact, not a warrior's tactics. Neighboring kingdoms, fancying the prospect of such an independent king being shown his place, may be feeding reports to the queen of England that he's "a barbarian." Cut to the quick, that an imperial delegation is arriving possibly to check rather than check in on him, the king is at a loss as to how to respond without antagonizing the empire.
Anna calms the initially combative king, helps him play gracious host to the queen's emissaries, and defuses the crisis. But another crisis is brewing.
The older, more contrasting couple—the king and Anna—stay silent about their mutual attraction, but another couple, both young and Burmese, don't: commoner Lun Tha (Carlos Rivas) and Tuptim (Rita Moreno), a pretty "gift" to the king from the prince of Burma. Behind the king's back, Anna unites the young lovers, but by defying his hierarchical credo, has she now upset him beyond a point?
In one of many comic scenes, Anna is advising the king on a matter of statecraft without seeming to. He's too vain to accept direct advice, especially on the minor matter of whether he's "a barbarian."
Tactfully, Anna empathizes, "But this is a lie."
Yet to master English, he roars, "It is a false lie!"
The double negative is meant to be funny and poignant. It is both. To all except Anna and Head Wife Lady Thiang (Terry Saunders), the king's visible callousness cancels out his less visible compassion. The film, which boasts splendid direction, acting, music, costumes, and set design, asks: Can two impossibilities cancel each other out, creating space for the possible: friendship, romance, even transformation?
Anna is everything a woman in a Siamese palace can't possibly be: dignified, British, Christian, widowed, and a single mother to her little boy. The king is everything she's not: haughty, Siamese, Buddhist, and a husband and father several times over. Mutual kindheartedness first draws them together. The rest follows as naturally as his newly learned phrase, "et cetera, et cetera, et cetera!"
Meaningful Musical
Rodgers and Hammerstein's songwriting so mischievously blends the satirical with the sage that it's delightfully hard to tell which is which.

As he learns Western ways from Anna, the king wonders, through the song "A Puzzlement" (sung by Brynner): should he teach his son and heir that equality is, after all, better than an imagined superiority of sex, race, cutlery, language, or religion?

"Shall I tell him everyone is like the other, And the better of the two is really neither?"

Brynner, who'd been a director at CBS since the 1940s, helped layer the subtle relationship between the two principal characters. When he, Kerr, and Lang won Oscar nominations, Kerr joked via telegram: "A well-deserved double victory. Not only are you a marvelous actor but a marvelous director." Kerr was being gracious; she's marvelous too.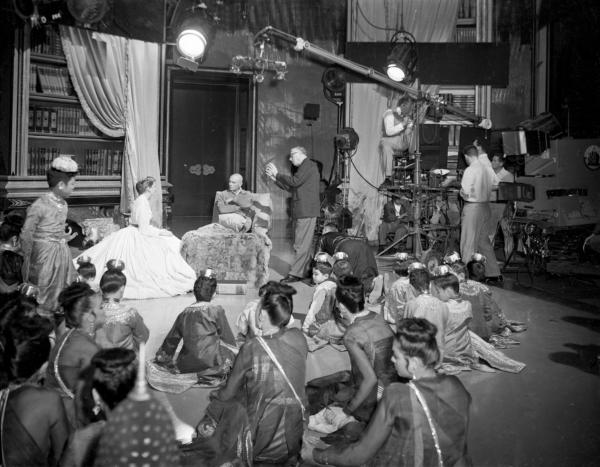 Soprano Marni Nixon, dubbing Kerr's songs, lowered her register to suit Kerr's. Watch out for "Getting to Know You," "Hello, Young Lovers," and the electrifying "Shall We Dance?"
To the king's children, who'd never seen snow, Anna describes it as water freezing on its way down from the sky and explains how it's possible to walk on water when a lake freezes over. Watch them weave this learning into a play they stage for the king's British guests, a Siamese interpretation of "Uncle Tom's Cabin."
The film isn't meant to be a historical record of the real-life king who embraced Western innovations and led Thailand's modernization. Instead, it hints that contrasting cultures are bridged not so much through embracing each other's language, attire, or religion but by sharing fine values such as respect and restraint.
Genuine friendships, like those between the king and Anna, help rather than hinder self-discovery. The seemingly supreme monarch discovers and accepts that he's all too human, as subject to self-doubt as his subjects.
You can watch "The King and I" on YouTube and Vudu.
'The King and I' Director: Walter Lang Starring: Yul Brynner, Deborah Kerr MPAA Rating: G Running Time: 2 hours, 13 minutes Release Date: June 29, 1956 Rated: 4 stars out of 5
Would you like to see other kinds of arts and culture articles? Please email us your story ideas or feedback at features@epochtimes.nyc