Canadian silversmith and cowboy Scott Hardy wants the world to see the beauty and elegance of Western craftsmanship. He feels blessed to honor his culture in this way. 
Hardy's maternal grandparents raised him in Saskatchewan, after his parents divorced when he was 3 years old. 
He's the fifth generation in his family of ranchers and homesteaders.
Growing up in a small, rural town, Hardy learned about self-reliance and community. "You grew up understanding what it meant to build something, what it meant to be independent, [and] to rely on yourself and your neighbors rather than the government,"
he said by telephone.
Hardy believes that the West has always been 
a place of innovation and forward thinking
, as people have had to adapt to survive.  
Odd Jobs and a Silver Lining
Hardy met his wife, Leslie, during his time as a guide in Banff, Alberta. The couple set up a ranch in Alberta, and the only way they could afford to do so was if Hardy worked odd jobs. He worked on oil rigs,
shoed
 horses full time, and worked in a welding shop
,
to name a few—
whatever it took to make their dream possible. 
Hardy came home one night and found a newspaper cutting for a silver jewelry-making course that Leslie had saved for him. He signed up for the class to supplement their ranching income.
But it didn't go as planned. He fell in love with silversmithing, so much so that the couple sold most of their herd (and
they now have a s
mall herd of about a dozen cows).
Instead of making jewelry, Hardy wanted to make horse ornaments (for instance, silver works for saddles and bridles) 
and objects like buckles that had meaning to the North American West.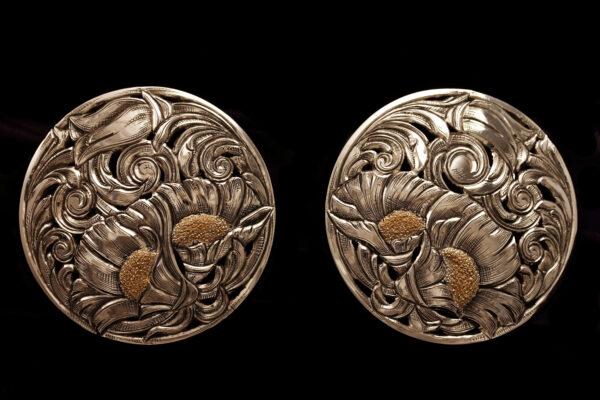 Most people don't wear jewelry in the West, but they do wear buckles, he explained. It's part of the Western identity: Rodeo cowboys wear buckles for the competitions they've won, and ranch cowboys wear buckles that signify ranching. (They may wear a three-piece set called a ranger set, similar to what Roy Rogers wore.)  
The rodeo gave birth to the Western buckle in the late 1800s and early 1900s, Hardy explained. Rodeo cowboys wore big, wide belts (kidney belts) to protect their backs when their horses bucked. As the rodeos became more competitive, the cowboys began to wear their competition prize plaques on the back of their belts to show what they'd won. Over time, they moved these plaques to the front of their belts and they became the buckles we know today.  
The Mountain of Craftsmanship 
Hardy searched for four years to find a teacher, while teaching himself more silversmith skills. Most of the silversmiths he met were unwilling to pass on their trade, and they were secretive and protective of their work. 
But Hardy did find the help he sought. He was creating horse jewelry and also spurs in the 1980s when he met two master silversmiths. Over a drink, they shared their work and advice. Each concentrated on one area of
Western works.
One of them said to Hardy: "Pick a profession and become the best you can be at it. You owe that to the materials." 
From that day on, Hardy chose to make silver and gold work his profession, and he made it his mission to read and learn all he could about the methods and materials of his trade. 
Hardy sees each of his accomplishments as a tool in a toolbox. The more he learns, the more tools he has. He likens learning to climbing one part of a mountain and then reaching a lush meadow, where one can choose to rest after conquering a skill or choose to keep improving one's skills to reach higher levels. Hardy always chooses to climb. Now, after 41 years of working at perfecting his trade, he takes smaller steps but they're no less significant.
An Epiphany and Tiffany's
Hardy had been silversmithing for around 15 years when he had an epiphany at the world's largest horse show: Equitana, in Germany. Horse people from around 42 countries go to the show to demonstrate their talents. He and his cousin (a saddlemaker) were invited to represent Alberta and
Saskatchewan,
respectively. 
On the opening night, Hardy remembers thinking how charming the attendees looked in their national costumes. That's when he realized that he, too, must wear a charming outfit! Only when he took himself out of the West did he realize that he was part of a culture, whereas before it was just a way of life and who they were: men wearing boots and hats, working and living off the land. From then on, instead of thinking that he was part of the silversmith trade, he thought: "This is how I can honor the people behind me and take it forward." 
Hardy told his grandma about his realization and also how it annoyed him that Hollywood's idea of the cowboy seemed cemented in people's minds. "I was frustrated, because the world looked at the Western culture like it was rough, crude, and rude, and I wasn't raised that way and neither were the people around me," he said.
Not long after their talk, his grandma sent him the book "Tiffany's 150 Years," by John Loring. Hardy learned about Tiffany's humble beginnings selling pens and paper, and how the company grew after introducing fine craftsmanship from around the world. 
What struck Hardy about Tiffany's was the lack of Western craftsmanship. He also wondered why Western crafted objects weren't held in the same high esteem as Tiffany's glass or leadlight lamps. From then on, Hardy made it his mission to show people the beauty and elegance of Western craftsmanship.  
Creating Heirlooms
Hardy hopes his creations become revered family heirlooms, rather than remembered as Scott Hardy pieces. For instance, a man might wear one of Hardy's buckles his entire life, it becomes part of his identity, and when he dies his son might inherit the buckle. As it's passed down the generations, it's then known as dad's buckle or grandpa's buckle, and the artist is forgotten. Hardy believes that's the way his craft should be; it's about the material and the creation itself, not the artist and his or her ego.
Hardy looks to the past and also to other crafts for inspiration. For example, he loves how gun engravers make fine scrolls and flowers in the gun metal. He had to tweak the process for silver because due to the nature of the silver, the design would easily rub off.
"The cowboy way of thinking is, you bring all these elements together to make something work for you," he said. 
Hardy carves by hand, although 
he started using a pneumatic graver to engrave with after he got injured five years ago. 
He prefers to sculpt directly into the gold or silver, and rarely cast
s
metal. 
Calgary Stampede
In 2012, Hardy handmade 100 buckles to celebrate the 100th anniversa
ry of the
Calgary Stampede,
 an annual rodeo.
To make the design, he studied buckles from 1912 and also Calgary Stampede art from Western artists such as Charles Marion Russell
(known as the "cowboy artist")
and
Edward Borein,
who were at the first show. For the center of his buckle design, Hardy chose
Borein's f
amous drawing "I See You" of a rider on a bucking horse.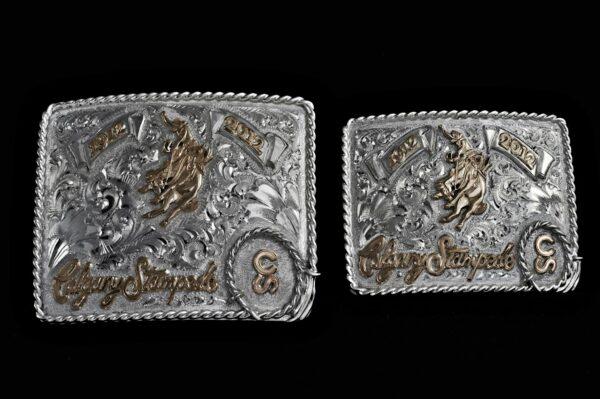 Hardy explained that the horse Borein depicted had been owned by the U.S. Cavalry, but it kept bucking the riders and so was branded "ICU," meaning that it was condemned to death. The founder of the Calgary Stampede saved the horse and put it in his Wild West show that toured the world. Every time the horse bucked, it had a habit of looking back at the rider, hence the name "I See You." 
Hardy took two and a half years to finish all 100 buckles, and each one was engraved by hand, with each figure sculpted by hand. A Canadian postage stamp even features his buckle, the first
buckle
to be so honored.
Traditional Cowboy Arts Association
In 1998, Hardy, along with other master craftsmen, formed the Traditional Cowboy Arts Association (TCAA) to uphold and protect their cowboy trades (of rawhide braiding, silversmithing, saddlemaking, and bit and spur making).
Only masters can enter the TCAA, as it's not as simple as a craftsperson creating fine work. Becoming a master is more than technique; it's developing the head and heart, and that takes time. Hardy explained that they're looking for ambassadors: "Your ego has to stand aside from your profession."
A big part of the TCAA mission is to show the brilliance of Western craftsmanship and for bona fide masters to teach the trades. 
For the past 23 years, TCAA members have exhibited
in the
Traditional Cowboy Arts Exhibition & Sale
at the National Cowboy
& Western Heritage
Museum. Hardy said that the show aims to stretch members' skills and to introduce collectors and young aspiring craftspeople alike to the beauty and elegance of Western craftsmanship.
Hardy finds it satisfying, looking back over his past exhibits, to see his progress.
For this year's TCAA show, it t
ook him around 700 hours to create his five entries. The time he took to make each piece varied. For instance, he took around 500 hours to make a decanter, while he took around 90 hours to create a buckle in sterling silver with three types of colored gold. 
He's quick to stress that it's not about getting the piece done or the time it takes to complete it. He believes that it's about creating it properly and being
mentally 
present at every stage. 
One of Hardy's mentors
continued
to make great works when he was 78 years old. Hardy hopes to do similarly. But essentially, he and his peers at TCAA are building a Western craftsmanship legacy. "We're trying to build something that lasts way past any of us," he said. 
Hardy works in his shop every day—he has been for the past 41 years. But he's quick to add that 
he's still a cowboy,
and there's never a day without a
horse.
"In the beginning, I thought I could pay homage to the West by being a cowboy. [In the end,] I felt I could do more for the West through silver and gold than I could on the back of a horse," he said. 
Hardy's a constant ambassador for his trade, and his Western works are admired nationally and internationally. Among his many commissions are those from well-known figures. For instance, in 2005 he was commissioned to make monogrammed buckles for the 13 Canadian premiers. Among the many Western roles he's taken, he was the president of the TCAA for three years, and in 2011 he was inducted into the Stetson Craftsman's Alliance. He's taught hand-engraving and silver fabrication across North America, and he has frequently lectured on the history of American West craftsmanship at the National Cowboy & Western Heritage Museum.
Every piece that Hardy makes is important to him, whether it's a chalice for the Catholic church, a table set for a child, or a flask for a cowboy. "It's about people understanding the culture of the North American cowboy. It's about honoring my family, and honoring the materials," he said.