The oldest resident at the Australian Reptile Park, Hugo the Galapagos tortoise, has turned 70 years old in style. The tortoise rang in his special day with a lot of love from his caretakers and an incredible birthday cake fashioned entirely from fruit.
The fully grown, 402 pounds (approx. 182 kg) giant tortoise has been resident at the park in Gosford, just north of Sydney, since 1963.
"We couldn't be more excited," Brandon Gifford, the park keeper, said in a
statement
.
Hugo's Sept. 30 celebration was a joyful event for the slow-moving septuagenarian.
The huge tortoise's culinary feat of a birthday cake included treats such as watermelon, kiwi fruit, and strawberries, with the numbers 7 and 0 carved into apples on top. The statement said that the savory fruits are a special rare treat that Hugo looks forward to every year.
"Hugo moved the quickest he's ever done in his life when he saw that cake," Gifford said.
Visitors to the park were invited to accompany Hugo on his two birthday walks and give his shell a congratulatory pat. The friendly tortoise was also treated to a shower, his "favorite activity."
"Anyone who meets Hugo knows he is not your regular tortoise. He is full of personality and will greet anyone with a big smile!" said Daniel Rumsey, the head of reptiles at the park.
Despite the gravity of his age in human years, Hugo is considered middle-aged for a Galapagos tortoise. He is likely to live well over 150 years.
Australia's oldest Galapagos tortoise on record, Harriet, reached 175 years of age. Harriet was beloved and revered just as Hugo is today.
The Galapagos tortoise—scientific name Geochelone nigra—is native to the Galapagos Island archipelago. With strong greyish-brown shells and sturdy legs, these tortoises are capable of navigating large obstacles to reach their preferred diet of green, fibrous vegetation such as grass, tree bark, and cacti.
In captivity, these tortoises will eat all manner of fruits and vegetables, including carrots, bamboo stalks, hibiscus leaves and flowers, and watermelon as an occasional treat, the Australian Reptile Park stated. Hugo was therefore over the moon to receive his three-tiered fruity feast on his birthday.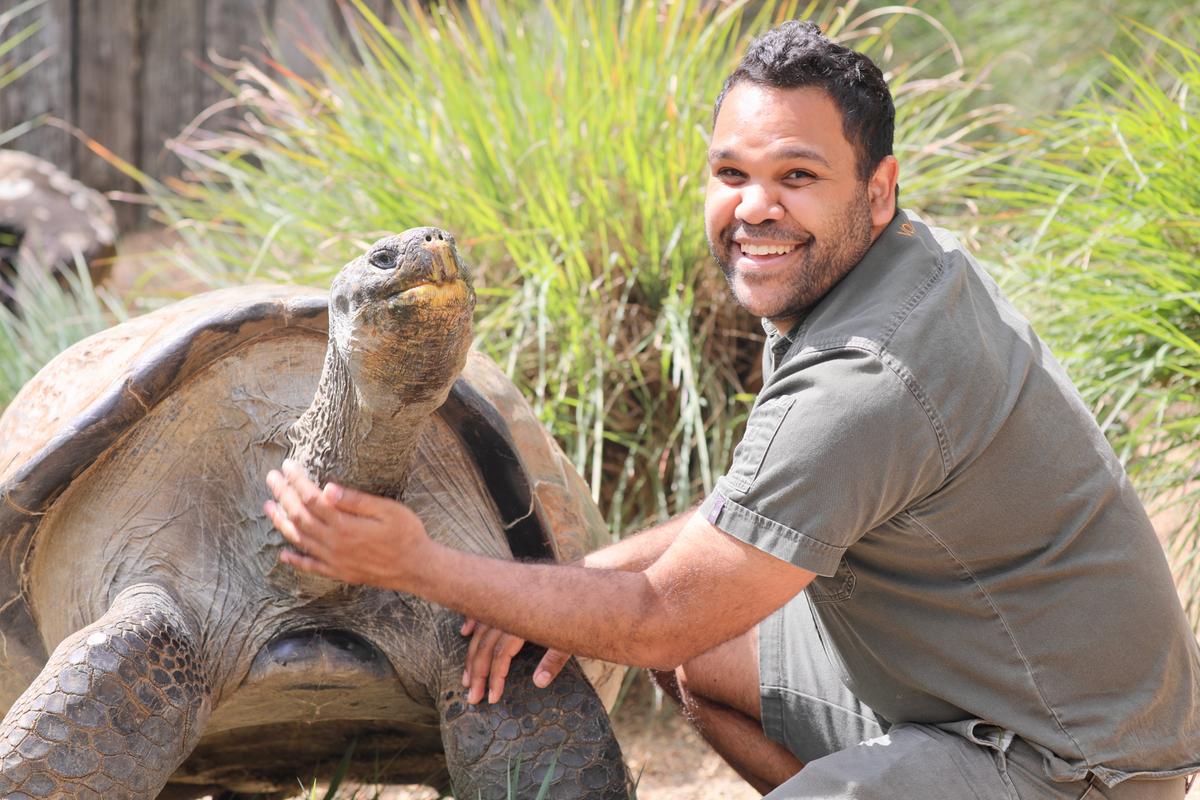 Visitors to the Australian Reptile Park can accompany the sociable tortoise on his daily walks at 11 a.m. and 2 p.m., respectively. Guests also have the option to book a "behind the scenes" tour, where opportunities to enter Hugo's enclosure, feed him, and pat him are prioritized.
"I always say if you didn't give Hugo's shell a rub, you haven't visited the Australian Reptile Park," Rumsey said. "It really does give you good luck!"
We would love to hear your stories! You can share them with us at emg.inspired@epochtimes.nyc