Divine beauty, purity, and light emanate from 17th-century Italian painter Guido Reni's work "The Immaculate Conception," wherein the Virgin's every gesture reveals her pious heart. She tilts her head and gazes adoringly up to God, while gently clasping her hands together in prayer. You can almost hear the chorus of angels singing among the clouds in adulation.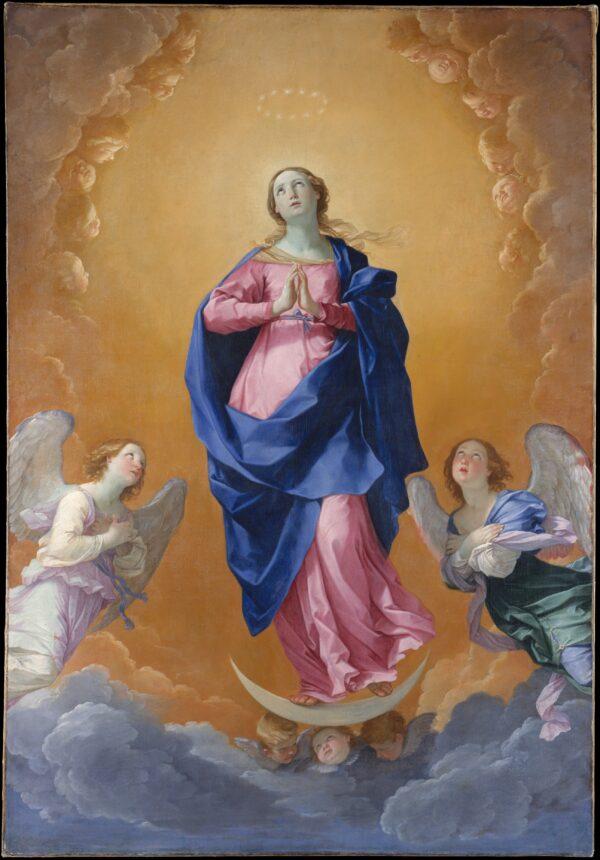 A sublime golden light (symbolizing sunlight) dominates the scene as the Virgin stands on a crescent moon, and above her head a 12-star halo hovers (with each star symbolizing one of the 12 apostles). Reni depicted the sun, moon, and halo as signs to direct Catholics to Revelation 12:1 in the Bible.
Reni's painting beautifully shows that he stayed true to established artistic traditions. For instance, the Virgin stands in a "contrapposto" pose (holding most of her weight on one foot), a pose first seen in ancient Greece. And the whole scene of idealized, graceful figures wouldn't look out of place as a painting in Raphael's workshop, some 100 years before Reni.
Tradition
At around 9 years old, Reni began his first apprenticeship with Flemish mannerist painter Denis Calvaert in Bologna, Italy (Reni's birthplace). At around 20 years old, Reni entered the Carracci Academy led by the best painter in Bologna, Ludovico Carracci. There, he learned deft draftsmanship. From 1601 to 1614, Reni worked in Rome, and during that time, he painted one of his most celebrated works, the ceiling fresco "Aurora." The dynamic work shows Aurora (the Roman goddess of dawn) leading Apollo (god of the sun) in his horse-drawn chariot, crossing the sun.

Most of Reni's works can be defined by sweet, idealized figures, and pastel coloring. In "The Immaculate Conception," his use of pink and blue on the gold background illuminates the Virgin, making the blue (which symbolizes purity and virginity) of her robes stand out. But this painting is in sharp contrast to some of his other works, as for a time Reni painted like Caravaggio, with expressive figures and extremes of light and shade—a technique called chiaroscuro. Reni soon found his way back to painting in a more classical and graceful style, which characterizes his works. When Carracci died in 1619, Reni became the greatest painter in Bologna and the most celebrated painter of 17th-century Italy. Over his career, he trained some 200 artists, sending their workshop pieces across Europe.

Reni was "the noblest, and most majestic painter that ever lived—not only in my own opinion, but by common consent," according to Baroque painter and biographer Giovanni Battista Passeri in his book "Lives of the Painters Sculptors, and Architects Who Practiced in Rome, and Died Between 1641 and 1673." Reni dressed in the latest, often expensive, fashion. But he was modest, hating profanities and obscenities, according to The Oxford Dictionary of Art.
Legacy
Reni influenced Spanish painters Jusepe de Ribera and Bartolomé Esteban Murillo. Murillo's "The Immaculate Conception of El Escorial," now at The Prado Museum in Madrid, appears similar to Reni's painting of the Virgin here. Reni's works also inspired French artists, such as the founder of the French Academy, Eustache Le Sueur, and Louis XIV's court painter, Charles Le Brun.

Some 18th- and early 19th-century art critics lauded Reni as second only to Raphael, according to The Oxford Dictionary of Art. German art historian and archaeologist Johann Joachim Winckelmann compared Reni to the eminent ancient Greek sculptor Praxiteles. And English portrait painter and president of the Royal Academy of Arts, Sir Joshua Reynolds wrote that Reni's idea of beauty "is acknowledged superior to that of any other painter."

Through Reni's art we can follow the thread of Western art traditions weaving its way from ancient times to the Renaissance, and right through the 19th century to the representational artists of today.