Ukrainian artist Anzhelika Doliba distills the evocative beauty of historic places in her architectural silverpoint drawings. "The atmosphere and the mood of any work are the most important elements for me,"
she said.
In each drawing, she tries to convey a certain mystery of the place, and the feeling of that moment. 
For as far back as she can remember, Doliba has loved to draw. Her love for architecture arose during her time attending
Taras Shevchenko State Art High School
, in Kyiv. Part of her art training was to practice the discipline of plein air painting, creating complete works of art on-site in the open air. 
Doliba explained that Kyiv's cityscape is unique and diverse: "The buildings and streets of the Ukrainian capital combine more than 30 different architectural styles, [including] gothic, baroque, Moorish revival, Russian classicism style, and art nouveau. The best European, Russian, and Ukrainian architects and artists worked on the buildings." 
Doliba went on to graduate from Kyiv's
National Academy of Fine Arts and Architecture
 in 1994,
from the architecture department,
where she learned to draft everything in the traditional way, by hand, for which she is immensely grateful. In recent years, she returned to see her old teachers in the Ukraine and learned that since the advent of computer-aided design, many architectural students no longer draw by hand. 
Although she draws in pencil, pastels, and charcoal and paints in acrylics and oils, three years ago the now New Jersey-based artist began to draw in silverpoint. It is now her specialty.
Her work is held in private collections in America, Europe, and Egypt (where she lived for over 16 years).
About Metalpoint
Silverpoint first
emerg
ed in medieval Italy, where it became a popular drawing medium, used with magnificent effect by the likes of Leonardo da Vinci. In northern Europe, German artists Albrecht D
ü
rer and Hans Holbein the Elder rendered splendid silverpoint drawings.
A metalpoint artist uses a fine metal rod of gold, copper, lead, or silver, shaped to a point at the end in order to draw, leaving a metallic mark that shimmers in response to light. An artist needs to be a skilled draftsman to use metalpoint, as any errors are almost impossible to erase or correct because the metalpoint is used over a previously applied ground, which is a layer of opaque paint that sometimes has added pigment. 
The ground, in simple terms, allows the metalpoint to make a mark, as drawing without it—with silver, for example, on unprepared paper—doesn't leave a visible mark.
In Renaissance times, bone ash and pigment were ground down and made into a paste with water, which was then mixed with animal glue and applied as a ground to the metalpoint drawing support (a panel or paper, for instance).
A self-confessed perfectionist, Doliba loves silverpoint because it allows her to render exquisite details in her architectural drawings. Silverpoint is a slow medium, she said, and it takes time to render the amount of detail involved in her architectural drawings. For instance, a drawing such as "Bethesda Terrace Central Park, NYC," takes around four to five weeks to complete, although she doesn't work on pieces continually, and she doesn't measure the time each piece takes because it's such an enjoyable process for her. 
Grayscale
Doliba drew a lot with pencil before she decided to specialize in silverpoint. Drawing with silverpoint can be similar to drawing with pencil, she said. When you draw with silverpoint, the first marks made are like gray pencil, although they have a metallic shimmer, and the darkest of tones that are easily achieved with pencil cannot be made by silverpoint. 
Doliba's daughter, commenting on her mother's pencil drawings and early silverpoint drawings, once said to her, "Everything you do is gray." Her early silverpoint drawings certainly were monotone in color, but they were rich in atmosphere. 
In a traditional atelier, using grays would be the first step in how artists would learn. Masters would make sure their artists could competently render tones and forms in grayscale drawings before they moved on to paint.
Doliba's first silverpoint drawing was of an Ionic capital on Wall Street in New York. And among her early silverpoint endeavors is a drawing of the exterior arches of the New York Public Library. For that drawing, she prepared her own ground. 
Another stunning example of her early silverpoint work is a radiant portrait of one of her two daughters in the drawing "Angelica." Doliba seems to have captured her daughter's personality wonderfully as she looks out to her mother, full of joy and the confidence of youth.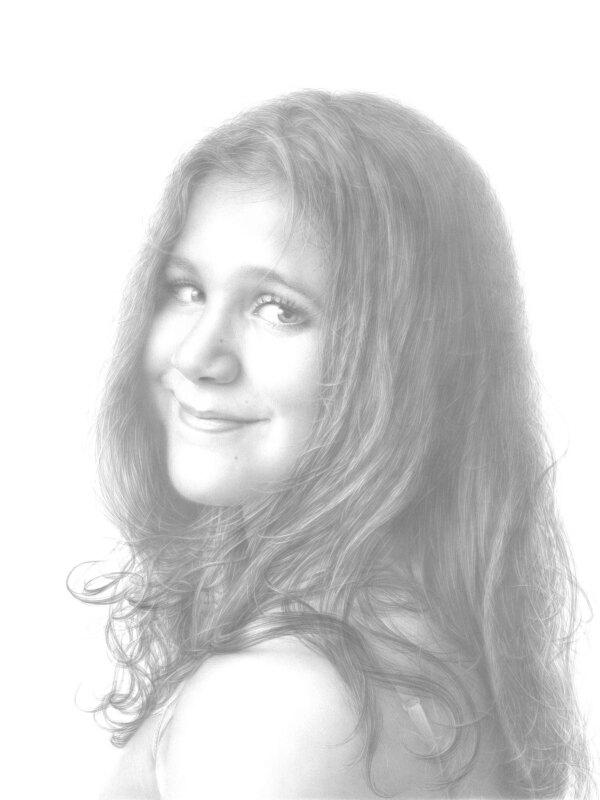 A Touch of Color
While the application of silverpoint is precise and controlled, after the drawing is complete the color of the silverpoint can change over time to brown and sepia tones due to the silver's oxidizing. Copperpoint also changes color over time, from copper to green. "I like these tones because you can't get this hue with
another medium,
" Doliba said.
When she initially learned about silverpoint drawing, Doliba looked at how established silverpoint artists worked and saw that they used
casein paint, a paint derived from mixing pigment with the milk-protein casein, to add color.
Now, Doliba applies casein paint much like light watercolors. The light wash helps her bring color to the drawing while still being able to shade the forms in silverpoint. She paints a casein wash and then draws over the paint with silverpoint to achieve the tonal range. 
Her silverpoint drawing of Central Park's Bethesda Terrace is a great example of where the light casein underpainting brings warmth and diffused sunlight to the picture. It's the type of drawing she loves to do, just for her own pleasure. Doliba gets a lot of requests to make this drawing available as a print because the terrace is a popular place for weddings or for couples to be photographed. The day Doliba arrived at the terrace it was full of birds. A few of them made it into the picture along with their nests. 
In another silverpoint piece, Doliba drew the "Angel of the Waters," the 8-foot bronze statue in the Bethesda Fountain, which stands in the center of the terrace. The angel represents a
Bible story in which a paralytic was healed
in the waters at Bethesda. 
Color features more strongly in the silverpoint drawings Doliba made after a trip to Spain, where she visited Madrid, Barcelona, and Toledo. In her silverpoint drawings of the "Cathedral of Saint Mary of Toledo," she painted the frescoes with casein paint directly over the silverpoint, rather than using casein as an underpaint as she normally does. 
Experimenting with different ideas to get the best possible atmosphere for her silverpoint drawings is high on Doliba's priorities. On the same trip, she traveled to the mountains overlooking Barcelona and used a technique similar to the Toledo frescoes. The resulting silverpoint drawing is a Barcelona city view that glows in a delicate blue hue of
casein overpaint with a touch of golden light in one of the towers.
Mastering Silverpoint
Having worked with silverpoint for only a relatively short time, Doliba has come to understand how to competently use the medium and observe how it interacts with the different grounds, paper, and paint. Three years on, she still enjoys the process of preparing for her silverpoint drawings and putting metal to paper. "Every time you do art, you learn something," she said. 
Each time she draws, she's looking and thinking how best to portray what's in front of her. She asks herself, "How can I draw this?" She observes the different tonal ranges and the color possibilities, and then thinks to herself how she can combine the silver to make the best possible picture. 
Sometimes, when traveling to a location doesn't allow enough time to sketch or draw on-site, Doliba takes photographs to devise the composition at home. She then prepares a detailed pencil drawing prior to any silverpoint drawing. "It's not easy to get what you want from the beginning with silver." 
"Every time, I do something new," she said. Her silverpoint "First Light" is a good example. Living in New Jersey, Doliba is close to the water. "I really love the sunrise and how the light comes up," she said. Having already captured how the sun hits the water in an oil painting, she wanted to see how the picture would work as a silverpoint drawing. The result is an incredibly luminous picture, in which the golden sunlight shimmers on the sea and sand as the frothy sea foam reaches the shore.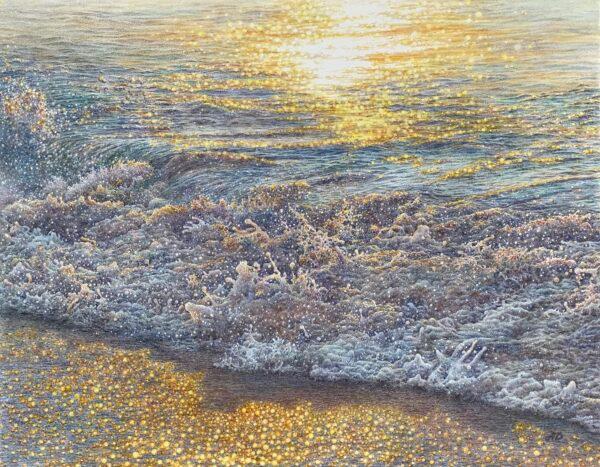 A Love for Architectural Drawing
Doliba feels that architectural drawings are her vocation. "Of course, I'm always thinking about drawing figurative art because it's most popular, but always, every time, I'm still drawn to architectural drawings. I love it! I love to do it."
Currently, Doliba is creating a body of architectural drawings as an exhibition to submit to galleries. For artists like Doliba, whose work is quite niche, this can be a challenge. There's not a lot of artists doing her style or type of work; this, she believes, can be problematic for gallery submissions. Galleries want their art exhibitions to reflect or match the idea of what they sell in their gallery, she said. 
Of her architectural drawings, Doliba says, "I want to show the beauty of the place." In the same sentiment, she also hopes viewers of her art enjoy each place as much as she does.