This garlic butter shrimp is one of my go-to recipes when I have to hit the kitchen running. It takes just twenty minutes to make, I always have all of the ingredients on hand, the kids love it as much as I do, and there's barely any clean-up. I like to serve the shrimp over pasta or with a lightly toasted baguette for mopping up all of the garlic-butter sauce. Because it's so quick and easy to prepare, it also makes a fabulous, low-maintenance appetizer for a party — just keep the tails on and serve with plenty of napkins. I guarantee your party guests will be asking for the recipe!
What You'll Need To Make Garlic Butter Shrimp
For the shrimp, I use frozen jumbo (21/25) shrimp labeled "simple peel and deveined." Come dinnertime, all I have to do is run the shrimp under cold water to quickly defrost and then peel. Note that the "fresh" shrimp you see in the seafood case at the supermarket is typically thawed frozen shrimp; so, for the freshest shrimp, you're better off buying it frozen and defrosting it yourself.
How To Make It
Begin by tossing the shrimp with olive oil, salt, pepper and garlic directly on a baking sheet.
Roast in the oven for about 8 minutes, until pink.
Add the butter directly to the hot baking sheet and toss with the shrimp until melted. Sprinkle with a bit of parsley if desired and serve with lemon wedges.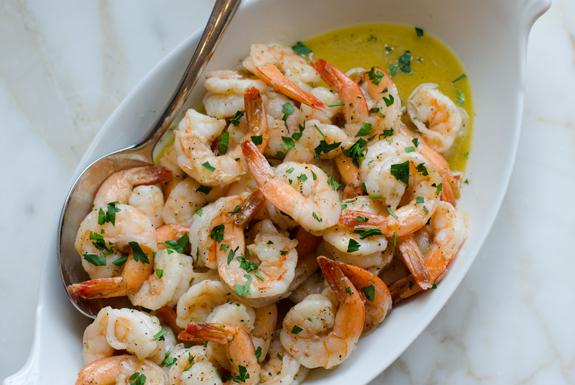 You May Also Like
Easy Garlic Butter Shrimp
Servings: 4 - 6 Total Time: 20 Minutes
Ingredients
2 pounds extra large or jumbo shrimp, peeled and deveined, thawed if frozen
2 tablespoons olive oil
1 teaspoon salt
1 teaspoon black pepper
2 large cloves garlic, minced
4 tablespoons unsalted butter, softened
Pinch freshly chopped parsley, for garnish (optional)
Lemon wedges, for serving (optional)
Instructions
Preheat the oven to 350°F.
Place the shrimp on a baking sheet and toss with the olive oil, salt, pepper and garlic. Roast for about 8 minutes, or until the shrimp are pink and just cooked through. Immediately add the butter directly on the hot baking sheet and stir until melted. Transfer the shrimp and butter sauce to a serving dish and sprinkle with a bit of fresh parsley, if desired. Serve with lemon wedges.
Pair With
Big Italian Salad
Dear Readers: We would love to hear from you. What topics would you like to read about? Please send your feedback and tips to 

[email protected]

.