PG | 2h | Drama, Thriller | 1 June 1956 (USA)
On vacation, the McKenna family, consisting of Ben (James Stewart), his wife Jo (Doris Day), and their young son, Hank (Christopher Olsen), are on a bus from the airport to a hotel in Marrakech, Morocco. Ben's a doctor who works in Indianapolis, Indiana, and Jo's a former pop star who had a successful singing career.
Alfred Hitchcock's spy drama "The Man Who Knew Too Much" certainly opens on a dramatic note: The bus hits a bump in the road, and Hank, stumbling forward, accidentally rips off a Moroccan woman's face covering. The woman's husband takes offense and follows Hank back to his father. In a matter of moments, it looks as if an international event is about to unfold. But a stranger steps in and squashes the misunderstanding.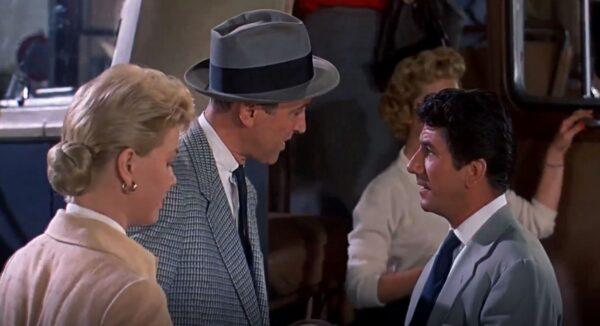 Ben and Jo learn that their kind Samaritan's name is Louis Bernard (Daniel Gélin), a mysterious man who is vague when questioned but very interested in getting information about them.
The next day during their visit to a Moroccan marketplace, the McKennas spot Louis as he staggers out from an alleyway—he's been stabbed in the back with a very long knife. Louis manages to make it to Ben, where he collapses into the doctor's arms. He whispers his last words into Ben's ear, which details an assassination plot going down in London, England.
In order to keep the McKennas quiet about the plot, some nefarious underworld figures kidnap young Hank. Then, adhering to the kidnappers' demands, Ben and Jo, instead of relying on local authorities, decide to risk their lives to try and save their son all on their own.
This remake of one of Hitchcock's earlier works of the same title (the original was produced in 1934) is a quite daring yet believable story about a couple of ordinary American citizens who get caught up in the murky world of spies and international intrigue.
There's a twist to the film, which is quite ingenious; Ben and Jo are very visible to both the authorities and the bad guys, since they are so public about what they are doing. It's interesting to see them work with what they have, while trying to get to the bottom of the assassination plot unfolding in London, as well as rescue their son from his captors. As a result, many of the film's scenes are painted with an unusual sense of high tension and unease.
Add to that some moments of witty banter between its many interesting characters, and you've got a smorgasbord of seemingly disparate elements that somehow come together and work. This film showcases Hitchcock's ability to combine all of these themes into a daring, two-hour spy drama that moves along at a brisk pace and never lets off the gas.
Jimmy Stewart once again steps into the role of an everyman who is deceptively resourceful (just as he did as L.B. "Jeff" Jefferies in 1954's "Rear Window"). Christopher Olsen is likewise convincing as a young boy who has been kidnapped by some really bad people. However, Doris Day really steals the show as Jo, a whip-smart woman who doesn't miss a beat (and that's coming from a lifelong Stewart fan).
To get a sense of this, watch one of the beginning scenes where she breaks down the fact that Louis basically interrogated Ben during their bus ride, without giving much information about himself in return—besides a couple of basic tidbits (such as his name, for example).
Later, she's also able to showcase her lovely voice while breaking out into song with "Que Sera, Sera," which was as big a hit as the movie. It's hard to believe that such a talented, humble, and kind soul just passed away last year (2019). But thankfully she'll live forever on the silver screen.
The film is as easy on the eyes as Day is; Hitchcock takes his time with beautifully shot scenes of both Morocco and England, with well-placed musical pieces that only add to the stunning locales.
In the end, "The Man Who Knew Too Much" has become one of my favorite Hitchcock films (and I thought "Rear Window" couldn't be topped). It perfectly captures all of the elements that made his films so unique and fun to watch—drama, intrigue, high tension, humor—it's all there for us to enjoy.
'The Man Who Knew Too Much'
Director: Alfred Hitchcock Starring: James Stewart, Doris Day,
Christopher Olsen
Rated: PG Running Time: 2 hours Release Date: June 1, 1956
Rated: 4.5 stars out of 5
Ian Kane is a filmmaker and author based out of Los Angeles. To learn more, visit 
DreamFlightEnt.com