PG | 1h 37min | Adventure, Comedy, Family | 7 November 2003 (USA)
Unlike the films of the 1940s and '50s, most of the more modern Hollywood Christmas movies tend to have a pervading sense of cynicism and are sometimes even mean-spirited, the opposite of what the venerated holiday is all about. However, a few recent attempts convey the festive nature of Christmas, with director Jon Favreau's (of Marvel film fame) 2003 "Elf" being one such effort.
The main protagonist is an oddball named Buddy the Elf (Will Ferrell), who just doesn't fit in with the other elves of the North Pole. For one thing, he's massively larger than the typical elf, and he also stinks at making toys.
Thirty years prior, Santa Claus (Edward Asner) was making his rounds in an orphanage. One of the orphans, Buddy, a baby at the time, who had been put up for adoption by his mother (his father wasn't even aware that he'd been born), clandestinely crawls into Santa's toy bag.
When Santa returns to the North Pole, Buddy emerges from his toy bag, and—in all of his famous generosity—Santa decides to keep the child instead of returning him to the orphanage. One of the senior elves, Papa Elf (Bob Newhart), had always wanted a child and so seizes the opportunity to raise Buddy as his adopted son. Several amusing scenes ensue that show a quickly growing Buddy dwarfing his elven father.
Buddy grows up to be a good-natured, naïve young man who begins to feel alienated by the elves—thus spurring a natural curiosity as to why he is so different. He soon discovers that his peculiarities are attributed to the fact that he's, well, … a human being. He also learns that his sole surviving parent is his father, a man named Walter Hobbs (James Caan).
Furthermore, Santa reveals to Buddy that Walter is on his "Naughty List," a sign that all is not well.
Although cowed by all of these sudden revelations and somewhat apprehensive, Buddy decides to both learn what he can about what it is to be human, and find out more about his father. Therefore, Buddy travels from the North Pole to the mean streets of New York City.
After arriving in the Big Apple, Buddy discovers that Walter already has a family—he's married and has a son.
The viewers are also acutely aware that Walter is pretty much a big jerk who doesn't want to have anything to do with Buddy, partly because Walter considers Buddy to be demented and partly because Walter's extremely cynical.
Buddy, ever the optimist, doubles down on his desire to break through his father's rigid shell and have some sort of relationship with him.
Being Christmastime, Buddy lands a job at a local department store where his North Pole skills turn out to be invaluable. Soon, a romantic subplot develops involving Buddy and a young saleswoman named Jovie (Zooey Deschanel).
However, the main thrust of the film continues to revolve around Buddy and Walter and their fragmented father-son relationship. Will (no pun intended) Buddy be able to change Walter for the better, or will the latter continue to be a grade-A butthead?
Can Christmas Survive 'Saturday Night Live'?
As a film that is dependent on Ferrell of "Saturday Night Live" ("SNL") fame, I was a little skeptical going into it—after all, most "SNL"-related movies are total flops. However, I was pleasantly surprised that there wasn't much of the bawdy, juvenile "humor" that comes with the other "SNL"-related films, including lots of potty-mouthed cursing and such.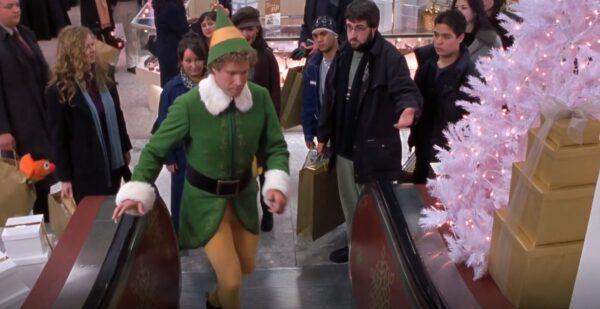 In fact, Ferrell plays his role with good-natured, festive zest that fits well with the season. The only glaringly missing element is that there is no mention of Christianity, let alone Jesus Christ, something that the older Christmas films didn't shy away from.
As a film, "Elf" is generally a good-natured and funny modern take on Christmas that should cheer people in these … erm … "interesting" times. For the most part, it deftly explores the themes of generosity versus selfishness and innocence versus cynicism.
'Elf' Director: Jon Favreau Starring: Will Ferrell, James Caan, Bob Newhart Rated: PG Running time: 1 hour, 37 minutes Release Date: Nov. 7, 2003 (USA) Rated: 3 stars out of 5