Passed | 2h 46min | Romance, Western | October 1958 (USA)
As an unabashed fan of one of the greatest American film directors, William Wyler, as well as classic Westerns, I'm a little ashamed to have never seen "The Big Country" before. Wyler's Wild West opus directly preceded his sword and sandal historical epic "Ben-Hur," headlined by actor Charlton Heston. Here, however, Heston appears in one of the few supporting roles he played in his life, with the spotlight going to lead Gregory Peck.
The film opens in dramatic fashion, with a rousing title score by composer Jerome Moross. This is accompanied by beautiful cinematography by Franz F. Planer, and we see a stagecoach being drawn by horses through craggy canyons and over dusty, windswept prairies. These opening sequences really give a sense of the optimism that the post-war boom period of the 1950s (when the film was produced) encapsulated.
The stagecoach rides into a small town and rolls up to its depot. The tall, gentlemanly stranger, James McKay (Peck) emerges from the stagecoach and takes in his surroundings, and the scrappy inhabitants take in him as well. Dressed in a relatively clean three-piece suit and sporting a rounded derby hat, to say that McKay stands out like a sore thumb is a bit of an understatement.
McKay is a retired sea captain who has traveled from "back East" to the American West in order to meet his fiancée, Patricia Terrill (Carroll Baker), who lives on her father's enormous ranch. The Terrill ranch foreman, Steve Leech (Heston), shows up via horse and buggy to pick up McKay.
It becomes immediately apparent that Leech isn't fond of McKay. The foreman suggests to the new arrival that he not wear his duster hat "around here," explaining (in a condescending way) that "one of these wild cowboys might take it into his head to shoot it off ya."
After McKay meets up with wife-to-be Patricia, the couple are soon accosted by a scurrilous bunch known as the Hannasseys. Led by a troublemaking drunkard named Buck Hannassey (Chuck Connors), the men commence to roping McKay up just as one would a common herd animal. After some crude mocking and jeering, the men grow bored of their noncombative captive and untie him. With a parting remark, Buck declares to Patricia that McKay "ain't much of a man," before riding off with his cackling cohorts into clouds of dust.
Patricia's surprised McKay didn't fight back. He calmly responds that he didn't want to escalate something that wasn't that serious in the first place.
McKay meets the ranch's cattle baron (and Patricia's father), Henry Terrill (Charles Bickford). Apparently, Henry is a war veteran since everyone on the ranch refers to him as "the Major" and his immense ranch house is decorated with weapons galore.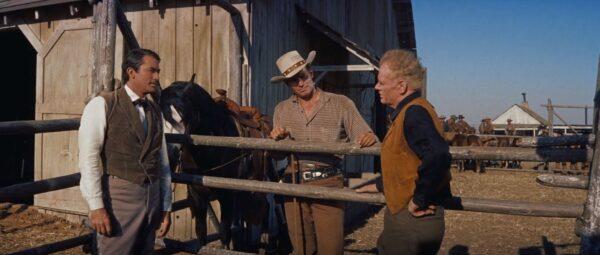 During breakfast, McKay inadvertently touches a nerve when attempting to minimize his run-in with the Hannasseys the previous day—causing the Major to break from his cordiality and reveal his vehement hatred for them.
Leech walks in and interrupts their breakfast, reminding the Major about a morning hunting trip. McKay, sensing something's amiss, asks what the men are hunting. Leech's reply shocks him: They're going out to hunt for Hannasseys—to seek revenge for roughing up McKay.
As the Major and a large contingent of his men saddle up, something dawns on McKay. He briefly pleads with the Major not to escalate matters. When that doesn't work, he posits that the Major's conflict with the Hannasseys isn't about what transpired the previous day, but rather a feud that already exists. In particular, the Major's personal vendetta against the Hannassey patriarch, Rufus (Burl Ives), which sinks even deeper than their dispute over water rights.
From that point on, McKay is largely considered by the locals to be cowardly, since he won't be cajoled into taking up arms against the Hannasseys. However, two people know better—schoolteacher Julie Maragon (Jean Simmons), who is Patricia's best friend, and the Terrills' ranch hand Ramón (Alfonso Bedoya). They rightly perceive that McKay's cool-headedness entails immense self-discipline and an unwillingness to stoop to unethical behavior.
But will his seemingly passive resolve be able to withstand the ever-escalating family feud when it begins to boil over?
A Big Experience
I must say that this film left me wanting to be magically transported back to Wyler's Wild West—it was that immersive of a cinematic experience. Wyler's steadfast direction, coupled with the fantastic performances by its star-studded cast, elevates this film to something sublime. Although everyone performed their roles convincingly, Ives's performance, in particular—as the head of the Hannassey clan—was peerless. His depiction of a rough-hewn, yet principled man is something for everyone to see, and the veteran actor steals every single scene he's in.
I saw a lot of Westerns growing up, but I'm actually glad that I didn't view "The Big Country" until I was older and able to appreciate it. It's a complex, multifaceted film that has a lot of moving parts, yet it never sags or breaks down under its own girthy, 2-hour, 46-minute runtime. That in itself is an incredible feat in filmmaking.
'The Big Country' Director: William Wyler Starring: Gregory Peck, Jean Simmons, Carroll Baker, Burl Ives, Charlton Heston Not Rated Running Time: 2 hour, 46 minutes Release Date: October 1958 (USA) Rated: 5 stars out of 5