A self-taught artist has crafted a colorful menagerie of fanciful and realistic origami creatures. Some are palm-sized, some life-sized, and all represent the artist's personal philosophy: "If it makes you feel happy, go for it!"
Romanian artist Patrick Alberto Vraja, 25, grew up in the city of Sighetu Marmației and recalls being entranced by paper art as a child. His first creations included "cute dinosaurs," animals, and everyday objects. Today, he crafts animals, human figures, and mythical creatures with jaw-dropping attention to detail.
"I recently started going for more realistic origami because I feel like real life is as beautiful, or even more, than fiction," Vraja told The Epoch Times. "I feel like realism in art can be tougher to achieve, so I took it as a challenge for myself and my growth.
"Growth lies in simple things: shaped feathers, different wings, a different pose. Not everything has to be flashy, at least that's what I think."
Vraja shares his creations on
Instagram
and
TikTok
, and says his take on a design by the artist Katsuta Kyohei titled "
The Blakiston Fish Owl
" is by far his best fold yet. It's also his largest work to date.
He said he wanted his creation "closer to a real-life owl." His first challenge to complete the incredible owl origami was "trying to actually fold all that paper," he said. Vraja completed the owl on Jan. 18, after close to 25 hours of work spread across several days.
"Then I actually brought it upon myself to look at owl anatomy so I could achieve realism. It was a lot of back and forth with the folding ... I just went full 'freestyle mode,'" he said.
While each of Vraja's creatures is crafted by scoring and folding a single sheet of paper up to 5 feet in length, those sheets can be comprised of two layers of thin, malleable 25 gsm paper, glued together with a cellulose-based glue to make the paper resilient and "better-purposed" for sculpting.
Vraja alternates between tissue and Wenzhou rice papers, claiming tissue is "very accessible," and rice paper is "higher quality but more expensive."
At the age of 7, in the absence of the internet, Vraja was introduced to origami by his mother, toward whom he is grateful to this day.
"I think my very first origami was a jumping frog or a beaked airplane that does tricks while flying," he recalled. "I didn't do a lot the first years; I just folded and folded, until it became a habit."
Everything changed with the internet. Vraja found a website offering simple to intermediate origami tutorials, and made replica designs using cheap A4 printer paper.
"For what I was working on, it was enough," he reflected. "We all start somewhere, and I'm proud of those times."
After folding everything the website had to offer, Vraja moved over to YouTube for more inspiring content. He remains in contact with some of these same content creators today.
Entering school, Vraja's designs graduated from simple to more complex. He discovered a love for dragons, folding over 100 dragons through his high school years during lunch breaks, or whenever he was anxious or bored.
Vraja slowly fine-tuned his technique and believes there's still room for improvement on the smallest details. "There's no such thing as 'perfect,' but overall I'm very happy," he said.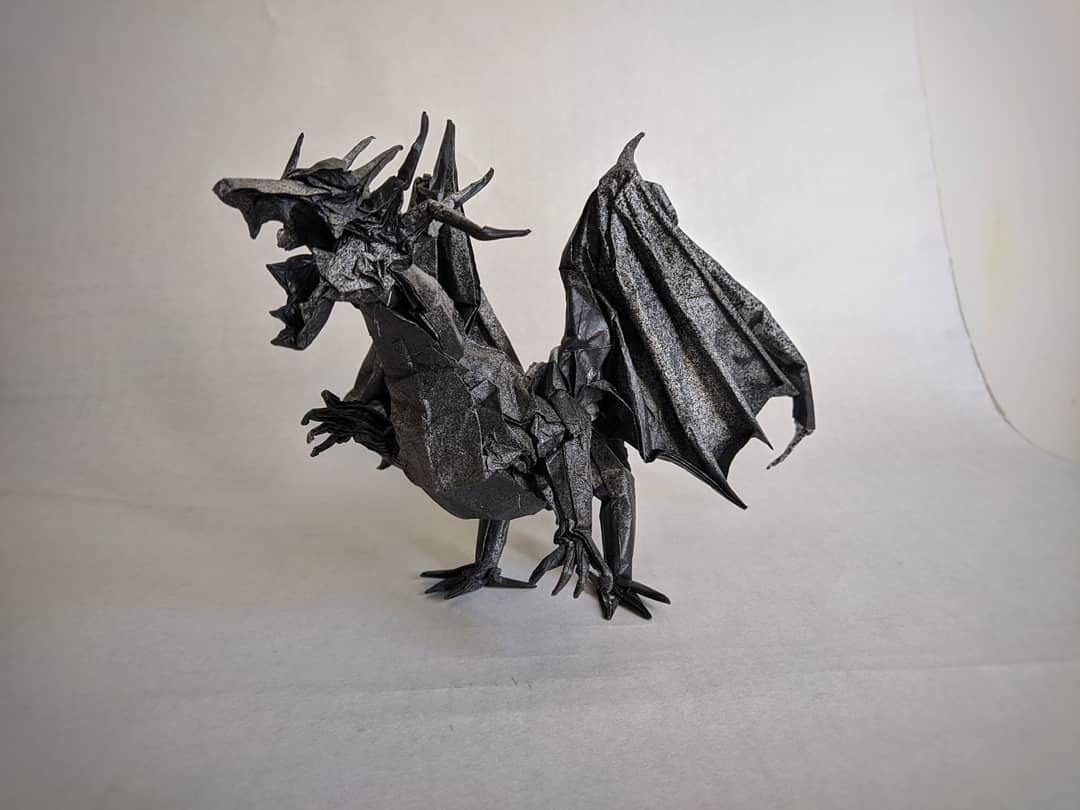 The artist, who moved from his hometown to Cluj Napoca to finish his studies in public administration, and works in retail, doesn't know exactly how many paper artworks he has folded, but claims the number is "in the three digits." Describing himself as a calm and patient person, he considers origami "training for my mind."
He advises others: "Be original, be yourself! Nothing bad will ever come from that. If you have something that you enjoy doing, no matter how big or small, do it. Don't focus on people's negative opinions ... I'm living proof that if you keep doing something you like, if you just give it any time of your day, you'll reach a point where you'll be content and happy.
"So far it's been 18 wonderful years. Some filled with constant work, some with breaks for different reasons, but I always come back to it, excitedly, no matter what! I consider origami my place where I can relax and find myself."