Nurse-turned-photographer Amy Haehl specializes in stunning maternity and wedding photoshoots, as well as photographing newborn babies in a studio setting. But when she turned her hand to a funny side project, she found a whole new fanbase.
Haehl, who owns and runs Coffee Creek Studio in Shelbyville, Indiana, released a collection of hilariously edited photos of babies with full toothy grins, and the internet responded by making them a viral sensation.
"I just thought it was so funny and would be a great way to put a smile on people's faces, literally," Haehl told
CafeMom
.
The 37-year-old photographer clarified that she didn't organize a photo shoot specifically for this project, but rather chose photos that lent themselves well to the funny edit from her existing back catalog. The broad toothy grins were tailored to fit each baby's face.
Haehl, who has over 11 years of experience in the profession, decided to experiment with the photo-editing application FaceApp after seeing a friend transform a picture of their own baby. After running some of her adorable newborn subjects' photos through the app, Haehl was delighted to find that the results were extremely funny.
Her images combine realistic adult teeth with perfect newborn baby poses in sweet serene pastel backgrounds from Haehl's studio. The photographer sought the consent of the babies' parents and posted 16 photos from the ensuing series "
If Babies Had Teeth
" to her social media pages.
"I haven't laughed this hard in a long time," Haehl captioned the edits. "I could have gone back and done this to every single baby that has ever come in my studio. Can't. Stop. Laughing."
The fun series was shared tens of thousands of times. Comments flooded in, with netizens exclaiming that Haehl's clever photo edits were inciting giggles, and a little fear at the same time.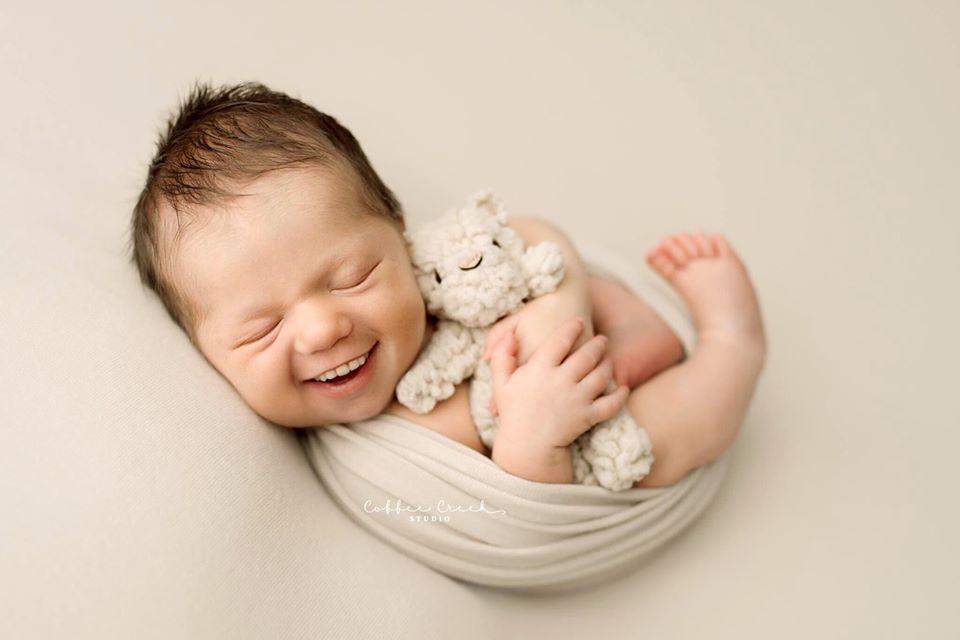 Haehl told
Today
 that neither she nor the babies' parents anticipated that the series would go viral. But the parents have "all been very understanding," she said, adding, "and I've been trying my best to keep them informed throughout this whole thing and gifting them some free photos as a thank you."
As an ER nurse, Haehl had often felt that so much was out of her hands. Coming to photography as an alternative career felt like a "calling," she explained.
"I felt like it was a way to create tangible memories for people," Haehl told
Bored Panda
, "and a way to help others even in the most helpless situations. I love to use my photography as a way to give back to others."
"When I realized how absolutely hysterical [FaceApp] was," she added, "I just had to share with my followers!"
The photographer expressed hope that her lighthearted series would provide a little respite amid stress and uncertainty. At its heart, Haehl's photo project is an invitation to smile, just like the broadly grinning babies.
"I think these photos were popular with people because it is so different from the normal way babies look and they're quite hilarious," Haehl reflected, speaking to 
CafeMom
. "I think we all realize why babies aren't born with a full set of teeth!"
"Laughter really is the best medicine," she said.