Clark
Louis
Gussin's striking paintings of America's West contain quintessential scenes of farming life, cowboy culture, indigenous communities, and more.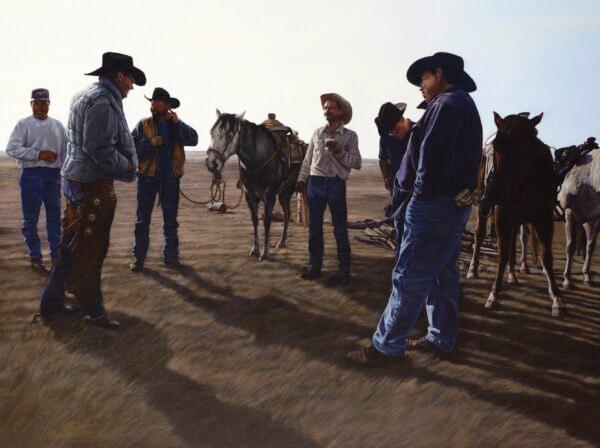 His paintings are a continuation of the world he saw as a child. 
"I grew up in a culture that tilled the land, was close to nature, and had a strong faith," he said in a phone interview. 
Gussin tries to capture the spirit of everything that he experiences. "
It's important for me to know about what and who I paint. I don't just paint an idea or paint some political statement. I'm painting what I experience and the people I know," he said.
Because Gussin paints only from his personal experiences, each and every scene he depicts has a story that he can just as eagerly
tell
you in "technicolor," if you ask. 
A Budding Artist
Gussin spent his early childhood on his mom's family's small tobacco farm in North Carolina, 
while his father (a Marine) was stationed on Parris Island, South Carolina, during the Korean War.
After the war, the family moved permanently to Washington, D.C., his father's hometown, and Gussin spent summertimes working on the family tobacco farm.
When he was 11 and 12, his parents sent him every Saturday to the Corcoran Gallery of Art school in Washington, where he learned to paint. Being in the presence of the gallery's great art deeply influenced him. He remembers being particularly inspired by Albert Bierstadt's painting
"The Last of the Buffalo,"
part of the Corcoran collection that is now at the National Gallery of Art in Washington. 
Living in Washington, Gussin was able to easily study the old master paintings at the National Gallery of Art. He especially enjoyed the techniques of Renaissance artists and the Golden Age of Dutch artists, whose paintings still inform his art practice today. 
 "I always look back to the Renaissance or the Golden Age of Dutch painting because that fits my temperament. My temperament is to paint that way," he said.
Another strong but contemporary influence on Gussin's work was the art of realist painter Andrew Wyeth. Wyeth was painting his everyday America not too far north of where Gussin lived. And Wyeth's America reflected parts of Gussin's own upbringing. 
Always Painting
Gussin's love for art has always been with him. "I've always painted no matter what I was doing," he said. He even sketched while serving during the Vietnam War, and created art for the military while upholding his normal duties. After he was discharged, Gussin settled in California where he still lives today. 
Gussin earned his BFA from the California College of Arts and Crafts. Its program, he said, was a cross between postmodernist and traditional art training. 
"When I grew up, postmodernism was at the forefront of art," he said.
After college, the option to become a traditional artist just didn't seem possible. "Norman Rockwell and a whole host of illustrators were making a living doing commercial work as opposed to doing it as fine art," Gussin explained. So he did a short stint as a freelance illustrator and art director; both seemed viable careers, but it turned out to be too stressful for him and his wife as they thought of raising a family. 
Looking for stability, Gussin took a job at International Business Machines (IBM); at the time, a job at IBM meant a job for life. For Gussin, that was true. He worked there for 36 years and 3 months, and for half of that time, he painted. "I tried to paint at least five to eight hours a day even when I was working," he said. 
Many of Gussin's paintings feature Californians and their rich heritage. Gussin says that some people may think his paintings are of another time and place because it's a California that people rarely see on the news. But he asserts that once people travel out of the cities, "California is very much a Western state," with a lot of agriculture.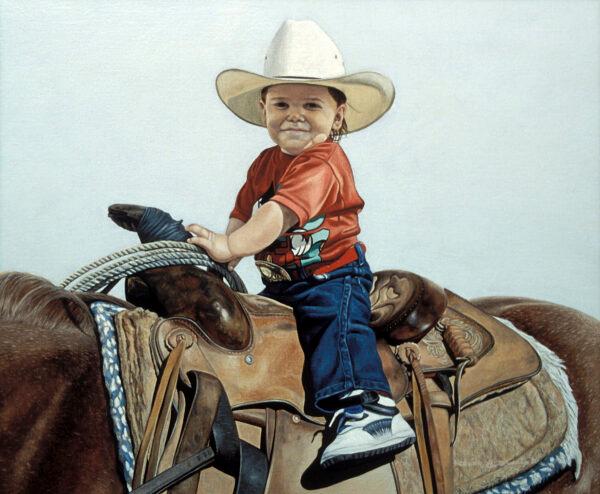 Once out of the city, Gussin said, it's easy to find people farming the land and working on 200-year-old ranches. When he first moved to California after leaving the service, he said, "there were more cowboy rodeos and Indian powwows [there] than in any other state." A lot of his friends still live that way of life. 
Painting America's West
"I try to live my life with integrity; so, when I paint, I want to paint with integrity," Gussin said. For him, that means painting with the same pigments that the Renaissance and Dutch Golden Age artists used and using the same techniques,
although he paints on a ground (primer) of lead white but doesn't use an egg tempera underpaint.
"I'm an indirect painter. I paint in layers so you can get the luminosity from the pigments reflected back to the viewer, and my paintings can almost glow like Renaissance paintings do," he said. 
'Bineshi in Wanblee'
Gussin met Bineshi while he was helping to prepare a site for a sun dance on the Pine Ridge Indian Reservation in South Dakota. Hundreds of indigenous people from across the country came to take part in the spiritual rite. 
Gussin had been invited to help with manual labor for the sun dance by a colleague at IBM. Gussin found the whole experience very moving and believes that he was the only nonindigenous person in attendance. "I was very much embraced there as part of it, as a nonindigenous person," he said.
He believes that indigenous Americans are "on the edge of survival." "We think of all the things going on in the world and people just totally overlook the indigenous people in America," he said. "They're still hanging on to their customs, and their faith, and their traditions as much as they can in this modern world."
The medicine man in charge of the sun dance, from Crazy Horse's lineage, lived on the reservation in the small town of Wanblee.  "Wanblee is a very, very poor place. And you can see all the problems the indigenous people in America have to endure. It's almost encapsulated in that little town," Gussin said. 
In Wanblee, Gussin noticed Bineshi, a young woman whom his friend knew, and he asked him if she would pose for a photograph so he could paint her later. 
In the painting, Gussin used vermillion and lapis lazuli to great effect. He explained that traditionally the red and blue pigments were used by the likes of Raphael and Caravaggio
to depict only holy figures such as saints,
and people of high standing in the Catholic church. The pigments were extremely expensive, and so when the artists painted religious commissions, the church would pay for the pigments. 
The
painting
is currently on display at the de Young Museum in San Francisco as part of the
de Young Open
, until Jan. 3, 2021.
'Cherokee Matriarch'
Dwaide Green, t
he lady in Gussin's painting "Cherokee Matriarch," used to be a regular visitor at the local art gallery with her son; they eventually bought a couple of Gussin's illustrations of indigenous people. A year or so later,
Green
approached Gussin to ask if he would teach her son Calvin art. 
Calvin was highly creative. As well as making art, he tried to teach himself classical guitar, and he wrote poetry (which has been published in journals all over the world). But he suffered from schizophrenia and other mental challenges, Gussin explained.
Gussin believed that Calvin's artistic talent had promise, so every Saturday, Calvin would visit him and learn the fundamentals of art. The lessons continued for 40-some years. 
Sadly, Calvin was killed by a DUI driver this year. Reflecting on Calvin's work and mental challenges, Gussin said: "He's done thousands of times more than some people I know who are fully functional and healthy. Sometimes I think he was just an angel in my life to help me see the difference. He was pretty amazing." 
Gussin sold "Cherokee Matriarch" at his 2013 solo show at the
Triton Museum in Santa Clara. The buyer is unknown to him but thought to be someone of prominence from San Francisco.
'Fallow Ground Fallow Heart'
Gussin often titles his paintings to make people ponder. Landscape paintings are often deeply personal to him. "Fallow Ground Fallow Heart" is one example. The painting is of the family tobacco farm with a packhouse hiding the house where his mother grew up. It's winter, when the land lies fallow.  
Gussin explained that because the tobacco plants take a lot of nitrogen out of the soil, tobacco farmers have to periodically leave the land fallow to heal. And crops are rotated on the land to help nourish the soil.
The painting also refers to Gussin's Christian faith. His strong Christian belief comes from directly studying the Bible as a member of his local church.
"In my faith, there are times when I have to let the ground of my faith fall fallow in order to renourish itself and grow," he said.