Native New Yorker Meg Thompson knew homeschooling her three kids would be the best way to give her family the flexibility to adapt to her military husband's "atypical work" and spend more time together.
Now seeing her kids thrive, she hopes to empower other parents to take the lead on their children's education.
"You have what it takes to nourish them and lead them to success," Thompson told The Epoch Times. "One of my missions in life is to let women know that they can flourish in motherhood.
"Our children do not chain us—they give us opportunities to invite them into our world, and what we love. Motherhood will change the rhythms of the life you have built, but it does not have to extinguish them."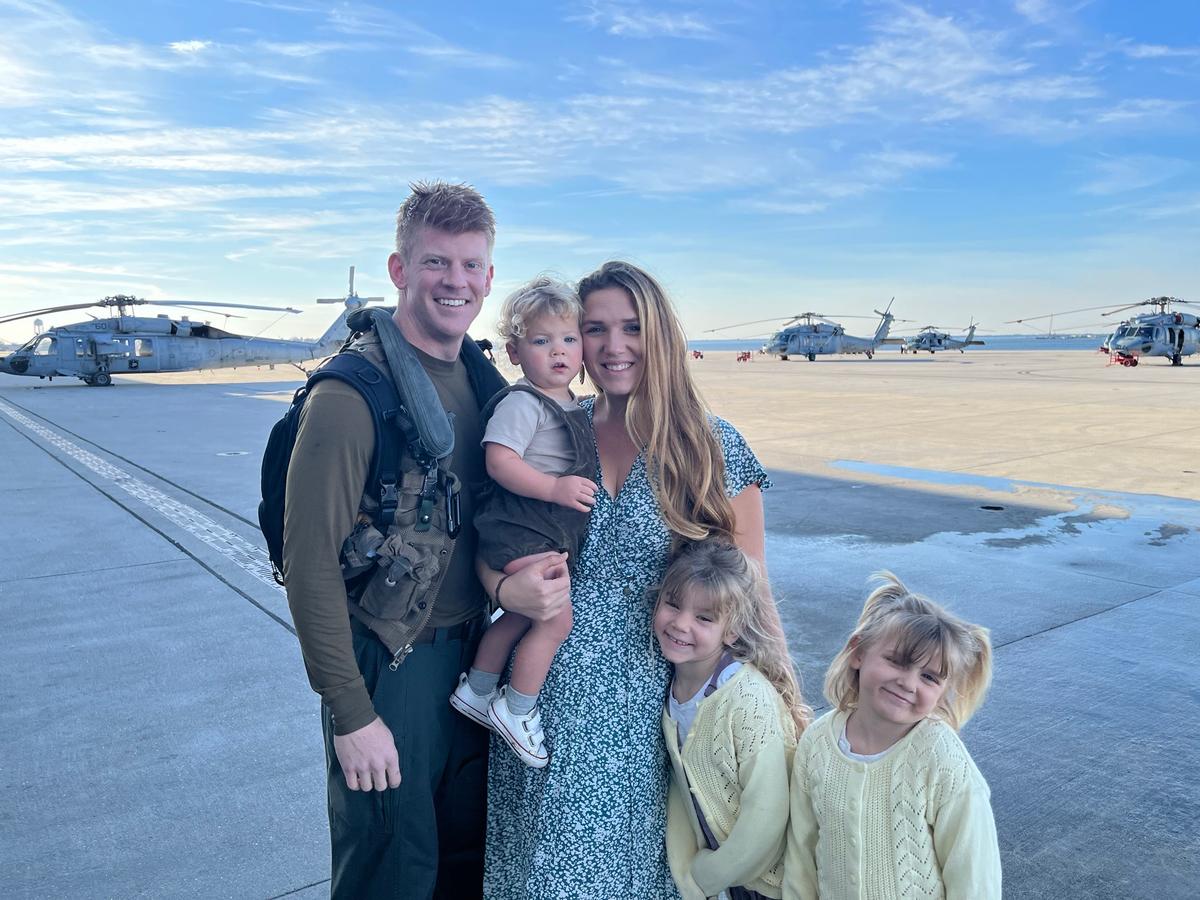 The Journey
Thompson met her husband, Cameron, while rock climbing outside of Asheville, North Carolina. They fell in love and tied the knot in Jacksonville, Florida, and are raising three children together: Florence, 7, Clementine, 5, and Theodore, 3.

"Cam was deployed three times from 2016 to 2018," she said. "The last overseas military deployment my husband had was to Korea in 2017. Now he is an EMS (emergency medical services) pilot, and is gone every other week."

Thompson admitted that homeschooling was never part of her plan. However, she made the decision the moment she realized how much time her older daughter, then 4 years old, would spend away from her if she attended a regular school.

"I froze," she said. "I could not imagine going from spending all day, every day together to being separated over 25 hours a week. I also knew it would be best for our family if our schedule could adapt to my husband's atypical work weeks and months."
Two years on, Thompson follows the Christian homeschool curriculum My Father's World and says no day looks the same.
She said: "If the weather is beautiful, we spend lots of time outside, reading under the trees, walking down to our beach and doing an ocean study, or spontaneously going on a camping trip and grabbing our nature journals.
"We read every single day. Science is my daughter's favorite subject, so we have a few fun science kits we experiment with around the table after dinner. My kids are very involved in gardening with me, taking care of our chickens, and cooking with me. ... Getting the kids involved in the kitchen is messy but so rewarding!"
Fascinations of Life
As a child growing up just outside New York City, Thompson had a "God-given fascination" with growing her own food and always dreamed of running a homestead.

She would save the pits from plums and peaches and plant them around the yard, hoping to grow a tree. Today, her head spins at the number of tomato plants her kids have unearthed, thinking they were "weeds," but she is beyond grateful to be living her dream.

"My kids help me bury the compost and understand why we save our banana peels to feed the soil," the proud mom said. "The chickens eat all of our scraps, and then we get to eat their eggs. My girls have learned hard lessons about predators and prey, and how we honor the lives and the land God has entrusted us with."
Every task we do in life can have multiple purposes, Thompson said, and cooking is a great example. While measuring ingredients, her kids work on division; while fermenting foods, they talk about bacteria; while baking, they learn about chemical reactions.
Thompson also lets her kids' existing interests guide their education. For example, since Clementine is "obsessed with bugs," they frequent a library nearby that "has every bug book a 5-year-old could want."
The family has even made use of a military program called "space-available flying," which allowed them to board a cargo plane to Germany, from where they spent a month in Europe learning about the world through history tours, trying different foods, and exploring ancient Roman ruins.
"They genuinely are living their best lives through creative problem-solving and imaginative play," she said.
Thompson says her children are each other's best friends, and even tutors. Currently, her 7-year-old, Florence, is teaching her preschooler sibling how to write her own name and how to spell, because they love hiding "secret messages" around the house for each other to find.
'A Front-Row Seat to Humility'
Thompson says she found her ideal man in Cameron when they met. It was Thompson's pastor who encouraged her to follow her heart, and faith followed the couple to the altar; they married in the same spot where they used to attend Bible studies together.

Despite military deployment, Cameron has remained his wife's biggest champion and is a huge help in maintaining the family home.

"As mothers, we get to choose the ways we use our time," she said. "I would rather have sourdough cinnamon rolls in the oven and dishes in the sink than an empty sink and an empty oven. When my husband is home, he places a huge priority on organization and cleaning. On those weeks he is home, we crank out a lot of the chores we neglected the week before.

"We have worked out most of the chores in our home that play to our strengths. ... and knowing our lane has nearly eliminated resentment and comparison around 'who did more.'"

Thompson sees her role as a mom and teacher as a chance to disciple her children. But, more than anything, homeschooling has given her kids "a front-row seat to humility."

"I am constantly hitting my knees before God," she said. "It's important that my kids see me fail so that they can watch me recover. The cycle of repentance and forgiveness is something I do with them and they do with me."

To any other parent considering homeschooling, Thompson offers two pieces of advice:

1. No one is going to care about your child as much as you do, and

2. You only need to be one lesson ahead of your children.

"You don't need to know everything and have all of the answers all the time. Let your kids watch you problem-solve. Bring them into finding solutions with you, and have fun!" said Thompson, who chronicles family life on

Instagram

.