Cooped up at home amid the
CCP virus
pandemic, people are embracing various measures to maintain their overall health and keep anxiety under check. One of them is the meditation practice of
Falun Dafa.
Volunteer hosting sites for this spiritual practice call it "an antidote to deal with stress" and have been offering free online workshops for the last couple of months.
Falun Dafa, or Falun Gong, is a spiritual discipline that consists of five exercises, including meditation, and moral teachings based on the principles of truthfulness, compassion, and forbearance. Introduced to the public in 1992, the practice attracted more than 70 million people, in China alone, by the late 1990s, owing to its much-acclaimed health benefits, both spiritual and physical.
Today, Falun Dafa is practiced all over the world by more than 100 million people from all walks of life.
Making Use of Online Platforms
Since 2017, Anne Yang and a group of volunteers in the United States have been running Falun Dafa meditation workshops for free at local public spaces such as community centers and public libraries. However, with the outbreak of the CCP (Chinese Communist Party) virus, commonly known as the novel coronavirus, these sessions have been disrupted, with the classes continuing online.

Yang, who's from Virginia, told The Epoch Times via email that she has been posting information on the weekly or monthly workshops on

Eventbrite

, a U.S.-based event-management website.

With the CCP virus spreading worldwide, every part of the globe has been affected by the lockdown and stringent restrictions put in place to curb the spread of the epidemic. While this has disrupted regular in-person practice sites at parks and community centers, it hasn't stopped people from learning Falun Dafa. With the workshops running online, Yang found that there haven't just been local attendees participating but even international ones.

"After we moved online, there were also people attending from other countries, like Spain," Yang said.

Meanwhile, in Australia, a 29-year-old entrepreneur who has been practicing Falun Dafa since 2009 decided to run an online class via a Facebook Live session. Amy Duncan, who used to suffer from anxiety until she started learning the practice, said that because of COVID-19, she couldn't conduct the in-person sessions, so she opted for the online classes.

"I want to give people who might be interested in learning Falun Dafa the opportunity to benefit from the practice as I have," Duncan said.
In India, Falun Dafa adherents have held live online sessions of the workshop through video conferencing apps since the country went under lockdown in late March.
"I found video conference apps a convenient way to connect with people who are interested in learning the practice," Archana Thakeria, coordinator of the workshops in India, said.
Though the lockdown has prevented people from meeting in person, Thakeria discovered that it was also a blessing in disguise as the whole situation "opened new ways of meeting through online platforms and learning new things." She said the use of technology has also allowed her and other Falun Dafa practitioners to collaborate effectively, "irrespective of the distance."
The Meditation Classes
Duncan, who runs an online health, wellness, and mindset-coaching business, "Mindset for Health," has conducted the workshops single-handedly by holding five sessions over five consecutive days. She promoted the sessions on her personal Facebook page and also on a Facebook group called "
Meditating Together During Quarantine
," which was created around the time when the virus outbreak began.
Hosting any live training sessions requires keeping track of the queries raised by the learners. Thakeria, who was responsible for organizing the practice session, enlisted the help of Sumaya Hazarika, a young fashion model and Falun Dafa adherent.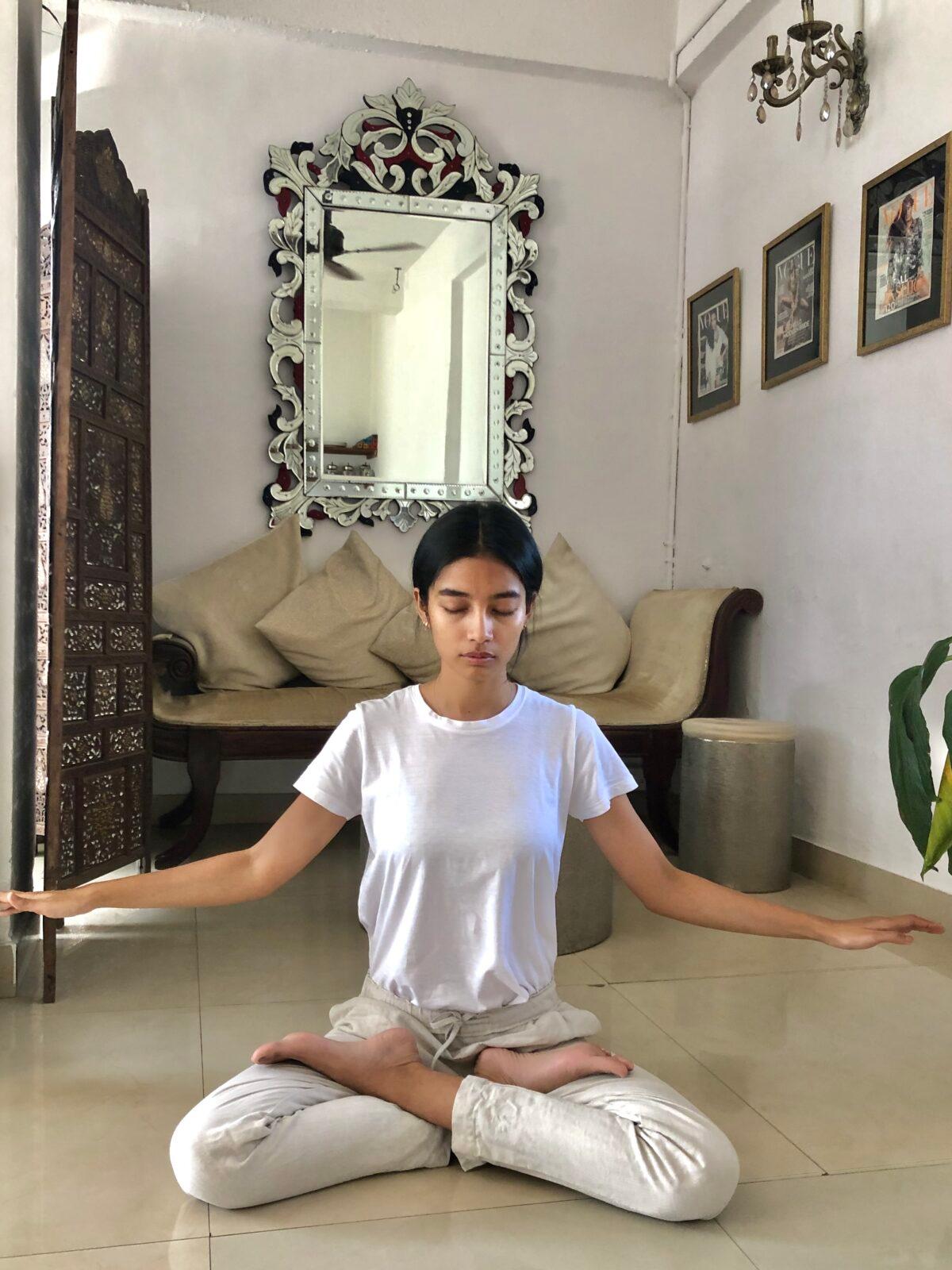 Given her outgoing professional lifestyle, Hazarika said she understands very well how difficult the current period of isolation can be for people stuck at home for an extended period of time. The fashion model, who has appeared in editorial shoots for fashion magazines such as Harper's Bazaar and Vogue, was quick to jump in to help and later found that it benefited her, too.
"Falun Dafa meditation practice is truly an antidote to deal with stress and anxiety," Hazarika said. "Many people were curious about [Falun Dafa's] origins, as no one had ever heard of it. There was also a lot of them who were curious about the postures and the reason behind them."
In India, a special workshop was organized for teenagers and young children; the classes for youngsters were customized keeping their interests in mind.
"We did a few interesting things such as teaching paper lotus origami and narrating 
Lotus fairy tales
to kids to teach them the importance of moral values," Thakeria said, adding that the kids loved the workshop and some even asked their parents to join.
Shreya, a 12-year-old girl from Karnataka, a state in southwest India, decided to join the workshop after hearing about it from her uncle who had benefited from learning the practice. Since learning the exercises, Shreya has been doing them regularly and has found it "very beneficial."
"My mind was calm and peaceful," Shreya said.
A vice principal of a Montessori School in Kathmandu, Nepal, had a similar experience. Kalpana Lohani, 32, who chanced upon a post related to Falun Dafa on her Facebook timeline one day, was curious about the practice and decided to sign up for the workshop immediately.
"I feel great and fortunate that I came to know about this," said Lohani. "Now, I do all five exercises every morning. I feel good, calm, and at peace. I sleep better."
Meanwhile, Duncan's live sessions had an average attendance of about 25 people each time, consisting mainly of beginners or those who had never heard of Falun Dafa; she said the attendees felt the difference.
"They felt the energy from practicing the Falun Dafa exercises, and another lady mentioned she felt relief from her arthritis," Duncan said.
Though the online sessions were mainly focused on teaching the exercises, volunteers have also provided additional information and resources for participants so that they can continue to learn at home. Meanwhile, others have also been following up with the attendees after the workshops.
"After attending online workshops, a few participants wanted to learn the Falun Dafa exercises on a regular basis. For them we thought of organizing online exercise practice daily," said Yuvraj Telang, a volunteer who was enlisted by Thakeria to help with followups.
An Inner Moral Compass
As more countries begin to lift restrictions, Yang and many Falun Dafa practitioners are gradually returning to parks to continue practicing the exercises and teach those who are interested to learn it in person. While Duncan might plan to hold more online sessions in the future depending on the pandemic conditions, Thakeria and her team of volunteers are not stopping the online weekend workshops any time soon.

Regardless of whether the workshops will be conducted in person or online, these volunteers hope that those who learn the practice will be able to benefit from it during these uncertain times.

"I gained insight into the meaning of existence, and now better understand how to best navigate my life," Duncan said, adding that she has once wanted to "fix the world," but later realized that she had been going down the wrong path.
"I realized that before I could fix the world, I needed to fix myself, and that is the only thing I am truly responsible for and in control of is myself," Duncan said.
"The most important thing for me to do is to focus on my own conduct and character and be a positive influence for those around me," she added.
Epoch Times staff member Daksha Devnani contributed to this report.