A drawing by one of the most famous German artists in history turned up in Massachusetts and is set to be officially cataloged for the first time. It could also be worth a cool $10 million, according to one expert.
Only a handful of finished drawings depicting the Virgin and Child were ever completed by one of the most important artists of the Northern Renaissance, Albrecht Dürer (1471 to 1528). One such drawing, hitherto unpublished, has now come to light from a private Massachusetts collection: "The Virgin and Child with a Flower on a Grassy Bench" (circa 1503).
There was also some excitement going around as to how it was found.
The highly refined drawing of unmistakable quality and in exceptional condition attests to Dürer's "introspective" creative process: stretching many years, seeking artistic truth. It typifies his preoccupation with the Virgin and Child—a motif that reached its height just a few years before Martin Luther nailed his Ninety-five Theses on the door of All Saints Church.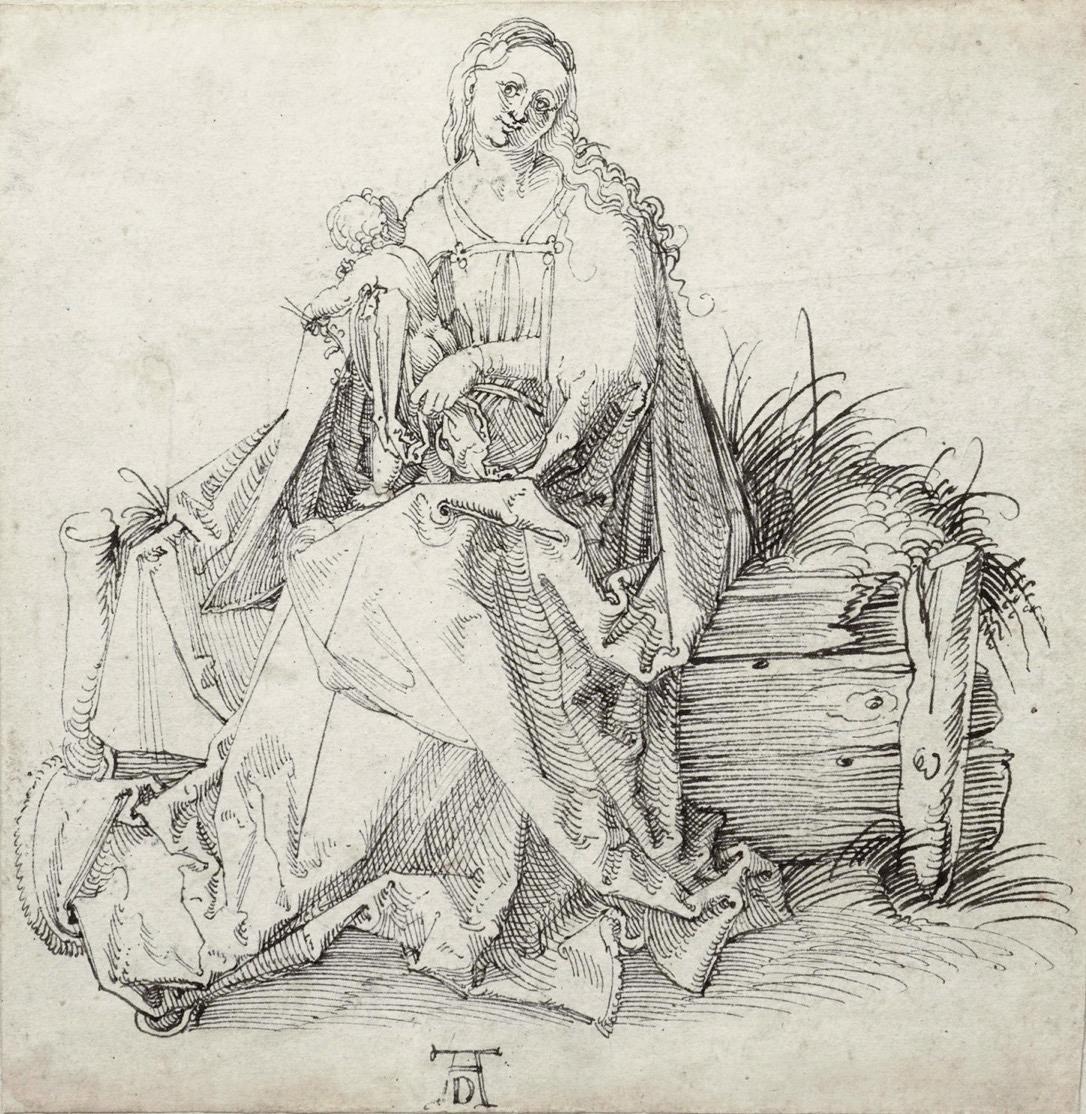 Mary is portrayed smiling, head tilted to the right, seated on a bench made of wooden posts driven into the ground and planks backed with earth and grass. Drapery, as ever in Dürer, is central, tumbling onto the bench and down to the ground, evoking hidden forms and complex spatial dispositions. Light from above adds contrast, shaping space and volume, illuminating her forehead and left cheek so that they emerge from the shaded right side of her face.
Very much Dürer, this exquisite piece places itself in a progression searching for a solution, diverging from earlier work—but a solution for what?
Part of a Painting That Never Was
Dürer depicts an unusual twist from the standard idiom of the child standing on Mary's lap. Jesus, naked, back and behind facing the viewer, leans left in her right arm as he picks a flower for his mother. His face, turned toward Mary, obscured in shadow, is beautifully suggested by the artist. Typically Dürer, the drawing demonstrates rapid spontaneity, seeming "very carefully rehearsed," as Andrew Raftery put it.

The picture probably stems from earlier engravings by Dürer (such as "Virgin and Child with a Dragonfly" (c. 1495), one of his earliest engravings upon opening his workshop in Nuremberg) and drawings, yet departs from these. Here, the child plays a more active, lively role; the drapery cascading from the bench is less bulky than previous studies.

Here, the drawing resembles more closely (and is likely an early preparation for) the "Virgin with a Multitude of Animals" (circa 1506). Rendered in ink and watercolor—featuring the same motif but with a host of bustling animals in a landscape—it was likely intended to become a finished painting, though it never happened.

Additionally, Dürer's signed monogram, located centrally near the bottom, which varied broadly in style over the years, supports the 1503 dating. The same ink was used in his trademark "AD" device as in the drawing.
A Journey From Nuremberg to Massachusetts
Other markings on the paper tell a tale of the drawing's journey: from Dürer's workshop in Nuremberg to a collection in Massachusetts. A trident and ring watermark on the square sheet of very fine, strong linen, measuring 6 3/8 by 6 7/16 inches (162 by 164 mm), attest to its origins and probably represented the famous paper mill of Hans Oesterreichers in Augsburg. Dürer was apparently furnished with a large supply of this paper around or shortly after 1500.

The Virgin and Child drawing, an Agnews

press release

 states, was likely sold from Dürer's studio by heirs between the 16th and 17th centuries; judging from markings associated with the Italian d'Este family, it wound up in Modena sometime in the late 16th century—where Dürer prints and drawings were popular. Following the French invasion of Italy in 1796, it found its way to France, and eventually New York by October 1919.

A century later, in October 2019—after some fanfare that the work had been "

bought for $30 at a yard sale

"—firsthand inspection by Dr. Christof Metzger, from the Goethe Institute, confirmed the attribution to Agnews. Boston-based art collector Clifford Schorer also stated that the Dürer could be worth as much as $10 million, CNN reported. The drawing will be included in Dr. Metzger's forthcoming catalog raisonné of the artist, scheduled for publication in 2022/2023.