Calling her birth mother's womb "the scariest place in the world," a woman who survived multiple abortion attempts has chosen forgiveness, with the help of her adoptive parents who taught her how to offer mercy through surrender to God.
Dawn Milberger, 55, lives in the Central Texas Hill Country with her husband of 21 years. She knew she was an adopted child but didn't find out that she was also an abortion survivor until she was 18. Milberger told The Epoch Times that she embraced forgiveness after realizing that the resentment-laden path of unforgiveness only leads to more bitterness, rendering the resentful useless by the Creator.
"He can't build on us if we have unforgiveness on us. Unforgiveness cannot be in the same realm, in the same room, and in the same throne room with our Creator. What I have learned over the years is that peace, trust, and forgiveness are all interlinked," she said.
"It's not every day that you hear that somebody tried to end your life for seven months when you're at your most vulnerable. But it's not new to the one true God. It's not new to our Creator. He knew the whole time. This is about His mercy in His desire to forgive us, and how we walk that out here on this earth."
Milberger has been speaking publicly about abortion survival, forgiveness, and the beauty of adoption for almost three decades. She said that often people are shocked to know that there is even something like "abortion attempt survivor."
"When you tell them that you're an abortion attempt survivor, 9 times out of 10 the reaction is, 'I didn't know that was a thing!'" she said "Usually my response is, 'Well, you can't say that anymore, you're aware of our existence now, and there's tens of thousands of us around the world.' We are determined and labeled as failed abortions. So it's kind of shocking to people. It puts a different reality on people."
'Real Mama'
Milberger's adoptive mother assured her that she was her "real mama." Her parents, with their wisdom rooted in faith, nurtured age-appropriate talks to help her understand that she was adopted. "My mother said, 'You are mine and daddy's baby doll. Somebody gave you to us, and you are ours now,'" Dawn recalled her mother telling her at the tender age of 5.
"I've always known I was adopted," she said. "I have an older brother who's adopted as well. It was never kept a secret, because you don't keep anything good a secret. My mom and my dad made it a point to always put a positive spin on it, to let us know the old adage, 'You are chosen.'"
Her parents always encouraged their children to pray for their birth mothers, whose "sacrificial relinquishment" of them had made their family possible. "We were just speaking nothing but positively for them, of them, and about them. And that encouragement helped mold respect and honor for our birth parents," Milberger said.
"My mom always said, 'Some women are mommies, some women are vessels, some women are both, and some women are neither.' My birth mother and my brother's birth mother were vessels called by the one true God to get us here to this earth; our mom was called to take us the rest of the way."
'I Did Everything I Knew to Try to End Your Life'
When Milberger turned 18, she told her adoptive parents that she wanted to find her birth parents. With their support, she contacted her adoption agency, which arranged a reunion in February of 1986.

Her birth parents told her that the pregnancy had been "evidence" of their poor choices. "They kept telling [me], 'We couldn't shame our families. You were a judgment of our decisions in secret. You were evidence of our sin. You were evidence of our choices, and you couldn't exist,'" she recalled.

One of Milberger's birth mother's first statements was to ask for forgiveness. Her birth mother told her: "I tried to get rid of you ... I didn't want to be pregnant. I didn't want to look pregnant. I didn't want to lose my job. I didn't want to shame my family. I did everything I knew to try to end your life."

Milberger's birth mother had enlisted the help of a friend, a nurse, who stole medication from her doctor's office and administered injections in an attempt to abort the unborn baby. They didn't work, so the woman resorted to cruder attempts.

"My birth father, who was in the room, stepped up and said, 'I need to ask for your forgiveness, too. I used her stomach as a punching bag to make you drop. I would give her rough piggyback rides, and I pressed and pushed and did everything I knew to do without hurting her to end your life,'" he recalled.
Compassion and Forgiveness
With her adoptive parents' "powerful love and wisdom," Milberger learned to navigate the painful revelations. Recalling the hurt and "prideful anger" churning up in her heart, the then-teenager questioned her mom, asking why she had to suffer because of her birth parents' decisions.

"My precious mom saw the path of anger that I was going down. She pulled that finger and she goes, 'Stop right there. I love you too much to let you go down this road,'" Milberger said.

A crucial lesson for Milberger came from her mother's next words: "I'm hurt, but I'm not angry." Her mother told her that, on the day of the reunion, she sat there listening to "two people looking for mercy," who ran the risk of facing rejection from Milberger by sharing how they had tried to abort her.

"She was teaching me the difference," Milberger recalled. "She said, 'Does this not show you how far away from the Lord they were at that time in their lives? Does that not break your heart? What are you going to do with that?'

"When she redirected my thinking, [saying], 'You've got two people looking for mercy, you better be very careful how you respond to that,' this overwhelming sense of compassion came over me for them. I was immediately redirected from prideful anger in my pain to compassion for these two people who spent all this time trying to kill me. So it was a huge lesson in forgiveness and mercy."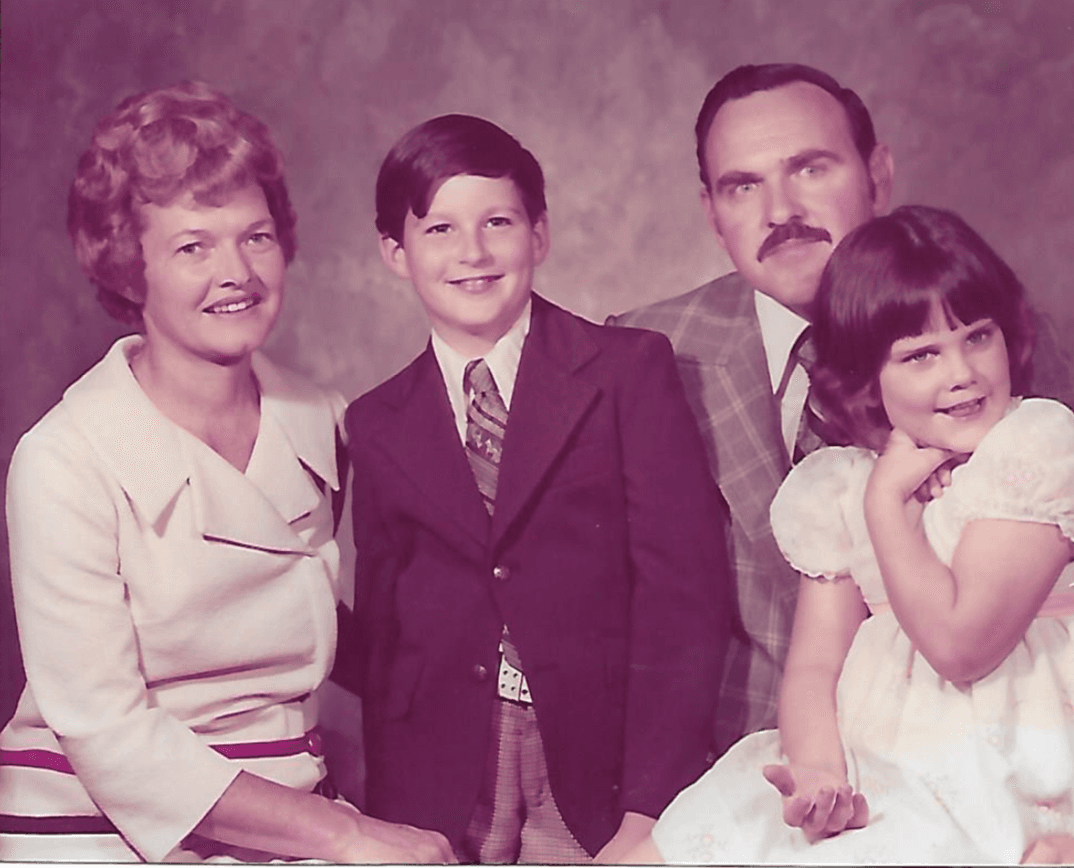 Milberger says her testimony today is less about herself and more about the power of God, both in keeping her alive and in teaching her mercy.
"It's not dismissing the pain that it caused—I choose to release that pain to the one true God. And He and I will handle it, but I won't hold it against [my birth parents]. So it has been a tremendous journey of learning to forgive, and then teaching forgiveness by testimony," she said.
The Power of Faith
Milberger has always felt that God has always been protecting her, throughout her life. At 6 months old, her grandmother found her blue in respiratory distress; she almost bled to death twice from two botched tonsillectomies; and she has been hit by drunk drivers three times in a two-year span.

"I was sexually assaulted, beaten and strangled, and died; I left my body and watched the sexual assault of a serial rapist and murderer, then when he let go of my throat, I reentered my body. I sent him a forgiveness letter in jail," she said. "Then I was diagnosed with a rare form of muscular dystrophy and given two years to live."

Milberger has received intravenous immunoglobulin (IVIG) since 1993 to boost her immune system, but does not resent her misfortunes; her parents were adamant that she not adopt a victim's mentality, and the more she got to know God, the easier it was to forgive.

"I may have been victimized at one time, but I am not a victim. I'm a victor," she said. "Forgiveness is not a feeling, it's a process.

"You can't have the peace of God until you have peace with God."
The Virtuous Parents
Raised with "good southern wisdom" by adoptive parents who were older than those of her peers, Milberger credits her mom and dad's life experiences for informing her strength as an adult; her father, in particular.

Milberger's father lost his mother to a sudden stroke in her sleep when he was 9, and his father five years later, a tragedy that sent him to live at Father Flannigan's Boys Town in Omaha, Nebraska, until graduating high school. After serving in the Korean War, he graduated from the University of Alabama and landed a job in Houston, where he met his future wife at a church singles' meet.

They married six months later, but when they came to start a family, they couldn't conceive. "One of their doctors mentioned adoption," said Milberger. "It was an 'aha' moment for Daddy; he knew what his calling was."

Through the University of Houston, Milberger's father also opened up their family home to students with nowhere to go during the holidays. Of the people that stayed, Milberger said, "We are connected forever because of the hospitality that my dad showed."

Milberger's mother developed Alzheimer's and passed away on Feb. 6, 2010. Her father passed away on Oct. 10, 2019, from lung cancer. They were married 50 years.

Now, their legacy lives on through Milberger's testimony.

"I started sharing in my local church where I grew up," she explained. "There were other kids in my youth group who were adopted, and my youth pastor came and asked me if I could speak to them, help redirect them with the direction I was given by my adoptive parents; with their guiding, I was able to guide my peers with the same words."

Today, Milberger's testimony includes her incredible pre-birth story.

Milberger and her husband do not have children of their own, but share passions for gardening, cooking, travel, and each other. They also rescue and rehabilitate "unadoptable" dogs from shelters, and Milberger has founded Gotcha Ministries of Central Texas. She has placed her trust in God to rectify the traumas of her past and asks others to do the same.

"You won't find true peace until you trust God," she said. "He will make wrongs right. You've got to learn to forgive, and not forget but move forward with the new information that it's already okay. Let Him take care of the justice."

Arshdeep Sarao contributed to this report.