A strange breed of human, astrophotographers are known to race off from their homes into the mountains in the dead of night upon first hearing of snowfall.
Layering up, grabbing his gear, and grabbing a coffee on the way, Nick Faulkner from New Zealand drove the back roads in the dark through several country towns, passing thousands of sheep along the way, until he arrived at Castle Hill, situated in the heart of North Canterbury.
A self-professed "dark sky enthusiast," Faulkner found himself in a lonely place dotted with hundreds of weathered limestone tors—huge, "squiggly" boulders—protruding from the earth. These would make an impressively photogenic supporting cast to compliment his main feature—the real stars of the show—the Milky Way galaxy in all her glory, a breathtaking stellar arc hanging in the night sky above, its galactic center the spectacle's crown jewel. This was to be his picture.
"This alpine region is one of my favorite places to photograph the stars," Faulkner said. "Add a late winter snowfall to that and it doesn't get much better."
His subsequent shot he aptly dubbed "Solitude" and he submitted it to the
2022 Milky Way Photographer of the Year
competition, which gathers images from around the world and presents 25 of the very best as its winners each year. Faulkner and two dozen other astrophotographers of 14 different nationalities—snapping scenes everywhere from New Zealand to Japan, from the United States to Spain, from Egypt to Australia, and beyond—were among this year's picks.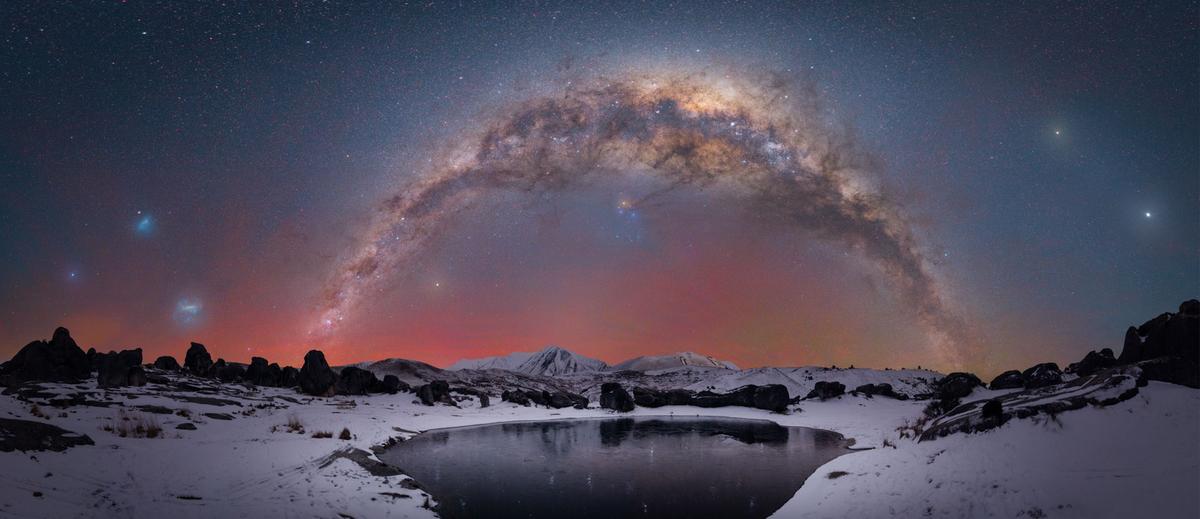 At an altitude of 5,070 meters (16,630 feet), photographer Alvin Wu captured a surreal scene in sub-zero temperatures: a frozen blue lake in a Tibetan landscape. One can almost hear the ice cracking treacherously under his feet. The dazzling Orion constellation hangs above invoking a fantasy world, while a lone central figure donning furs bears a lamp, its warm glow reflecting on the lake's cold, blue surface. Wu fittingly dubbed this gem "Ice Age."
"I felt so happy to have the stars as my companion on this magical night," said Wu.
Most of these entries utilize a technique of snapping the stars and foreground separately using different cameras, allowing the photographer to employ a star tracker with one camera—to capture the stars' light with longer exposure (and thus greater detail) and less movement (more sharpness)—while the foreground camera focuses on the details of objects that are closer.
It's imperative to plan photo shoots for moonless nights where there's minimal artificial light pollution. Thus, secluded locations are often preferred. Timing the stars' position, often endeavoring to frame the galactic center prominently, is another challenge astrophotographers face. Featuring a figure in the shot, giving a sense of scale, adds still more difficulty.
For Uroš Fink, six months of planning yielded a shower of Perseid meteors, which "brightened up the night" in the highest part of the Alps in Slovenia—all set before a galactic backdrop.
"You just need to be in the right place at the right time," he said. "In the end, the experience never disappoints me in any way."
In other submissions, Jinyi He snapped the Milky Way amidst eroded hill formations in the deserts of Xinjiang, China; Rubén Vela photographed our galaxy in the totally solitudinous mountains of northern Spain in winter, where deep snow made trekking nearly impossible even in snow shoes; Spencer Welling snapped unreal landforms in the Utah badlands, where on moonless nights it's so dark the stars themselves cast perceptible shadows on the ground. Mount Fuji, surreal lavender fields, rustic Spanish castles, ocean caves, and meteor showers also made cameo appearances, the Milky Way always taking center stage.
The competition winners are chosen based not only on image quality, but also on a compelling backstory of how they were taken and the overall inspiration behind them. The competition aims to "bring our galaxy closer so everyone can learn and discover more about our Milky Way."
Here Are More Winners of the 2022 Milky Way Photographer of the Year: