Awakening after being hit by a truck while riding his motorcycle in Kona, Hawaii, Dustin Reynolds felt the bloody stump of his left arm, and instantly saw the hard road ahead, he said. The rest of his life would be difficult.
Cellphone in his right hand, he had a choice to make—he chose to live.
Since the accident in 2008, Reynolds has traversed storms both literal and figurative. Overcoming bankruptcy, he learned to sail and now claims to be the first double amputee to have circumnavigated the globe.
"I didn't have any decent job prospects, randomly I found a website of people that set records sailing around the world alone," Reynolds, 43, told The Epoch Times. "Since there was no double amputee on the list; I decided to change that."
He sold his carpet-cleaning van and fishing boat for $12,000 and bought a $12,000 used yacht—a beat-up 1968 Alberg 35, leaving $20 to his name—and started learning to sail from scratch on YouTube.
He said he hid his inexperience from worried friends and family members, and soon had their support.
Reynolds set sail on June 18, 2014, on his first solo trip 940 miles to Palmyra. He wouldn't return for 7 1/2 more years.
"I started in Hawaii and sailed to 36 countries," he said. "I was in the South Pacific for 1.5 years, Southeast Asia for 2.5 years, Africa for a year, Caribbean and Atlantic for 2.5 years, then Galapagos and Marquesas on my way home."
Along the way, figuring out how to fix everything with whatever tools he had onboard—on a rolly boat, alone, with one hand—was extremely challenging, he said.
"It took a little while before I became an efficient sailor but eventually it became routine," Reynolds added. "The biggest challenges were when things broke at sea and they often do."
Adding to the hurdles, there were pirates in the Solomon Islands.
"I was able to scare them off," he told
Fox6
. "I yelled at them. I had a spotlight. I was like, 'I have a gun. I'm going to shoot you.' I don't really have a gun on the boat but they didn't know that, so they thought I did, and they jumped in the water and climbed back on their boat."
Reynolds finally arrived back at South Point, Kona, on Dec. 5, 2021, having been at sea for most of the pandemic. "In total I've sailed over 35,000 miles solo over 7.5 years," he said.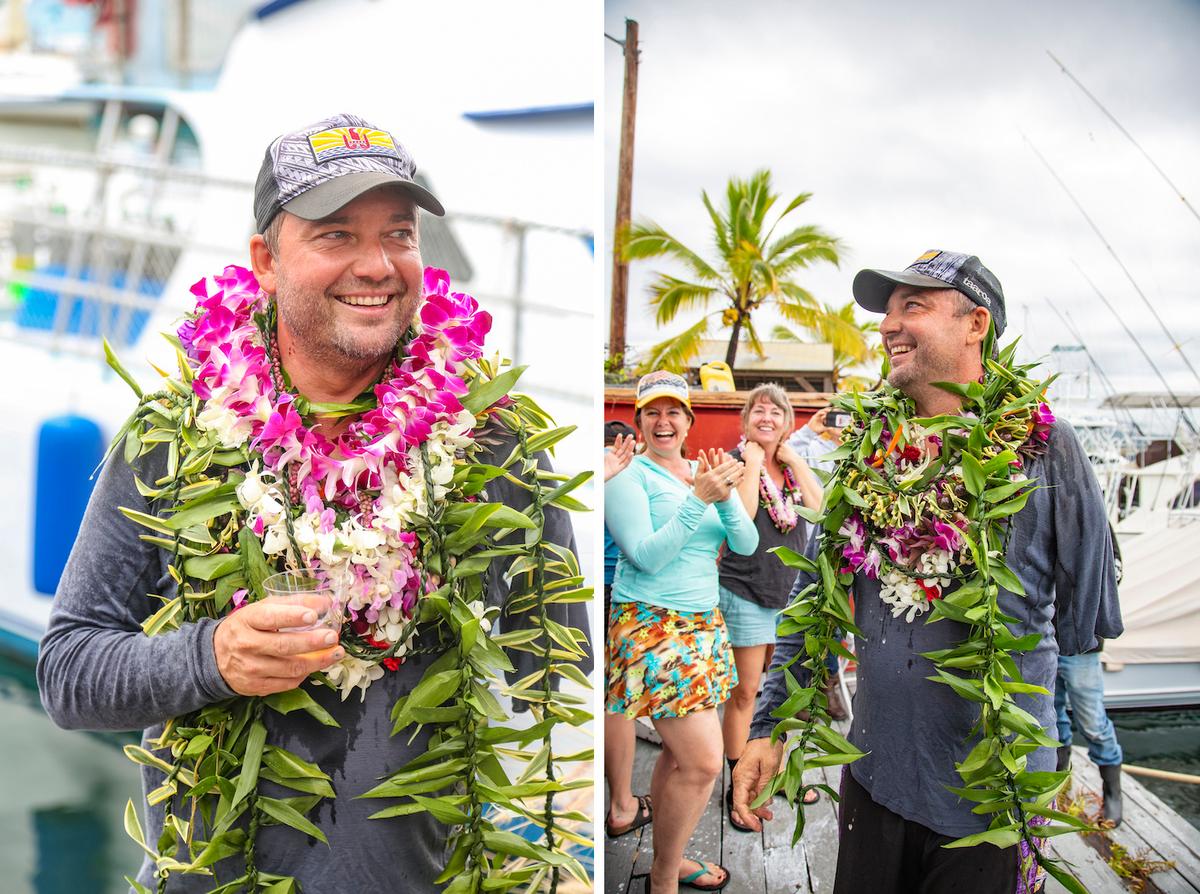 Besides acquiring skills that would blow away most seasoned sailors—learning to grind and tail a main up the mast or tie a reef on the boom with just one arm—Reynolds also gained perspective from his Odyssey.
"Like most people, I was really busy with work before starting my trip," he said. "Being able to just slow down and spend time with people along my trip was really special. Spending time alone at sea is also special. I've spent over 300 days alone at sea. It is a meditative thing to just be alone with one's thoughts for long periods of time.
"This world is an incredibly safe and loving place overall," he added. "All the division we see on TV or other media usually disappears when sitting across a dinner table with someone."
Reynolds said he's fathomed what it means to overcome calamities in life.
"For people fighting a battle, my only advice is it can almost always get better," he told the newspaper. "So many times, I did not see a clear path forward and a friend, stranger, or something random would help me through. As long as we keep going, it can get better."
Share your stories with us at emg.inspired@epochtimes.com, and continue to get your daily dose of inspiration by signing up for the Bright newsletter at TheEpochTimes.com/newsletter