Not many recipes call for a pair of broken-in running shoes, 93 cinder blocks, and somewhere to sleep as part of their prep list.
Then again, not many recipes compare to Pat Martin's 33-page manifesto on West Tennessee-style whole hog barbecue that describes each step from building the pit; to slow-smoking a 185-pound pig; to picking and piling the tender, confit-like meat onto a perfect pulled pork sandwich—a 30-hour labor of love.
For the Memphis-born, Nashville-based pitmaster and restaurateur, this regional specialty lies "at the core of [his] story."
During his first year in college, Martin was blown away by the whole hog sandwich he had at Thomas & Webb Barbecue in Henderson, Tennessee. The meat was pulled straight off the pig by owner and pitmaster Harold Thomas. Martin became determined to learn the craft. He became a regular in the pit room, where Thomas became his first mentor.
By the time Martin opened his own place in Nolensville in 2006—years and several seasons of his life later—the region's once-common whole-hog barbecue spots like Thomas & Webb had all but disappeared. He found himself the ardent keeper of a dying flame.
Today, that flame is burning bright at ​​Martin's Bar-B-Que Joint's 10 locations across Tennessee, Kentucky, Alabama, and South Carolina. In March 2022, to document the tradition on paper, Martin published a cookbook, "Life of Fire: Mastering the Arts of Pit-Cooked Barbecue, the Grill, and the Smokehouse." (The crowning achievement: that aforementioned manifesto.)
But he's a passionate teacher on all forms of live-fire cooking, not just pit barbecue. After all, whether you're going whole hog or enjoying a casual backyard grilling session, the heart of the method, Martin says, is the same: understanding and mastering fire.
With grilling season in full swing, we asked Martin about his favorite summertime recipes, his best tips for beginners (and the most common mistake to avoid), and the one old-school, team-effort dessert his family makes every summer without fail (Hint: It involves not fire but ice).
American Essence: It's the height of summer and you're throwing the ultimate backyard barbecue—short of cooking a whole hog. What's on the menu?
Pat Martin: The garden dictates what we're cooking at this time of year. We're doing lots of grilling with all the incredible vegetables in season. We're doing less barbecue, and more dishes from "Life of Fire" like open-pit chicken, open-pit ribs, grilled tomato sandwiches, and vegetable foil packs.
American Essence: And to drink?
Mr. Martin: I'll be drinking a good pét-nat [short for pétillant naturel, a type of sparkling wine] or Champagne alongside this menu.
American Essence: What are your must-have tools of the trade?
Mr. Martin: When you're grilling, you need to be precise—almost surgical—in your actions. Two must-have tools: a very good pair of stainless steel, spring-loaded tongs (no more than 9 inches long), and a really heavy-duty spatula (my preference is Decker).
American Essence: What underrated ingredients deserve more love on the grill?
Mr. Martin: Okra! It's one of my favorite vegetables, and I can trace my appreciation back to when I started charring them on a Smoky Joe grill outside my dorm room. Okra can take an absolute beating on the grill and come out better for it. Most folks go wrong by undercooking it. If you split the okra in half lengthwise before grilling, you'll get a crispier result (which kids love!).
Eggplant is another favorite for the grill. Cut your eggplants into half-inch-thick "steaks," salt them in the morning, and let them dry out on a rack while flipping them every hour or so to get rid of the excess moisture. Pat your slices dry, sprinkle with a good flaky salt, and lightly season with oil on a very clean grill over a medium-high fire. The total cook time is around 10 minutes—4 to 5 minutes face down, then flip and cook the second side for about half that time, 2 to 3 minutes. You're looking to get a nice dark brown char; don't be afraid of a couple of little burn spots. Take them off the grill, plate them, drizzle with a great olive oil, and top with some chile flakes, more salt, chunks of feta, and chopped mint leaves.
American Essence: Tell us about the most memorable barbecue you've been to.
Mr. Martin: My father's fish fry over Columbus Day weekend back in 1991. I made a whole hog for our family and friends, and it was the first time I cooked a hog by myself. It was great having a couple hundred folks validate me because of my food. I knew then I wanted to do this for a living at some point in my life.
American Essence: You say that West Tennessee whole hog barbecue is at the core of your story. What makes it so important to you?
Mr. Martin: The roots of my entire barbecue journey lie in West Tennessee-style whole hog barbecue. It's almost as if this style of barbecue found me; I didn't find it. I'm deeply passionate about not only preserving its history but also drawing attention and awareness to it. Our team is focused on keeping that tradition alive every day at all of our restaurants.
American Essence: What do people need to know about this style?
Mr. Martin: That it is a real part of the barbecue story of our country, and should not just be lumped in with the Carolinas—that's really lazy. It's very unique in terms of the size of the hog [185 pounds, compared to Carolina-style's 150], the wood used [preferably hickory or red oak], the time it takes to cook it [24 hours at 200 to 250 F], and how it's served to people [pulled straight from the pig, never chopped, without the skin]. To make a comparison, both Kansas City and Texas serve brisket, but they're not lumped together just because brisket is a common denominator. They're both distinct and recognized accordingly. Whole hog barbecue should also be recognized that way.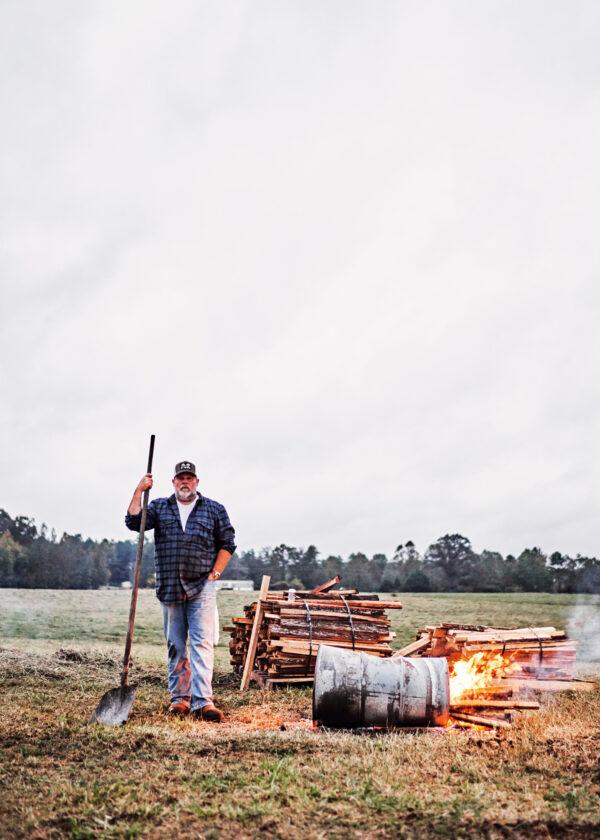 American Essence: You're also fiercely proud of your family and Southern roots. Is there a summer family food tradition that's especially meaningful to you?
Mr. Martin: Hand-cranked vanilla ice cream. It's a tradition we repeat every summer. We still make it the old way, and it's a team effort involving every member of the family. My mom, my daughter Daisy, and Aunt Cathy make the ice cream base, then bring it out to our carport, where my sons, uncles, and dad have set up our old 4-quart White Mountain hand-crank ice cream maker (which is harder and harder to find—if you see one, buy it!). Once the bucket is tightly packed with ice, the fun begins with everyone taking turns cranking as the ice cream freezes. The payoff is so worth it.
American Essence: Back to the grill—what do you most love about cooking with fire?
Mr. Martin: What I love is that live-fire cooking is brutal and romantic at the same time. It's hard to beat the taste of anything cooked over coals or a live fire. I'm excited by not only the flavor it provides, but the inherent risk that you could possibly screw up a dish since you don't have a temperature gauge.
American Essence: On that note, what's the biggest mistake people make when it comes to live-fire cooking?
Mr. Martin: Definitely cooking over a fire that's too hot. Use the hand test: Try and hold your hand 6 inches above the coals of the fire. If you can't keep your hand there for longer than one or two seconds, the fire is too hot and you need to let it cool down some.
American Essence: Could you give beginners your best advice?
Mr. Martin: Don't be afraid to screw it up. If (and when!) you mess up, order some pizza and make a self-promise that you'll try again, and again, and again until you learn how to really read heat.
This interview has been edited for clarity and brevity.
This article was originally published in American Essence magazine.