For any trivia question that asks, "who was the first American to do X," answering Ben Franklin is always a good guess. He was a true renaissance man, who was the most internationally renown colonist (and eventually American) of his day. Of course, he was complex, but he ended up on the right side of history, in pretty much all respects. All of the commentators more-or-less agree with that (some a bit more grudgingly than others) when appraising the Founding Father's life and legacy in Ken Burns' two-part documentary "Benjamin Franklin."
Franklin is indelibly associated with Philadelphia, but he was born in Boston and maintained family ties to the New England city, which was a major hub of revolutionary "Patriot" sentiment (along with the "City of Brotherly Love"). In fact, Franklin was one of the few Founding Fathers who traveled widely through the original 13 colonies, due to his work developing inter-colony mail systems.
New Appreciation
In some ways, Burns presents Franklin as the relentless self-improver with an impish sense of humor that popular opinion generally holds him to be. However, unless viewers have poured through substantial Franklin biographies (like that of Walter Isaakson, who appears as a talking head and is credited as an advisor to the documentary), they are likely to pick up a fresh, new appreciation for the man. For instance, everyone has heard a little bit about his experiment with the kite during a lightning storm, but Burns and his battery of experts make it clear Franklin's research investigating the properties of electricity was the equivalent of Nobel Prize-worthy work, for his era.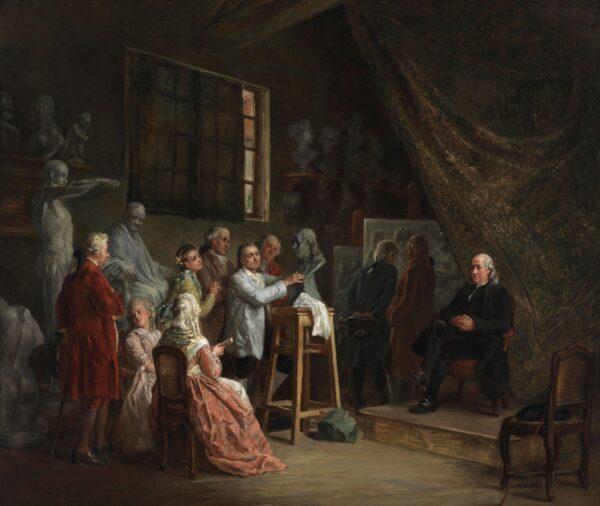 Furthermore, Burns and company draw a convincing line from Franklin's droll "Poor Richard's Almanac" to the deceptively folksy humor of Mark Twain and Will Rogers. You could also see him as a forerunner to down-home common-sense commentators like Paul Harvey. Yet, despite his accessible plain-speaking, Franklin was an enormously literate early American, who gets due credit throughout for founding Philadelphia's first lending library and philosophical society.
The way Burns structured "Benjamin Franklin" really emphasizes how long his subject labored in good faith to maintain the unity of the colonies and the British empire, initially as a loyal subject and then as Pennsylvania's agent to the British court. The first episode, "Join or Die, 1706–1774," culminates with the scathing public dressing-down Franklin received from Alexander Wedderburn, the Lord High Chancellor (whose speech is read with appropriately snide contempt by Liam Neeson).
The second installment, "An American 1775–1790," chronicles Franklin's embrace of independence, for which Burns's experts place a lot of blame on the British. They also give considerable attention to his late-in-life conversion to abolitionism. Yes, he is sometimes criticized by talking heads for his own history of slave-ownership, but even his most vehement detractors give him credit for putting the abolitionist cause permanently on the national agenda.
Celebrity Voices
Employing his customary techniques, Burns casts celebrity voices to read the letters and speeches of Franklin and his contemporaries throughout the film. Frankly, Mandy Patinkin's voice might not exactly be how you might have imagined Franklin to sound in your mind's ear, but he nicely captures the Founder's sly wit. Yet, Josh Lucas's voice is nearly as dominant as Patinkin's, reading the words and statements of Franklin's estranged loyalist son William, who turned out to be a bit of a disappointment to his father.

Fittingly, Paul Giamatti once again plays John Adams (whom he portrayed in the 2008 miniseries). Adams joined Franklin for a time as America's war-time ambassadors to France. Franklin was reportedly much more effective, because the French found him considerably more fun.
Anyone who enjoyed Burns's "Civil War" should also appreciate his "Benjamin Franklin," because it gives the icon Founding Father similar treatment (classy music, soothing voiceovers, and evocative images from primary sources). His chronicle of Franklin's life runs nearly four full hours, but it never drags because the man was so amazingly productive. He led an amazing life, which Burns mostly does justice to.
Recommended for general audiences and history buffs, "Benjamin Franklin" airs April 4 and April 5 on most PBS stations nationwide.
'Benjamin Franklin' Director: Ken Burns Stars: Mandy Patinkin, Josh Lukas, Paul Giamatti, Liam Neeson Running Time: 2 episodes MPAA Rating: Unrated Release Date: April 4, 2022 Rating: 3.5 out of 5