1985 | PG-13 | 1h 40m | Comedy, Romance
Teen films from the 1980s, especially those with innocent romance mixed with drama and/or comedy, were rated PG-13. R-rated teen movies often contained vulgar humor and sexual themes, which seemed both inappropriate and unnecessary to further their plotlines.
After reading a rather risqué description of the 1985 teen comedy "Just One of the Guys," I was curious to see how such seemingly mature subject matter could have a PG-13 rating. After all, a movie about a teenage girl who dresses as a boy to deceive people and who has a sex-obsessed little brother seemed a little more on the adult side of things.
Our protagonist, pretty Terri Griffith (Joyce Hyser), is being picked up by her snooty fratboy boyfriend Kevin (Leigh McCloskey) in his sports car and whisked away to high school. By her interactions at school, we can see that she's intelligent and talented.
Terri is studying to be a journalist and is vying with other students to win one of two intern spots at a prestigious local newspaper known as the Sun-Tribune. She is shocked when discovers that two males have been chosen for the internships; she boldly confronts the faculty advisor Mr. Raymaker (Kenneth Tigar) about his decision, since she believes he chose the winners based on their gender.
Not being satisfied with Mr. Raymaker's explanation (he describes her writing is too pedestrian), Terri decides to pose as a male, thinking that it will give her a better chance at an upcoming contest at rival high school.
The only people in on Terri's little scheme are her good friend Denise (Toni Hudson) and Terri's younger brother, Buddy (Billy Jayne). Actually, Buddy is interested in anyone of the opposite sex with a pulse. Since Terri and Buddy's parents are away, she thinks it'll be easier to pull off her plan.
With her brother's help, Terri transforms into "Terry," her male disguise. However, Terri is so feminine that she has a hard time adjusting to her new role. In an oddball scene, Buddy struggles to teach her his version of stereotypical male traits.
After this "tutelage," she manages to be convincing enough to pass as "just one of the guys" at the rival high school. But will she discover that her assumed gender really matters … or not? That question, along with the rest of her plans gets a little complicated when she meets whip-smart outsider Rick Morehouse (Clayton Rohner) and is attracted to him.
Lighter Fare
Although this teen flick shares some similarities with "Some Kind of Wonderful," such as the offensive, well-off boyfriend, and also the sensitive, shy guy trope, this has a much lighter, and sometimes cruder, vibe.

For example, all of the whacky attire that the '80s are known for is more exaggerated here, with overly hair-sprayed, puffed-out hairdos, super-thin neckties, and white-rimmed sunglasses. Also, this film sports synth-drenched tunes with exasperated falsetto squealing in the background, as opposed to the more serious, rock-oriented soundtrack in "Wonderful."

I kept looking at Terri's male disguise and wondered if I could ever mistake her for male. But then I thought about the plethora of gender-bending entertainers that were all the rage back then and figured she wouldn't seem that out of place.

I'll have to admit that the film started off awkwardly, with some rather foolish jokes here and there. But by the time the second act commenced, I began to see its unusual cadence and started laughing out loud at some of its absurd humor. A lot of the bits come from either Terri almost blowing her cover as a guy, or trying her best to emulate what she considers to be male behavior.

It was designed to be light-hearted and goofy instead of condescending and affronting, showing that both genders have both favorable and unfavorable perceptions of them.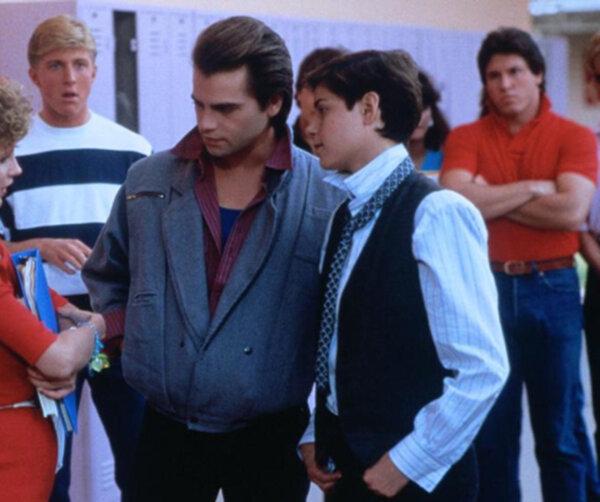 The acting is good overall, especially Joyce Hyser's, who has great command of her expressions and body language. Her comedic timing with Billy Jayne as her younger brother is something to see, and the two have convincing chemistry as sassy siblings.
There's also the Karate Kid bully himself, William Zabka, who as Greg Tolan turns in yet another fun role as school bully. The way Greg terrorizes the whacky nerds in the school lunchtime cafeteria is original and shows that writers Dennis Feldman and Jeff Franklin must have had a blast creating the script.
"Just One of the Guys" is a film I didn't think I'd enjoy as much as I did. It's a fun, lesser-known '80s ride, full of zany humor and likable characters.
"Just One of the Guys" is available on Prime Video, Vudu, and Apple TV.
'Just One of the Guys' Director: Lisa Gottlieb Starring: Joyce Hyser, Clayton Rohner, Billy Jayne MPAA Rating: PG-13 Running time: 1 hour, 40 minutes Release Date: Feb. 27, 1987 Rated: 3.5 stars out of 5
Would you like to see other kinds of arts and culture articles? Please email us your story ideas or feedback at [email protected]