A college freshman wrestler was on his first day on the job at Walmart when he helped save the life of a coworker.
On Sept. 17, Diego Aguilera, from Texas, who is attending school in Storm Lake, Iowa, was being trained in the produce department by a fellow employee in his 60s.
After stocking shelves that evening, the Buena Vista University (BVU) student and his coworker were together in a back room of the store when a medical emergency happened.
"I saw his head start tilting back and he just looked more and more relaxed," Aguilera said. "He said he didn't feel well and couldn't breathe. Then his face turned white, and he started sweating."
He searched for a pulse or a heartbeat, but when he could not find one, he began doing chest compressions on the older man.
Fortunately, the computer science major had gotten certification in CPR when he was team captain of the PSJA Memorial High School wrestling team in Pharr, Texas.
Soon, his coworker regained consciousness, and Aguilera tried to keep him alert by asking him about his kids, their names, their ages, and keeping him engaged, the news outlet reported.
After a few minutes, the man finally spoke and told Aguilera to get help. The young employee ran to the customer service desk, where manager Kristy Wagner then called an ambulance.
When first responders arrived, Aguilera led them to the back room where his coworker was, and the older man, whose name Aguilera couldn't recall, was transported to a hospital in Sioux City. There, he recovered in intensive care
"In my mind, it wasn't really scary in that moment," Aguilera later explained. "It was more: What can I do right now to help. It wasn't a matter of being scared or thinking I can't do this. There was no time to think about it I had to keep moving."
The day after the incident, Aguilera shared his story with BVU wrestling coaches Shaun White and Mark Rial.
Both men praised Aguilera for his quick actions.
"You took care of business the best you know you knew how," said White. "We're grateful to have a guy like you on the team we can learn from you."
"It's pretty amazing," Rial added. "I'm just so impressed with the maturity. He's in a new place, far away from home, so for him to do that without a second thought, it's pretty incredible.
"You always put yourself in those situations. You know, what would you do? I'd hope to react the same way he did."
Prior to attending BVU, the freshman wrestler had attended a wrestling camp in Columbus Junction, where he became aware of the passion Iowans had for the sport that he had grown to love. When the college made contact with him, that sealed the deal. Aguilera officially signed in May, and in mid-August, he moved to Storm Lake to pursue his dream.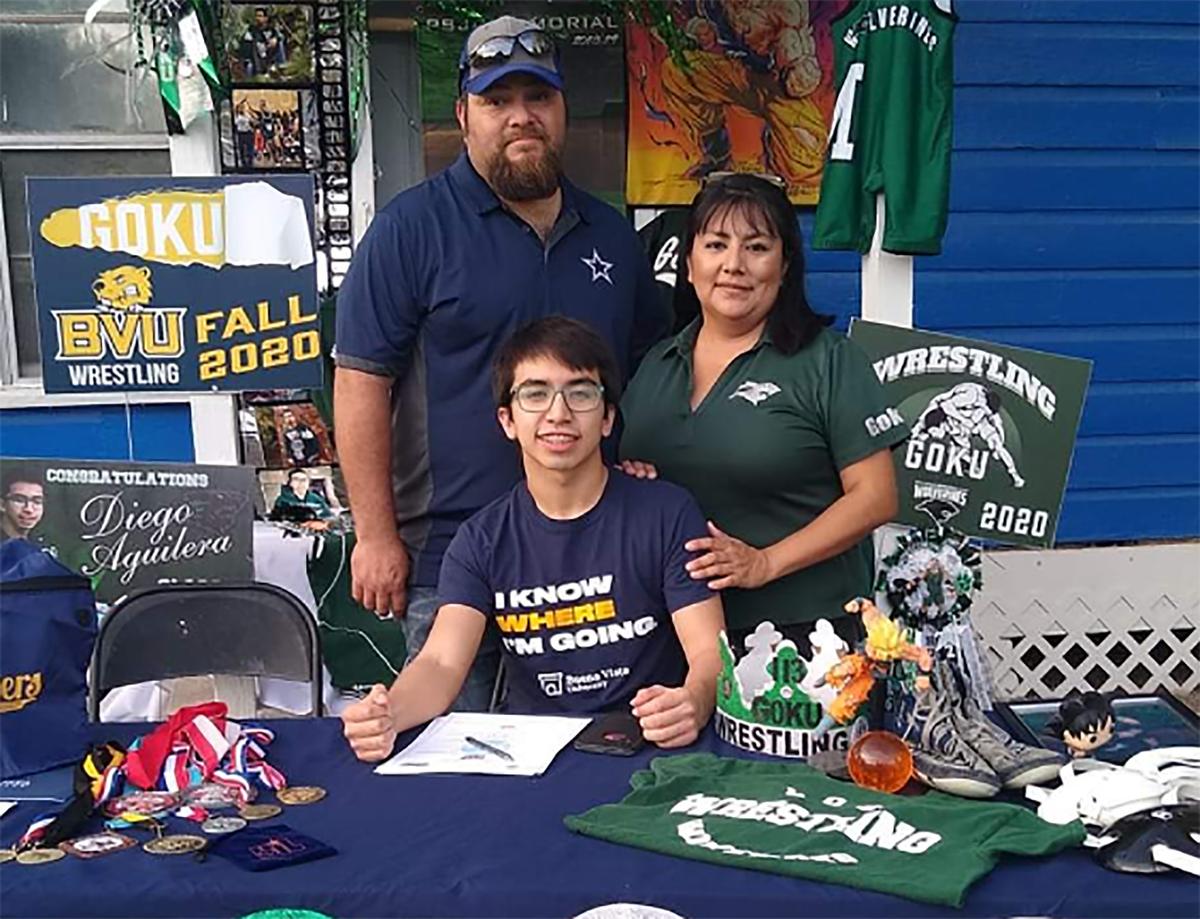 Aguilera's mom, Diana, had insisted her son didn't have to work and should focus on his school and wrestling. Seeing how stressed his mom was working nonstop, however, he applied anyway.
"I Thank God he was able to help his Co worker. I am very proud of him," Diana told The Epoch Times. "He has always been outgoing and helpful in any circumstance. I'm glad he stayed calm and took initiative. It was a Blessing he was there.
"His Co worker is still not back from recovering. But they Say he is Doing Well."
We would love to hear your stories! You can share them with us at emg.inspired@epochtimes.nyc