LONDON—Anyone who has played charades knows how hard it is to convey an idea without words. An artist's challenge is to convey a moving narrative without words on a two-dimensional surface.
Masters such as Italian Renaissance artist Raphael appeared to achieve this effortlessly. The foundation of these artists' skills lies hidden behind the scenes in the mountain of drawings they made. These drawings are the DNA of great works, the building blocks of artistic mastery.
Stand in front of any of Raphael's artworks and I dare you not to be moved. Raphael excelled in creating harmonious, often complex, compositions full of motion, gestures, and
individual personalities.
 

He honed his art to communicate abstract ideas such as philosophy, as seen in one of his greatest works: "The 
School of Athens" fresco in the Vatican's Stanza della Segnatura.
I recently visited
"The Credit Suisse Exhibition: Raphael"
at
The National Gallery in London,
where 90 exhibits are on display, many by Raphael and some made from his designs in media that he didn't practice in, such as bronze. Viewing Raphael's work, I lost count of the number of times I found my hand on my heart, in awe. 
For me, viewing Raphael's artworks first elicits empathy. His work appeals to our human nature, and it's this aspect that acts as a palpable conduit to divine truths.
His work therefore has a transformational presence that seems beyond this world.
We can easily see this in his Madonnas, whereby he successfully connects us to the universal experience of motherhood, which then leads us to the true meaning of the work: the divine bond of the Virgin and Christ child. 
"Of all the artists of his day, [Raphael's] the one who had the greatest impact on European art, from his own time right down to the 20th century," the Ashmolean Museum's keeper of Western art, Catherine Whistler, said in a video.
One of the most fascinating aspects of the exhibition is the sheer number of Raphael's drawings on display,
 around 40
 in all.
To see Raphael's drawings is to almost see into the artist's mind, and how he overcame challenges to create a clear, comprehensive
 composition.
Disegno: 'True Art'
Our idea of drawing today
may be no more than an artist putting ideas onto paper in the form of a quick sketch, a preparatory drawing for a painting,
or a finely finished stand-alone drawing.
But during the Renaissance, drawing
or "disegno" in
Italian, wasn't just the act of drawing itself; it was more profound. 
"Disegno" is translated as "design" or "drawing" in E
nglish, but the concept of disegno isn't so literal. For Renaissance artists, disegno represented their technical brilliance and inventive genius bearing fruit on paper. This wasn't rote copying. Artists created these drawings by engaging the wisdom, intellect, knowledge, and imagination that they'd learned from their apprenticeships and ongoing art practice.  
Renaissance art apprentices trained long, hard, and methodically to understand and re-create a variety of forms and the human figure. First they'd copy ancient and contemporary sculptures and architectural reliefs in monotone before they could copy from life (the male figure). Then, only when they were competent in drawing in monotone could they introduce color. These artists knew the human figure so well that by the end of their apprenticeship they could confidently and effectively move figures around in complex compositions.
Traditionally, the art of disegno was held in high esteem. According to the
Visual Arts Cork encyclopedia website,
in 15th-century Renaissance aesthetics "disegno was seen as true art, while colorito [coloring, favored by Venetian artists such as Titian] was considered more of a craft." 
An Intimate, Traditional Art Practice 
Raphael's drawings are the closest we can get to the master's mind. Whereas we can read the writings of his peers, Michelangelo and Leonardo da Vinci, to get insight into their character and how they lived their lives, there are only two surviving letters written by Raphael (both addressed to his maternal uncle, who raised him).
Raphael himself rendered each one of his drawings, whereas many of his paintings are workshop pieces that he made with his band of assistants. An artist's drawings can be likened to a writer's journal. And if we let them, Raphael's drawings can take us on an adventure into the artist's world: his imagination, thought process, and journey to mastery. "Raphael's drawings are like a behind-the-scenes view of his artwork," a fellow exhibition visitor said to me.  
Some of his
drawings are finely finished stand-alone works, but most often these drawings are the working documents that he made to prepare a composition. S
ome of the drawings are displayed in the exhibition next to the finished work (a print, painting, bronze, or tapestry, to name a few), enabling visitors to see Raphael's work from conception to completion. And some of his drawings, such as the exquisite piece "The Holy Family With a Pomegranate," 
he generously gifted to other artists as models or studies to make their own works.
What's wonderful to see in some of the exhibition's studies are the fast strokes and repetitive lines of a sketch or composition in transition. Some of these marks are
unintelligible t
o us now, but for Raphael, they would've been part of his artistic process. Some-such drawings survive only because they're on the back or corner of a more significant study. Some drawings also show slight adjustments in the tilt of a head, for example.
Raphael's red chalk sketch for his painting 
"The Virgin and Child With the Infant St. John the Baptist," 
commonly known as "The Alba Madonna" (owned by the National Gallery of Art in Washington), shows how familiar he was with the Virgin and Child motif. His quick study is as if he's jotting down a reminder rather than an exacting image. He placed the figures in a
tondo,
a round composition that was fashionable in Florence at the time and not the easiest composition to conquer. The study mirrors the composition in the finished painting except that John, who went on to become St. John the Baptist, holds a sheep in the study; he holds a cross in the painting. The Christ child steadies the top of the cross for John, as if to say, "Keep your faith, and God will guide you." 
Of the many notable drawings in the exhibition, there are a number of works that are rare or firsts for Raphael. In the late 15th century, Renaissance artists drew only male models in the studio, and these models were also used for female poses. According to the exhibition catalog, Raphael's drawing titled "
Standing Female Nude
" may be the first drawing to be rendered directly from a female nude since classical antiquity. With its more realistic, fleshy form, this figure shows a marked difference from the more steady, smooth lines of the idealized figure.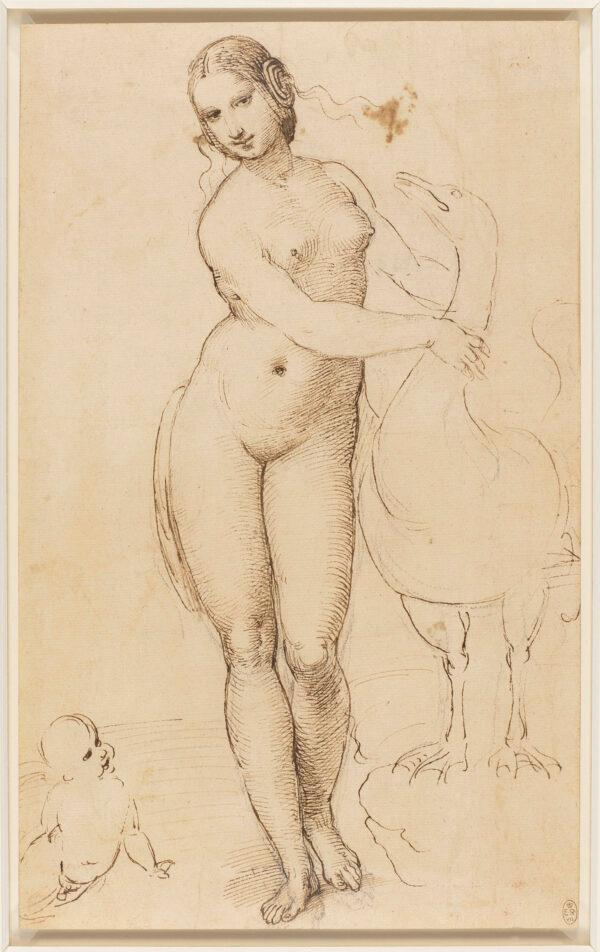 Raphael made a couple of designs on the subject of 
"The Incredulity of St. Thomas" for Perugian goldsmith Cesarino Rossetti
to create a pair of bronze medallions (the other was for "The
 Descent Into Limbo")
for t
he Chigi Chapel
, in Rome. These were the
first designs he made for a sculptural relief
, and he created them without highlights (which would've been necessary for a two-dimensional piece such as a painting). Both medallions are in the exhibition next to the studies.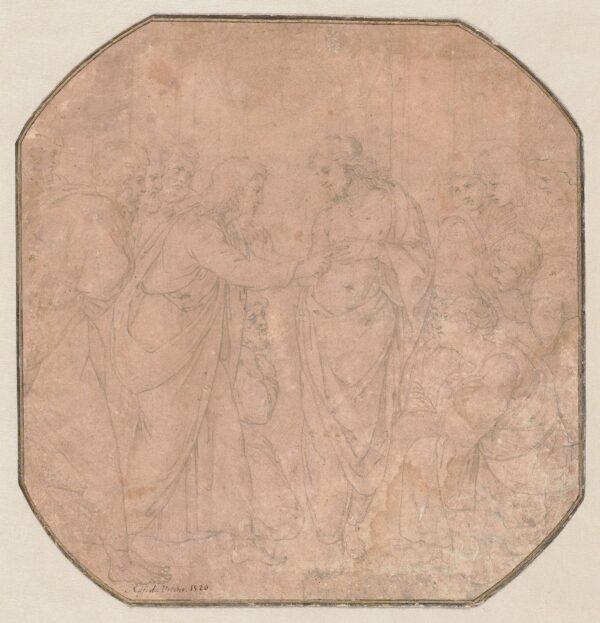 Meeting God
Nothing prepared me for seeing Raphael's "Moses Before the Burning Bush," a cartoon (full-sized preparatory drawing) that
 he created as part of the ceiling fresco
titled "God the Father Appearing to Moses,"
in the Vatican's
Stanza di Eliodoro
 (Room of Heliodorus). 
At around 4 feet 6 inches by 4 feet 7 inches, 
it's an imposing work (made up of
18 sheets
of paper glued together). And for an over-500-year-old cartoon created in charcoal and black chalk with highlights, it is surprisingly well preserved. Artists created cartoons to transfer their designs directly onto wet plaster when creating frescoes. They would prick a series of holes in the cartoon to outline the design and then
punch
charcoal dust through the holes onto the painting surface (wall or ceiling) to transfer the image. Some of these cartoons were lost in the transfer process. But this cartoon is what's called an auxiliary cartoon, specifically made for Raphael or an assistant to copy the drawing's details from. 
In the cartoon, Raphael captured the moment Moses sees God miraculously appear in the burning bush to speak with him. Moses humbly kneels in reverence, covering his eyes.
The exhibition catalog notes that
Michelangelo
had just finished painting the Sistine Chapel when Raphael created this cartoon, which may explain why Raphael, influenced by Michelangelo, rendered Moses more muscular than his usual artistic figurative style.   
Raphael's drawing 
"Study for God the Father Appearing to Moses" 
is part of the composition that includes "Moses Before the Burning Bush." This work, the catalog explains, is in a style similar to German painter and printmaker
Albrecht Dürer
'
s
apocalypse series of 15 woodcuts, which he had created based on the Book of Revelation. Raphael exchanged drawings with
Dürer, 
and both were equally aware of each other's work. 
Raphael shows God in heaven surrounded by fast-moving clouds and
seraphim.
His depiction of God here was inspired by Michelangelo's fresco 
"The Creation of Adam
" on the Sistine Chapel's ceiling. 
Raphael chose to render God as a line drawing in pen and brown ink. It's a clean, clear drawing showing Raphael's excellent draftsmanship with minimal stylus marks. He used a blind stylus (a metalpoint) to lightly score the drawing surface in a process called underdrawing before he committed to his design. "
Above all, blind stylus was a tool that unleashed Raphael's creativity, allowing him to think freely and economically on the paper before turning to visible media," the Ashmolean Museum's research assistant Angelmaria Aceto wrote in the 2020 book
"Raphael: Drawing and Eloquence."
Researchers continue to discover more about how Raphael used the blind stylus by using technology and techniques such as raking light (directing light at an oblique angle).
That's what I find fascinating about seeing Raphael's drawings up close; it's a more intimate look at the artist's process than what's seen in a painting.
Raphael's study of the
head of an apostle
 was made for his final painting,
"The Transfiguration."
The painting shows
Christ on the top of Mount Tabor,
but at the bottom of the painting is an unconventional scene. Raphael chose to depict an episode in which
Christ cures a young boy who is possessed.
The apostles come to the boy's aid
first,
but they cannot save him. Each of the apostles' faces shows a different reaction. In his delicately rendered black chalk
work titled "Study for the Head of an Apostle in the Transfiguration,"
Raphael conveyed
the apostle's tender
response. In the painting,
two apostles point u
pward to Christ, showing that the only way the boy can be saved is to put his faith in Christ. 
Universal truths like this make
Raphael's art enduring even today, over 500 years after his untimely death at just
37 years old.
Raphael died on
Good Friday in 1520
,
and his body lay in state in the Vatican beneath his painting
"The Transfiguration."
The long awaited "The Credit Suisse Exhibition: Raphael" at The National Gallery, London, was meant to open in 2020, to commemorate 500 years since Raphael's death in 1520, but the pandemic led to its postponement. The exhibition runs through July 31. To find out more, visit
NationalGallery.org.uk
The exhibition is curated by David Ekserdjian, professor of history of art and film at the University of Leicester; Tom Henry, professor of history of art (Emeritus) at the University of Kent; and Matthias Wivel, the Aud Jebsen curator of 16th-century Italian paintings at The National Gallery, London.