Beef bourguignon, a hearty stew of fork-tender beef and vegetables in a rich red wine sauce, is one of the most acclaimed French recipes around the world. Rich, earthy, and indulgent, it's simply everything you want in a bowl of winter comfort food.
As its name suggests, this beef stew originates from Burgundy, a region of France prized for producing exceptional cattle meat as well as red wine, the two star ingredients of this local dish. Famous chefs such as Auguste Escoffier, Julia Child, and Jacques Pépin were instrumental in helping it achieve culinary stardom across the Atlantic—a status well-deserved.
Beyond being a pillar of classic French cooking, beef bourguignon also embodies the essence of French slow-cooking, where you take your time in the kitchen and enjoy the process every step of the way. In fact, it's a dish that requires more time and patience than it does skill.
There are no shortcuts in building this stew's flavor—from first browning the beef in bacon drippings on the stovetop, to adding the right wine and slow-simmering it to tenderness in the oven, to sautéing mushrooms separately to extract their full flavor before stirring them into the stew in the final moments—but that doesn't mean it isn't easily achievable by the everyday home cook.
Invest the proper time and care, and you'll be rewarded with, per Julia Child, "certainly one of the most delicious beef dishes concocted by man."
The Right Cut
Choose a cut of beef that is rich in collagen. The collagen, rather tough when raw, will break down into soft gelatin as the beef cooks, giving the meat a juicy, tender texture. This gelatin will also seep into the sauce, making it rich and silky. (Some recipes also suggest adding a gelatin-rich pig foot, or trotter, into the sauce before it goes into the oven. The gelatin is naturally drawn out from the foot while stewing, creating a thicker, richer sauce. You can then discard the pig foot or eat it.)

Ask your butcher for slow-cooking cuts. The best options are beef chuck—my favorite—and fatty brisket. Some chefs even indulge in beef cheeks, which absorb the sauce like a sponge and turn meltingly tender.

Slice the beef into 1 1/2-inch chunks, no smaller. They will shrink slightly as they cook, so any smaller and they won't hold up to the hours of cooking.

It is also essential to salt the meat at least 2 hours before you start cooking, to allow the seasoning to penetrate deep into the meat.
Don't Rush the Browning
As with most meat stews, another key to a tasty beef bourguignon is the proper browning of the beef before stewing. Browning occurs when the beef proteins melt with natural sugars in the meat to create new molecules responsible for roasted aromas and flavors. This process, called the Maillard reaction, is essential in building flavor in a stew.

Do not rush this step—it is well worth it. Work in several batches, do not overcrowd the pan, and ensure the beef cubes bear a brown crust on all sides before starting another batch.

The beef cubes will release juices as they cook, but if there is enough space between them, the juices will evaporate without a problem. If the pieces are too close together, the juice will surround them and effectively boil them, turning the meat grey-ish and rubbery.

Always resist the urge to stir the meat as it cooks. It will likely stick to the pan at first, but come easily off once properly browned.
Pick a Wine You Would Drink
A medium-bodied, dry and fruity red wine is preferred, ideally one produced in Burgundy, such as a pinot noir or gamay. You shouldn't necessarily reach for a pricy bottle, but one that is still drinkable, which will make a great difference—forget the "cooking wines" from the grocery store.
A splash of French brandy, such as a Cognac or Armagnac, is also required to build extra depth of flavor.
Make Your Own Lardons
Beef bourguignon traditionally includes lardons, thin strips of cured pork belly, which are very common and readily available in all grocery stores across France. You can make your own by slicing thick-cut bacon across the grain into short matchsticks. As a substitute, pancetta sliced into thin sticks works well, too.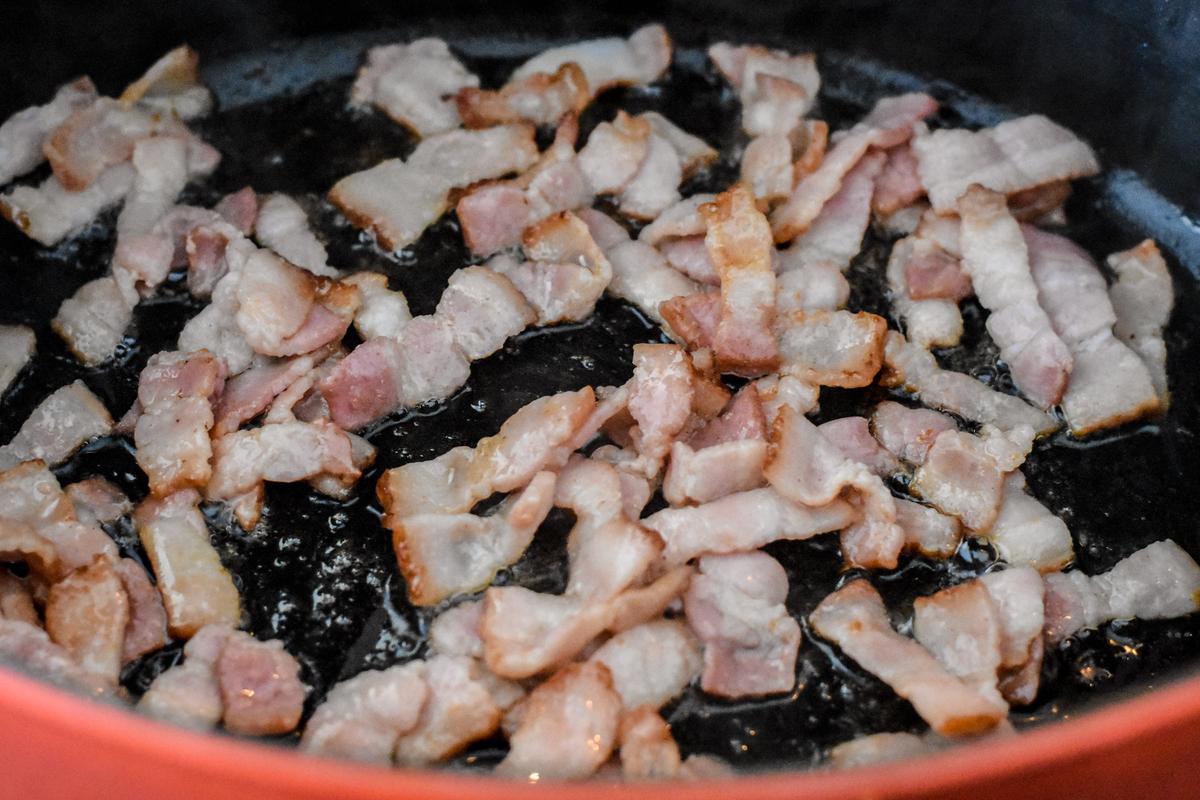 Mind the Vegetables
Carrots, cremini or button mushrooms, pearl onions, and garlic make up the simple list of vegetables that accompany the beef. Any other additions, such as celery or turnips, are a total faux pas.
The carrots, onions, and garlic are simply added into the sauce to stew, but the mushrooms get special treatment: they are sautéed on the side in butter, and then added to the stew during the last 15 minutes of cooking. You want to give the mushrooms a nice sear, so that the outsides are golden and slightly caramelized, to fully develop their flavor. If you skip this step and simply stew them in the sauce, they will turn rather rubbery and bland.
To Serve
Beef bourguignon is traditionally served with boiled baby potatoes or over mashed potatoes, though I also find it delicious served over buttered egg noodles or white rice. In "Mastering the Art of French Cooking," Julia Child suggests a side of sweet peas.
RECIPE: Classic French Beef Bourguignon
To make this big, earthy stew, you will need a heavy-bottomed Dutch oven (about 6 quarts) that can go from the stovetop to the oven.

If you have any leftovers, just know that beef bourguignon tastes even better reheated the next day.

Serves 4
2 1/2 to 3 pounds boneless stewing beef (such as beef chuck), cut into 1 1/2-inch cubes
2 teaspoons salt
2 teaspoons freshly ground black pepper
4 tablespoons unsalted butter, divided
8 ounces lardons, or bacon (5 to 6 slices) cut across the grain into thin matchsticks
4 sprigs thyme
3 bay leaves
3 garlic cloves, peeled and finely chopped
10 pearl onions, peeled
4 to 5 medium carrots, peeled and roughly chopped
2 cups red wine
2 tablespoons brandy
2 cups beef broth, or more as needed
2 tablespoons tomato paste
1/4 cup flour
6 to 7 sprigs parsley, for garnish
For the Mushrooms
2 tablespoons unsalted butter
1 pound cremini mushrooms, quartered
1/4 teaspoon salt
1/2 teaspoon freshly ground black pepper
About 2 hours before cooking, pat the beef cubes dry with paper towels and season them well on all sides with salt and black pepper. Let rest to near room temperature.
In a heavy-bottomed Dutch oven over medium-high heat, melt 2 tablespoons of butter. Add the lardons or bacon matchsticks and cook for about 6 to 7 minutes, stirring occasionally, until fully cooked and lightly crisp. Remove and set aside, leaving the fat drippings in the pot.
Preheat the oven to 350 degrees F with a rack in the middle.
Working in batches, add the beef cubes to the Dutch oven and brown them in the bacon drippings, about 3 minutes on each side. Be careful not to overcrowd the pot or overlap any meat cubes, or they won't brown properly. It should take about 3 to 4 batches to brown 2 1/2 pounds of beef. Transfer the browned beef to a separate bowl.
Melt the remaining 2 tablespoons of butter in the Dutch oven and add the garlic, carrots, pearl onions, thyme, and bay leaves. Cook for 6 to 7 minutes, until the onions are glistening.
Add the beef and bacon back into the pot. Add the tomato paste and sprinkle with the flour. Stir all the ingredients until no dry flour is visible. Pour in the red wine, brandy, and beef stock. The meat should be barely covered; add more beef stock if necessary. Bring to a simmer, cover with a lid, and transfer to the oven. Bake for 1 hour 30 minutes.
In the meantime, melt 2 tablespoons of butter in a large frying pan over medium heat. Add the mushrooms, season to taste with salt and black pepper, and cook for about 10 minutes, until the mushrooms are cooked and lightly browned.
Take the Dutch oven out of the oven and place it back onto the stovetop over medium heat. Stir in the mushrooms and simmer for 5 to 15 minutes, to thicken the sauce to your liking. Adjust seasoning if needed. Let sit for 15 minutes before serving.
Serve over mashed potatoes, boiled potatoes, rice, or egg noodles.
Audrey Le Goff is a French food writer, photographer, and creator of the food blog, Pardon Your French, where she shares recipes and stories from her beloved home country, France. She is the author of the cookbook "
Rustic French Cooking Made Easy
" (2019). She currently lives in Niagara, Canada. Follow her on Instagram
@pardonyourfrench