Homemade Ricotta
Real ricotta is made with whey, but this simplified recipe for homemade ricotta calls for just whole milk and vinegar. Enjoyed fresh, it will still be way better than what you can find in a store.
Be sure to use whole milk, rather than skim or nonfat milk, which don't have enough fat to create the curds.
Then to curdle the milk, you can use apple cider vinegar or lemon juice. Avoid stronger vinegars, such as red wine vinegar, which usually leaves a too-pronounced acidic taste in the final product.
Starting with a little over 4 cups of milk, you will get slightly more than 1 cup of fresh ricotta and 3 cups of whey. Don't discard the whey. Use it in place of water to make focaccia or pizza dough; it will give an interesting taste to your baked goods, very close to that of sourdough. 
Makes about 1 cup of homemade ricotta
4 1/4 cups whole milk 

1 tablespoon apple cider vinegar
Heat the milk in a saucepan over medium heat, keeping an eye on the temperature. When it reaches 176 degrees F, pour in the tablespoon of vinegar, turn to the lowest heat, and continuously stir the milk with a wooden spoon, making sure it doesn't boil.
When the milk starts to curdle—that is, when you see milky white clumps begin to form and separate from the whey, a yellowish liquid—remove the saucepan from the heat and let it cool completely at room temperature.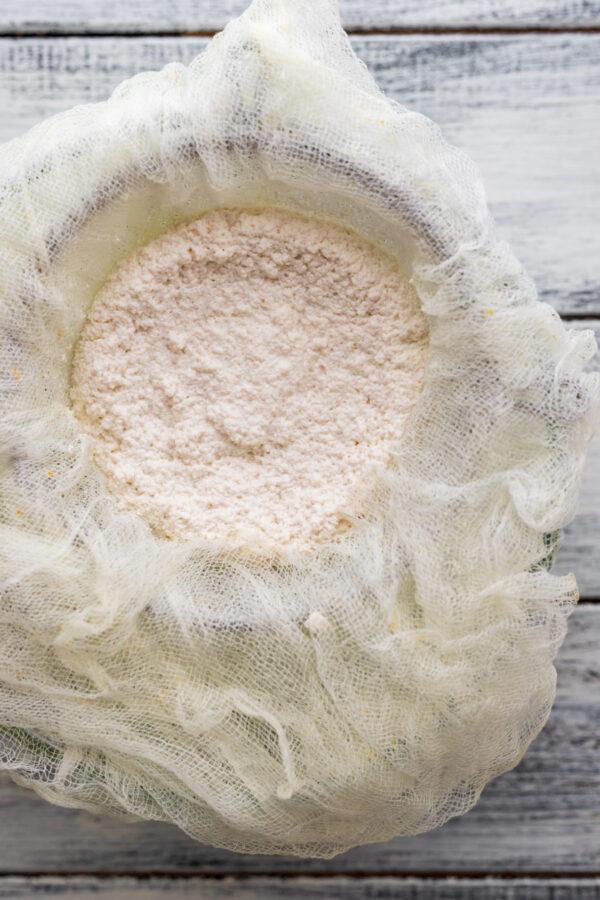 When completely cooled, line a colander with cheesecloth, place it over a large bowl, and pour the curdled milk into the colander. Cover with plastic wrap and let it drain overnight in the fridge.
The next day, your homemade ricotta will be ready to use.