An 8-year-old girl who was born without legs is now inspiring people the world over with her professional gymnastics skills. Her parents knew their little princess was born different to champion diversity.
Paige Calendine's parents were determined to empower their daughter and enrolled her in gymnastics classes at the age of just 18 months.
Today, Paige—a fourth-grader at Maysville Elementary School in Zanesville, Ohio—is a competing gymnast.
"My parents signed me up to gymnastics because they wanted me to have body strength," Paige 
told
WSYX, "and then when I started I had a little struggle, but then I started getting better."
Paige trains with Zanesville Gymnastics and has built a solid reputation for herself as a determined competitor. The little champion's proud parents, Sean and Heidi, are behind her venture 100 percent.
"[At 18 months] she just did great, and we've just been working at it ever since," said Sean.
"She just gets better and better."
One of Paige's coaches, Esther Weibel, praised her for being "a big part" of their team.
"Paige has been working out here since she was a little girl [...] She practices with all the XceL levels together," Weibel told the news outlet.
"XceL is like an alternative program within USA gymnastics. It's more free for creativity and skills, so we can kind of make the routines more individual to each child," she added.
When Paige first joined Zanesville Gymnastics, another of her coaches, Mallory Gardner, couldn't believe how strong and nimble she was.
"She truly is amazing and she doesn't let anything get in her way," Gardner
told
the Zanesville Times Recorder.
Paige uses prosthetic legs to get from class to class, but on the mat, she's capable and comfortable in her body without aids. It's the people around her who have had to change, not Paige.
"We had to adjust the way we trained her because it was different than how we trained the others," Gardner regaled, "but she actually was able to help with that, because she knew what she could do and how she could do it."
Gardner said that Paige has perplexed district gymnastics judges since starting to compete. The coach said that the judges outside the district don't know how to score her, as Paige is the first competitive gymnast in the area missing her lower limbs, according to the Zanesville Times Recorder.
However, the 8-year-old's prowess is starting to speak for itself.
During her first meet as an XceL Bronze gymnast in October 2019, Paige took the first place. She competed at the Arnold Sports Festival in Columbus, Ohio, five months later, and in the same month was lauded in the "gymnastics video of the day" by International Gymnast on
Twitter
.
Paige's athletic ambitions are also expanding beyond the gymnasium.
"She wants to do cheerleading," her father, Sean, told WSYX, "she wants to swim, we've actually been thinking about archery ... We can't do that yet, but it all just depends on if that affects gymnastics."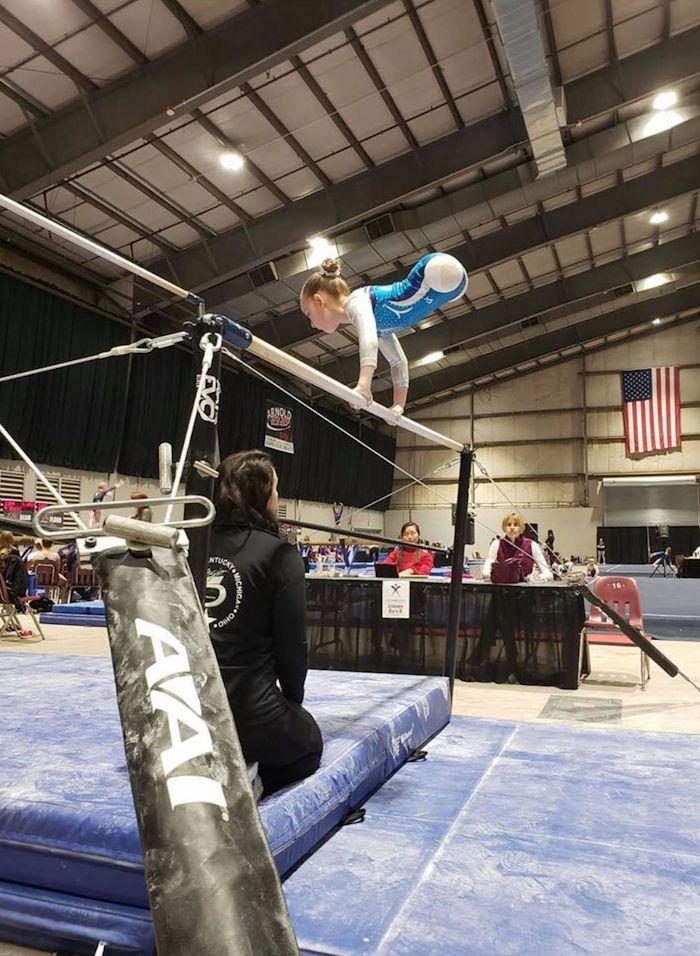 The "real world," says Paige's father, is not going to adapt to his daughter. As such, Paige's parents have adopted the approach of making the most of what they have, and Paige is thriving.
The inspiring 8-year-old hopes that her successes encourage others to believe in themselves, too.
"Anything that happens in your life, you can overcome," she told the Zanesville Times Recorder. "That's what I would tell other people."
This story was last updated in October 2020.