It was sold for as little as a nickel apiece in the early 20th century, but genuine Depression glass, despite the ubiquity of its early years, could fetch hundreds of dollars at flea markets or auctions today.
Glassware started out in the early 1900s as a luxury reserved for the monied upper classes. The first pieces were made by hand and cost a pretty penny, but the stock market crash of 1929 plunged the United States into the Great Depression and a long period of conservative consumerism.
Glassware companies cottoned on to the profit potential in mass production. Firms such as Hocking glass, Cambridge Glass, Heisey Glass, Federal Glass, Duncan & Miller, and MacBeth-Evans started producing affordable glassware in a variety of colors that appealed to the masses, explains
Invaluable
—the world's premier online auction website—making glassware available to families of all classes and incomes.
The designs were given aspirational names such as Cameo, Mayfair, American Sweetheart, and Royal Lace in an effort to evoke the prosperity of the pre-Depression years. Pieces were even given away as promotional items in cereal boxes and flour sacks, or as gifts at movie theaters, gas stations, and grocery stores, says Depression glass expert Carolyn Robinson, according to 
Love To Know
, a website that provides information on various topics.
Despite numerous manufacturing flaws such as air bubbles, molding marks, variations in color, and sharp edges, these pieces were treasured for their iconic patterns and shades. Since production ceased in the 1950s, "Depression glass" has become sought after by collectors around the world.
"The pretty glass that brought families together during the Depression era continues to bring families together today," Robinson said.
Production flaws should not diminish the value of the glass, but savvy buyers should be wary of convincing reproductions, which are comparatively worthless. Some plates are sold at below $15, while it is believed that larger items such as sets may run upwards of $200. Additionally, a rare original piece such as the coveted ruby-red Aladdin Beehive Lamp, according to 
Dusty Old Thing
, may fetch upward of US$800.
The glassware has become so popular among enthusiasts that a
nonprofit
was founded in 1974, called the National Depression Glass Association (NDGA), dedicated to the preservation of all American-made glassware with a focus on the era of the Great Depression.
In 1999, the NDGA opened a National Glass Museum consisting of donated glass and related items in Wellington, Kansas.
The most popular colors with collectors are various hues of pink, cobalt blue, and green, according to
The Spruce Crafts
, while unique colors that failed in the early 20th-century market, such as tangerine, are the most highly sought after of all.
Invaluable
recommends watching out for three common "condition issues" when shopping for Depression glass: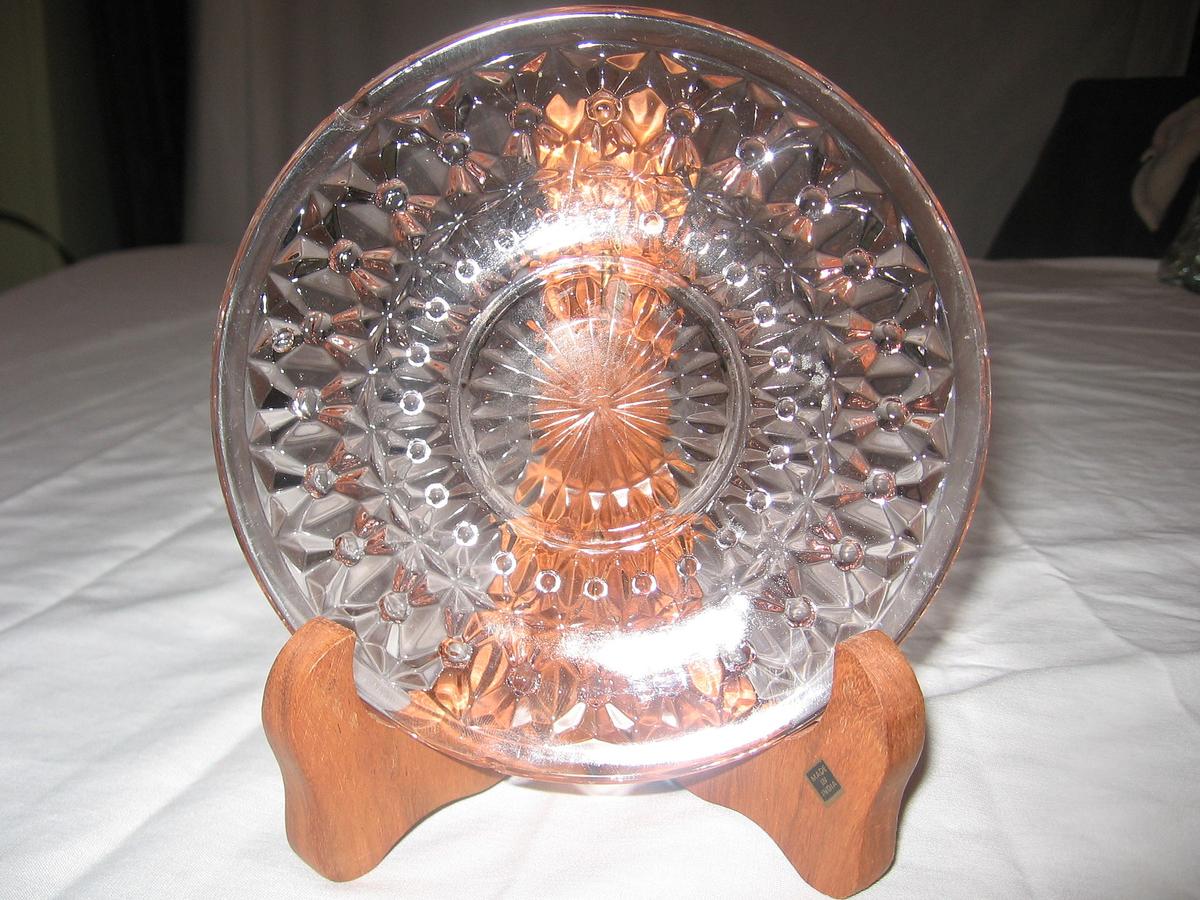 Cracks, scratches, and chips: Hold a piece up to the light, run your fingers along the edges and base, and check for imperfections while allowing for the fact that most Depression-era glassware is riddled with minor manufacturing flaws.
"Sick glass": If the glass has been cleaned using automatic dishwashers, it may have suffered damage in the form of cloudy marks on the surface, which cannot be restored.
Water rings: Cloudy rings may indicate water stains as opposed to sick glass; the difference is crucial, as water stains can be restored and do not diminish the value of the item.
The overarching appeal of Depression-era glassware lies in its historical significance; monetary value aside, the soft colors and whimsical designs helped brighten one of the gloomiest decades in U.S. history.