When a flight attendant finally met her soulmate, a nuclear engineer, after years of waiting, the result was explosive.
For Tatiana Wallace, 36, the constant globe-trotting her job entails poses relationship challenges. The solution? She packed up her now-husband, Travis Brent Wallace, 40, and took him along with her.
"I wanted to take him everywhere whenever I could," Tatiana told The Epoch Times. "By the end of our first year, we had traveled to nine countries and six states together."
Now, the couple and their two young sons love traveling around the globe together. "Our marriage has had some of the best and most amazing trips you could think of but the most memorable has to be creating this beautiful family that we have," she said. "Being able to travel together and showing the boys what this beautiful world has to offer has been amazing."
Tatiana had given up on love before meeting Travis in February 2016 through a dating app. The two were living in North Carolina at the time, and on their first dinner date, hit it off immediately. One big reason was their understanding of one another's unconventional working lives.
"Being a flight attendant means crazy schedules and being away days at a time," Tatiana said. "A lot of men didn't like that and wanted me to have a regular nine-to-five. Travis and mine's relationship blossomed because I felt we both had the same issues with relationships."
Being a flight attendant has its perks, and their mutual situations turned out to somehow work. Since Travis's job meant he was stationed working on nuclear plants for three months at a time, Tatiana was able to simply hop on a plane and visit him.
"His job didn't bother me, and he saw my job as an advantage for us to be able to see each other even if he was away," she added.
Travis proposed to Tatiana on a gondola in Italy in July 2016. They got married officially one year after the first meeting, in March 2017, and had a wedding celebration the following year, 2018. Now with two healthy, beautiful boys—Zander, 4, and Axel, 2—their success story has proved the naysayers wrong.
Tatiana shared that some people do ask when she will get another job so she can stay home, but her work ties in well with family life, and it was never her intention to stop doing the job she loves. With Travis earning a good salary and having the children, Tatiana has lowered her working days to between 8 and 10 per month.
"Being away, I have my mother who helps us and my husband when he is home to watch our children. Life is extremely manageable with a flexibility of a flight attendant schedule," she said.
"My husband knew I never wanted to leave my job, and he said he would never ask me to since he knows I love it. In the end, the only opinions that matter are ours."
Having the boys has curtailed their adventurous lifestyle, but not completely. Tatiana says they had to learn to travel with their children, and they have "slowed down a bit."
"We still try and do three or four new countries a year and travel in the States as well, but as with every parent, there are always challenges in changing from a childless lifestyle to parenthood," she said.
The family moved to New Jersey in 2021, and Travis and Tatiana thank their lucky stars they met. "It's very cliché, but he is my best friend," she said. "We both always wanted kids but meeting at 31 and 34, we just thought maybe kids weren't in our cards.
"We have been to about 16 countries and 14 states. With children and COVID the last two years, we slowed down a little, but with our boys now a bit older, and COVID finally settling, we have about 3 countries already planned for this year."
Offering words of encouragement for those who, like her at one stage, feel like giving up on love and relationships, she said communication is the key to maintaining a good relationship.
"Distance isn't what makes a relationship fall apart. Being able to communicate is everything," she said. "My husband and I have always been vocal about any issues because of our professions and being away at times. I think that is what truly makes our marriage work as well as it does.
"No matter how old you are, you can find love. No matter how complicated life is, just open up and let love in."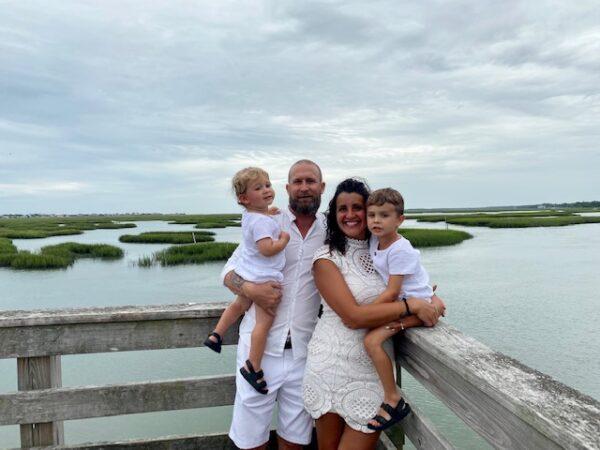 Share your stories with us at emg.inspired@epochtimes.com, and continue to get your daily dose of inspiration by signing up for the Inspired newsletter at: https://www.theepochtimes.com/newsletter