Command Chief Master Sergeant Maureen Dooley has built a sterling reputation for herself during 33 years of service in the Air Force and Air National Guard. But after over three decades and a plethora of life-changing experiences, the Rome, Georgia, resident is hanging up her uniform for the very last time.
Dooley was honored at a formal retirement ceremony on Sept. 18 at the New York National Guard headquarters in Latham. At the ceremony, she was presented with the Legion of Merit, plus gifts from her appreciate colleagues for the forthcoming retirement.
Dooley gave eight years of service to the active Air Force and 25 years to the 5,600-member-strong New York Air National Guard,
according
to a press release by Military and Naval Affairs News. For the retiring command chief, she leaves more than just a job behind her.
"There is not a better profession than the profession of arms, and not a greater group of people I would like to face those challenges with," she shared at the Sept. 18 ceremony, 
according
to Defence Visual Information and Distribution Service (DVIDS). "When you are doing a job that you love so much and you are doing it with your heart and soul, it is not a job."
Since February 2018, Dooley was the New York Air National Guard's senior enlisted Airman, reporting directly to Air Force Major General Timothy LaBarge. She served as his advisor on numerous military issues.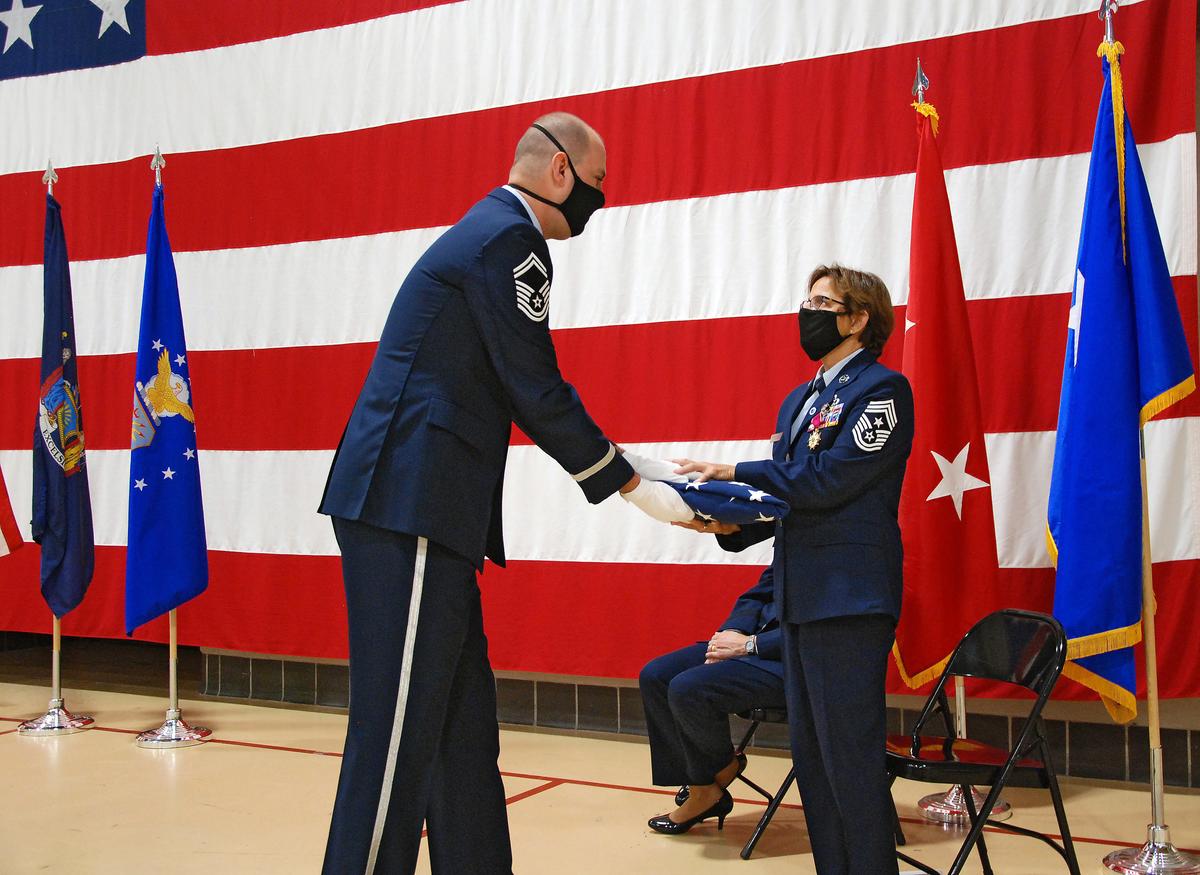 Air Force Major General Dawn Deskins, the Guard's deputy director, officiated at Dooley's retirement ceremony. She warmly praised her colleague for her "energy and commitment to the mission," adding, "If we did not have COVID, this room would be filled to the rafters with people who wanted to be here."
Dooley, originally of Danielson, Connecticut, studied for a degree in Space Technology from the Community College of Air Force before joining the Force in 1979. She served as an aircraft maintenance specialist, working on F-4Es, F-15s, and T-33 training aircraft for eight years before leaving the active Air Force in 1987.
After a break, she joined the Air National Guard in December 1995,
according
to a press release.
Dooley became part of a subset of the North American Aerospace Defense Command, where her responsibilities included identifying and tracking aircraft flying over the United States and Canada with a focus upon national safety. Notably, Dooley played a crucial role during the Sept. 11, 2001, terrorist attacks on New York City.
The now-retired command chief later served in weapons direction, air surveillance, mission crew control, and non-commissioned officer positions at the Eastern Air Defense Sector (EADS) before becoming the chief enlisted manager of the 224th Support Squadron in 2014.
Dooley's most recent decoration, the Legion of Merit, is the cherry on the cake of a series of coveted accolades. Among others, Dooley has also received the Meritorious Service Medal, says 
DVIDS
, the Air Force Commendation Medal, the Combat Readiness Medal, the National Defense Service Medal, and the Global War on Terrorism Service Medal.
The retiring command chief will be succeeded by Command Chief Master Sergeant Denny L. Richardson, the former senior enlisted Airman in the 109th Airlift Wing at Stratton Air National Guard Base in Scotia, a press release
states
.
We would love to hear your stories! You can share them with us at emg.inspired@epochtimes.nyc