Japanese photographer Rinko Kawauchi has captured a serene and timeless scene as silk-weaver Sonoko Saskia kneels while she spins silk floss into yarn on her spinning wheel. Sonoko's traditional kimono and spinning wheel hark back to the past, yet she makes her raw silk, known as "pongee," today.
Sonoko uses traditional methods. She makes dyes from leaves and grasses to color her yarn, and then she uses the tsumugi-ori weaving technique that utilizes discarded silkworm cocoons to make her cloth.
Sonoko is one of the 12 Japanese artisans that Rinko photographed at work in their ateliers for her photography series "The Ateliers of Wonders, 2020."  The 12 artisans are Living National Treasures, a lifetime honor awarded to artisans by the Japanese government since World War II to protect and preserve the country's traditions. There are only 116 award recipients, each one gets an annual stipend, and artisans can only make the list once someone listed dies.
A Peek Into Traditional Japanese Craftsmanship
Rinko's photographs highlight Japan's rich, ancient traditions. Her insightful images capture weavers, ceramicists, textile dyers, kimono makers, cabinetmakers, and a doll maker at work.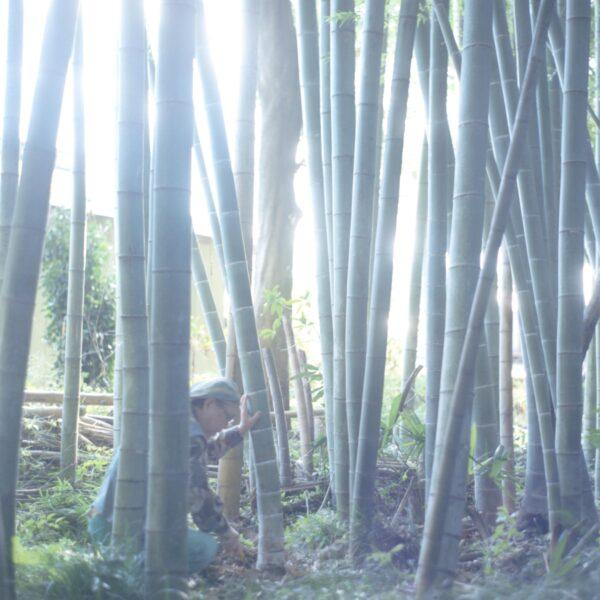 In one photograph, bamboo artist Noboru Fujinuma crouches on the ground with one hand resting on a bamboo plant. He looks like a doctor taking his patient's pulse. But instead of listening for heartbeats, Noboru looks at each bamboo plant's diameter, curvature, and the distance between each node to find the right plant for each object he makes. He can look at hundreds of bamboo plants before finding the right one for weaving or braiding into an object, using an 8th-century Tang Dynasty (Chinese) technique.
Rinko also photographed Komao Hayashi, who creates toso dolls using 17th-century techniques. He carves the doll's body from paulownia wood, a lightweight hardwood with a higher strength-to-weight ratio than balsa wood. He then mixes paulownia sawdust with different wheat starches to create toso, a modeling media that hardens when dried. Komao shapes the doll's body by applying layers of toso to the wooden body. When it has dried, Komao carves the doll's features into the toso. He uses washi paper or crushed seashell powder called "gofun" to mimic skin. And then he dresses the doll in either fabric or washi paper.
According to the "Handbook for the Appreciation of Japanese Traditional Crafts," dolls have been part of Japanese culture for centuries. The early 11th-century Japanese masterpiece "The Tale of Genji" tells of children playing with dolls. Dollmaking thrived in Japan's Edo period (1603–1867), and every aspect of Japanese culture is reflected in the dolls.
Komao's toso dolls take their poses, gestures, and expressions from traditional Japanese performing arts such as Noh theater; kyomai, a Kyoto-style dance based on the Kyoto court; or kyogen, the comic interludes used between acts of Noh theater performances, to name a few.
Visitors to Venice, Italy, can see Rinko's photographs in "The Ateliers of Wonders" exhibition in the Renaissance-style Cypress Cloister of the Giorgio Cini Foundation. Objects made by the 12 Japanese artisans are also onsite in the "12 Stone Garden" exhibition nearby, which is curated by Naoto Fukasawa and Tokugo Uchida. The works include kimonos, a lacquered harp, a bamboo flower basket, Bizen ware or Imbe ware that comes from Japan's Okayama prefecture (formerly Bizen) and is one of the country's six ancient pottery styles, and intarsia wooden boxes (boxes with inlays of wood or other materials such as ivory or mother of pearl).
Exhibition visitors can gain an unprecedented peek into how Japanese ancient crafts are cherished and hopefully preserved for centuries to come.
Both exhibitions are part of the "Homo Faber Event 2022." Covering nearly an acre of the Giorgio Cini Foundation on San Giorgio Maggiore, "Homo Faber" is host to 15 exhibitions that this year focuses on European fine craftsmanship and Japan's
Living National
Treasures. Organized by the Geneva-based nonprofit Michelangelo Foundation for Creativity and Craftsmanship, the event brings the finest of European craftsmanship to Venice until May 30. To find out more, visit HomoFaber.com