A children's cancer clinic in Arizona recently shared a series of inspiring patient anecdotes to create awareness about childhood cancer.
Banner Children's Cancer and Blood Disorder Clinic from Mesa treats patients ranging in age from newborn to teenage.
Several young patients' stories have touched the doctors and nurses in recent months; staffers have released poignant photos of kids in treatment with their carers, and a video, in the hope of inspiring others.
"We're so inspired by the strength and determination of these amazing kids every day," Banner Health's pediatric oncology social worker, Andrea Dinardo, said in a 
statement
.
"These photos and videos are just a small sample of the ways we celebrate everyday victories and cheerful moments with patients and their families."
In an effort to inject normalcy into the lives of the clinic's young patients, staffers make a habit of dancing, playing music, and generally "being silly," Dinardo said.
"[W]e're honored to help in making their treatment as upbeat as possible," she said. "We treat them and love them like they are part of our own family."
Five-year-old Ryker Baumiller is one little boy who has touched the hearts of his medical team. Ryker spent his birthday with Banner Children's medics, and the day was a double celebration. Not only did Ryker turn 5, but he is in remission.
A video captured on the 5-year-old's birthday follows a conga line of medics into Ryker's room, all singing "Happy Birthday," before the team presents the birthday boy with a remote-control car.
Ryker has battled B-cell acute lymphoblastic leukemia since August 2019, the statement said. He still needs maintenance chemotherapy to give him the best chance of long-term remission, but Ryker's victory over cancer is a victory for his entire team.
Another patient, Obed Vegabeltran, was diagnosed with high-risk acute lymphoblastic leukemia just one month after Ryker, in 2019.
Obed also celebrated a special birthday with several members of his medical team: his 18th. The teen is undergoing maintenance chemotherapy too.
Celebrating yet a couple of other "everyday victories," 5-year-old patient Gabriel Leonnevarez was pictured with Dinardo in a Buzz Lightyear costume, while 1-year-old Ezekiel Acheson was snapped sharing a cuddle with his doctor, oncologist Naresh Reddivalla.
Banner Children's Cancer and Blood Disorder Clinic employs a crack team of holistic health care professionals including physicians, nurse practitioners, specialty nurses, a social worker, and a nutritionist.
They work together to help young patients and their families strive for optimal health and longevity, the statement said.
As Childhood Cancer Awareness Month, September 2020, drew to a close, Dinardo praised Banner Health's young patients for their bravery and resolve, calling the kids "truly real-life superheroes to us."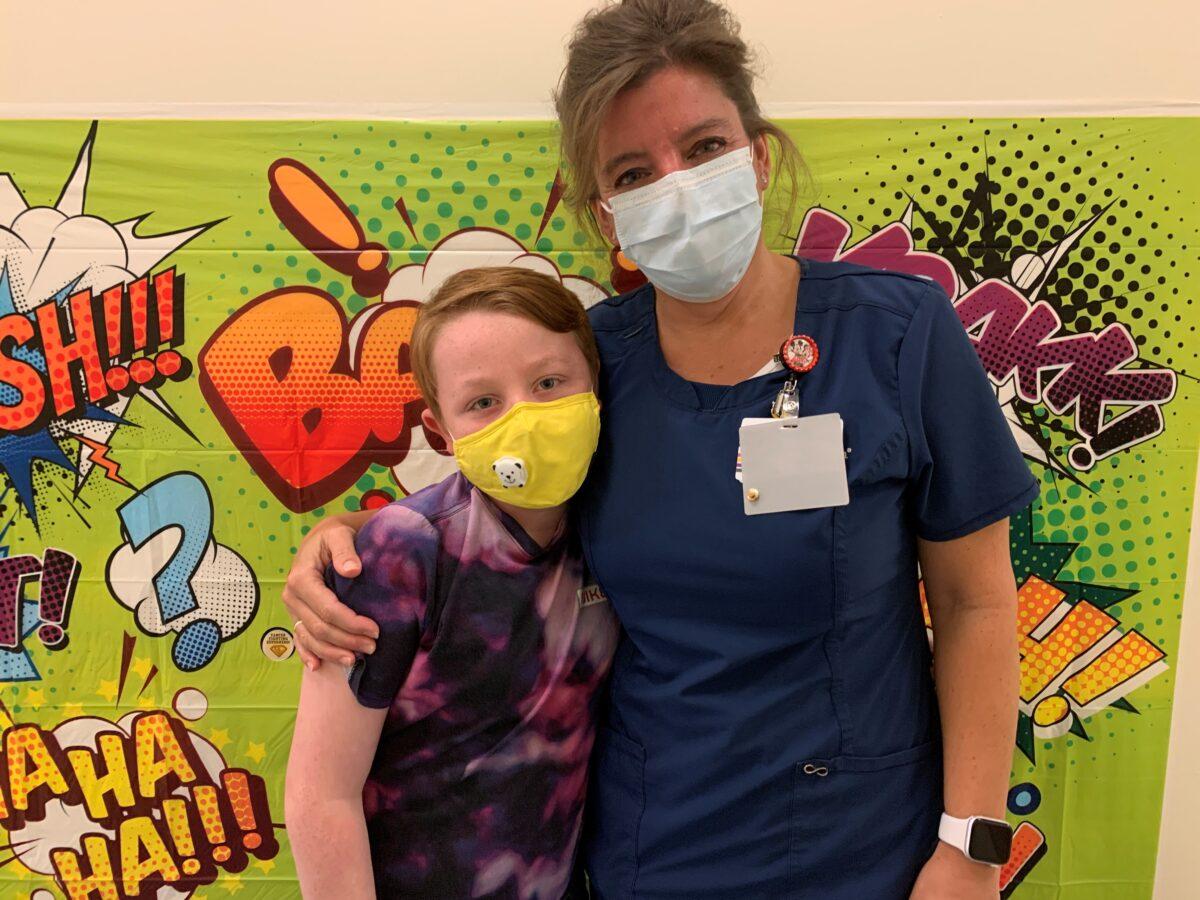 We would love to hear your stories! You can share them with us at emg.inspired@epochtimes.nyc