Unique 18th- and 19th-century tourist treasures, many with a twist, are currently on display in the exhibition "
A Return to the Grand Tour: Micromosaic Jewels From the Collection of Elizabeth Locke,"
at the Gibbes Museum of Art in Charleston, South Carolina. 
Made from teeny-tiny pieces of colored glass,
micromosaics
make up the most amazing, almost painterly pictures depicting all manner of things. The exhibition's
micromosaics
include quintessential scenes of Rome: the people, landscapes, and, of course, famous architecture such as the
Colosseum
, St. Peter's Square, and the Roman Forum.  
Some of the best
micromosaics
contain an astounding 3,000 to 5,000 tiles per square inch. The exhibition's
micromosaics
contain up to 1,400 tiles per square inch. 
A Jeweler's Love for Micromosaics
Locke, a contemporary jewelry designer, first fell in love with
micromosaics
while living in Florence, Italy. In 1989,
she bought her first micromosaic:
a small rectangle of the Temple of Vesta. Locke reset the piece in 19-karat hand-hammered gold and cabochon stones, in a style influenced by neoclassical design. 
Locke has now amassed a
 collection of over 100 pieces, 92 of which are featured in the exhibition. Here's the exhibition's twist: She has reset most of the
micromosaics
 in her renowned neoclassical style. 
Locke is tapping into an old tradition. From the 17th to the 19th century, wealthy Europeans on their Grand Tour of Italy used to buy
micromosaics
as jewelry and souvenirs. Sometimes the
micromosaics
would be inlaid into furniture,
snuff, or decorative boxes.
An example of the last is in the exhibition.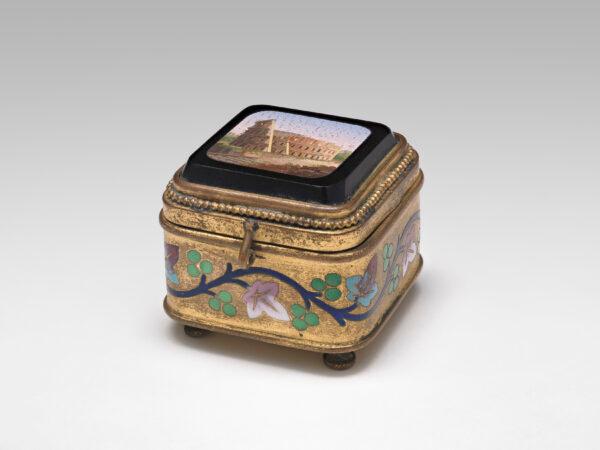 Many Italian
micromosaics
were sent straight to jewelers in Paris and London to be set into jewelry.
Micromosaic
jewelry fell out of favor in the 1870s. 
Making Micromosaics 
According to a video from the Victoria and Albert Museum, a
micromosaic artist
fuses or combines together different colored glass mosaic tiles to create an assortment of colors, unique in size and shape. Then the artist melts the tiles in a metal crucible and pulls the molten glass into long canes that solidify when cooled. The
artist
scores the canes and carefully snaps them into tiny, oblong pieces.  
Then
the artist
prepares a metal base with
paste, into which he or she then marks the design.
Using tweezers,
the artist th
en painstakingly
places 
each teeny-tiny mosaic piece onto the paste.
Once the picture is complete, the
artist
polishes the micromosaic by applying a couple of wax coatings and
sanding to smooth the surface.
To find out more about the exhibition "A Return to the Grand Tour: Micromosaic Jewels From the Collection of Elizabeth Locke," which runs until Jan. 10, 2021, at the Gibbes Museum of Art, visit
GibbesMuseum.org
This exhibition is organized by the Virginia Museum of Fine Arts, Richmond.