Apple pies, in my opinion, are the essence of fall—warm, aromatic creations of buttery pastry full of the season's finest fruit. A slice served with a hot cup of coffee, by an open fire on a crisp, cool night, is a perfect snapshot of the season. 
I began making apple pies as a young adult living in the Shenandoah Valley, where the leaves glow with color every fall and the many apple orchards burst with fruit. I loved the hands-on process of taking a pie from concept to completion, starting with picking the apples myself. I enjoyed the slow, intentional steps of peeling and slicing the apples, of rolling out the dough and shaping the crust; and the gradual aroma that would take over my kitchen as they baked together in the oven.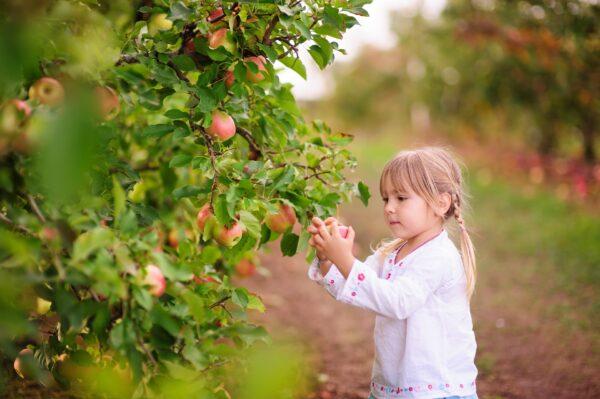 Five years ago, my husband and I moved to our home in Pennsylvania. Newly pregnant and in an unfamiliar place, I found comfort and a creative outlet in my kitchen. I began to bake more than ever before, putting twists on my favorite recipes and making foods my own. 
A few months into our new life, I reconnected with a sorority sister from college who just so happened to live right up from the road from me, within walking distance of my house. Though we hadn't grown up together, being around her felt like a piece of home—someone who had known me in another life. 
That first fall in my new house, we decided to bake an apple pie together. By that point I had developed my own recipe, adding raisins and clove to the filling for extra flavor. We rolled out our pastry together, building off the relationship we had in college and applying it to our new friendship as neighbors. We put our pies in the oven, sat on the couch in the living room with cups of coffee, and filled in the gaps of everything that had happened in our lives since we graduated. 
We've made an apple pie together every fall since then. The following fall, we had small babies who jumped in bouncers with gummy smiles. The one after that, we had toddlers who wanted to be held and to taste test the pastry, then bigger toddlers and a new baby. Every year, our pie baking day has become less restful, but more fun. 
This year, we made the decision to homeschool our preschool-aged children together due to the current world situation. We've loved the opportunities this has given us for hands-on educational experiences with our children. 
"A is for apple," we taught them on a crisp day in September. We helped train their hands as they practiced on the white board in my office—one line up, then down, then another straight across the middle. 
"A is for apple," we said again as we walked the orchard rows later that month, pulling red and green apples from the trees. June and Micah, both 3 years old and always on the go, raced up and down their lengths, on the hunt for butterflies, flowers, and tunnels in the trees that would lead to other rows. Rosie, my 2-year-old, followed more slowly, dragging a bag with about four apples in it behind her. Now and then, she plopped onto the grass, reached into her bag, and took a bite of an apple. 
I breathed in the sweet, cider-y scent of the orchard, my arms heavy from carrying bags of Jonagolds and Honeycrisps. 
Later, we lay the apples out on the kitchen table, using what we learned about the five senses to make observations about the fruit. Then we peeled and sliced them, rolled out pastry, allowed our children to shape the dough and arrange the lattice crust. The kids carefully measured out cups of sugar and raisins, brows furrowed in concentration. 
My kitchen was covered in a layer of flour, and our pies weren't beautiful the way they used to be. But our children felt proud, knowing that they helped make something delicious. 
While they sat in front of the oven, watching their creation bake, my friend and I squeezed in a few minutes for an uninterrupted cup of coffee in the living room, breathing in that familiar aroma, soaking up the familiar warmth of the season. 
Raisin-Apple Pie
My mother-in-law always told me to pile a pie crust high with apples. They break down during baking, so you want enough in there for a substantial pie. The addition of raisins and clove in this recipe add a sweet, wintry burst of flavor. 
Makes 1 (9-inch) double-crusted pie
For the Crust
2 1/2 cups all-purpose flour

1 tablespoon granulated sugar

1/2 teaspoon salt

1/2 pound (two sticks) cold butter, diced into small cubes

1/2 cup ice-cold water
For the Filling
8 to 9 large apples (Granny Smith, Jonagold, and Golden Delicious all work well), cored, peeled, and sliced

1/2 cup brown sugar

2 tablespoons all-purpose flour

1 teaspoon cinnamon

1/2 teaspoon nutmeg

1/2 teaspoon cloves

Juice of 1 lemon

1 cup raisins

4 tablespoons cold butter, thinly sliced
In a food processor or stand mixer fitted with the paddle attachment, combine the flour, sugar, and salt. Add the butter and pulse or mix until the mixture resembles fine crumbs. Slowly add the cold water and mix until the dough sticks together. Form into two equal-sized discs and refrigerate at least 30 minutes and up to 2 days. 
Preheat the oven to 400 degrees F.
In a large mixing bowl, combine the filling ingredients. Mix together and let sit while you roll out the dough. 
On a lightly floured surface, roll out each disc of dough into a 13-inch round. Transfer the first round of dough into a 9-inch pie dish, pressing the crust around the edge of the dish.
Pour the filling ingredients into the pie dish and distribute the sliced butter on top. 
Drape the second round of dough over the pie and crimp the edges, folding and pressing the dough together. (You can also cut this round into strips to make a lattice crust.) Cut a few steam vents into the top crust. 
Bake uncovered at 400 degrees F for 15 minutes. Then, cover the pie with aluminum foil, reduce the oven temperature to 350 degrees F, and bake for 1 hour, until the crust is golden and the filling is bubbling. 
Serve with heavy cream or ice cream.
Rachael Dymski is an author, florist, and mom to two little girls. She is currently writing a novel about the German occupation of the Channel Islands and blogs on her website, RachaelDymski.com