A grandson and his 93-year-old grandmother, who spent nearly a decade estranged, have come together to complete an epic quest: the pair has visited all 63 national parks in the United States in just over seven years. In doing so, the grandma made history.
On May 16, "Grandma Joy" Ryan became the oldest living person to visit every U.S. National Park. Her grandson, Brad Ryan, a veterinarian who lives in the same town, Duncan Falls, Ohio, told The Epoch Times that it was their shared penchant for nature that inspired them to embark on this ambitious trip.
While Joy suffered a bout of poor health before the trip began, she has since recovered. Brad says it's the travel itself that has rejuvenated Joy's love for life.
"The quest to visit every U.S. National Park was a mutual decision that evolved organically as we ventured deeper into the hidden corners of America," Brad said.
"The national parks are the most beautiful landscapes in America, but they are also a window to the world. We have made friends with people from every corner of the world; people she never would have encountered had she remained in rural Appalachia."
Grandma Joy said: "It's hard to believe, really. I have seen the most wondrous places. Brad took my photo next to all 63 park signs, so I know it's true. But I never imagined a woman from a little dinky town like mine could raise such a ruckus. I guess the one word to describe how I feel is 'proud.'"
Brad, who witnessed Joy whitewater rafting in Class III rapids in Alaska when she was 91, says his grandma has shown that no one is too old to live their dreams.
"Grandma Joy taught me that aging has inherent limitations, but our choices are an immensely powerful counterbalance," Brad said. "Whether you are 39 or 93, life is happening right now. Widen your lens and choose to see the possibilities that exist for your life at every age."
Sharing the milestone moment on their popular Facebook page,
Grandma Joy's Road Trip
, Brad wrote: "It was the greatest privilege of my life to be in the driver's seat. We defied erroneous assumptions about the limitations of aging. We defied financial and logistical constraints. We even defied a pandemic. And you might have noticed that I accidentally made Grandma Joy the superstar I always knew her to be."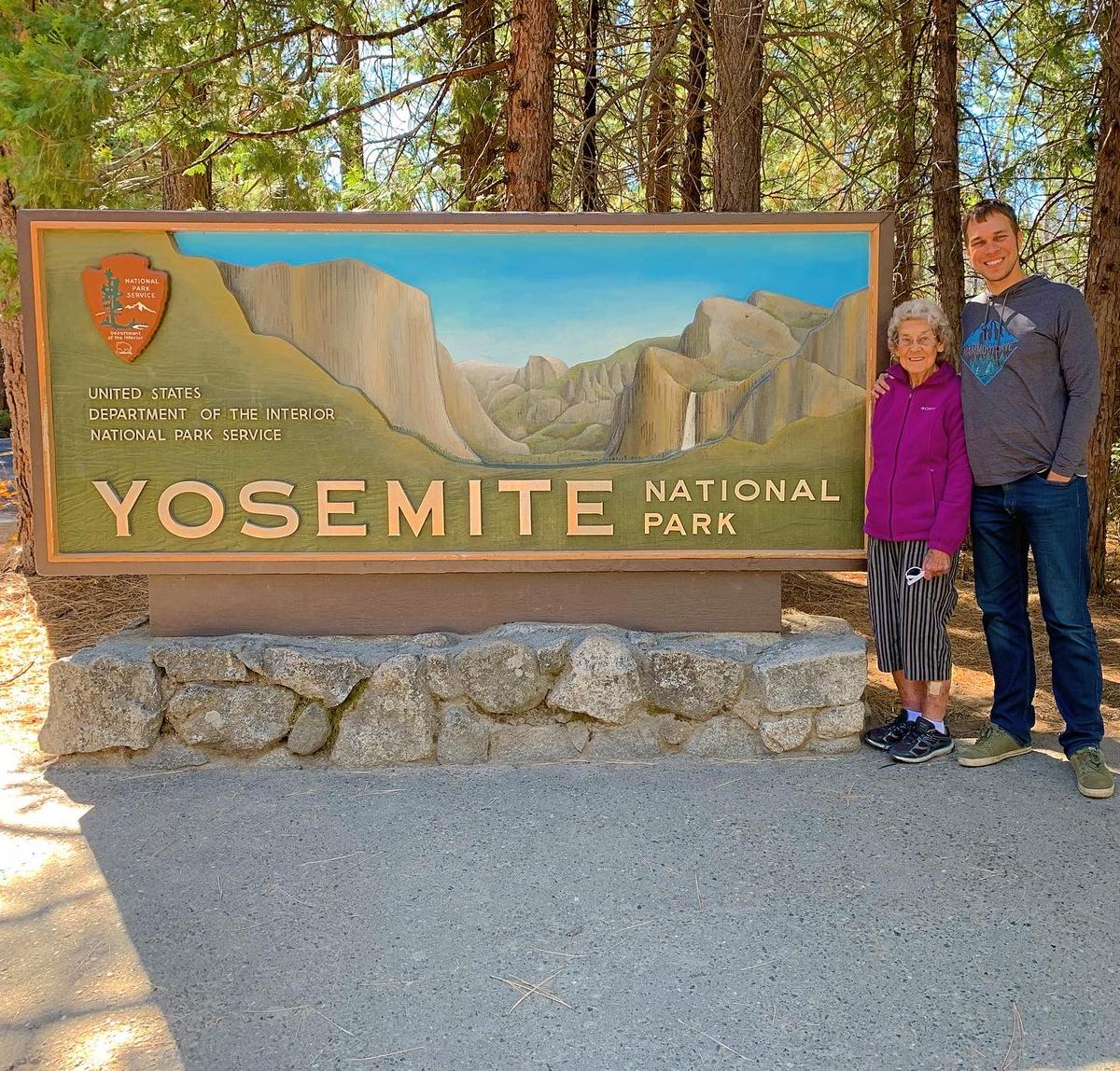 The first park on the pair's itinerary was the Great Smoky Mountains National Park in Tennessee in September 2015. The years-long venture was part-funded by generous donations to a now-closed fundraiser campaign started by Brad in 2017.
"Grandma Joy and I were hiking in our local state park when she was 80, and she casually told me that she wished she had witnessed more of the great outdoors in her life. She casually mentioned that she had never seen a mountain, and it broke my heart," Brad said. "The seed was planted in my mind during that hike, but it would be another five years before I invited her on a road trip [in 2015].
"Initially, I envisioned our weekend road trip to the Smoky Mountains as a singular event, but watching my 85-year-old grandmother climb a mountain left me inspired and hungry for more adventures. All I had to do was open my passenger seat door and invite her along for the ride."
Before Brad and Joy's road trip began, Joy was working at a deli in Duncan Falls, living vicariously through travel documentaries. Brad, who had been estranged from his grandma for almost 10 years following his parents' divorce, says that "nature was the most powerful healing force" in helping them find their way back to each other.
On May 25, as part of Older Americans Month, Brad and Joy took part in a ceremony where they were recognized by the Governor of American Samoa, Lemanu Palepoi Sialega Mauga, and the Territorial Administration on Aging. Brad wore a traditional Polynesian ie lavalava and proudly spoke to island elders about the "immense value" of intergenerational connection.
"I could not have written a more perfect finale to our 7.5-year journey," he 
wrote
.
Brad's father, Joy's eldest son, sadly passed away a week before their visit to American Samoa, making the finish line of their road trip "bittersweet." But Brad and Joy's reunion and the ripple effect of their great shared adventure is spreading far and wide.
After visiting every U.S. National Park, the pair plans to touch base on all seven continents. They are headed to Kenya for a National Geographic expedition in July.
Check out more of their adventures in the photos below: