The Brandywine River Museum of Art in Chadds Ford, Pennsylvania, presents 20 drawings and paintings by the late American realist painter Andrew Wyeth. All of the art exhibited depicts Andrew's wife, Betsy, or the places and objects she held dear. The small exhibition is a tender tribute to Betsy, who passed away on April 21, 2020. 
The majority of the works on display have never been publicly shown; they weren't created to be sold or exhibited, and they all come from Andrew and Betsy Wyeth's private collection, Brandywine associate curator Audrey Lewis explained in a telephone interview. 
Lewis curated works that best conveyed the Wyeths' nearly 70 years of marriage. Her small selection thus evokes a sense of intimacy and captures the couple's relationship.
"For instance, we have early drawings in the show that were created shortly after their marriage, and they really tell a story of Betsy's domestic life and Betsy's personality. … They really convey her elusiveness in a way, and also her dedication to Andrew Wyeth's career and his body of work," she said.
Betsy and Andrew's Artful Marriage
Betsy's influence on Andrew and his art was immense and enduring. She met Andrew in Cushing, Maine, on July 12, 1939, on Andrew's 22nd birthday, when she was 17 years old. On that first meeting, Betsy took Andrew to meet her friend Christina Olsen, the lady in one of Andrew's most famous works "Christina's World." For Andrew, Christina "was someone who had a kind of great dignity, and he was interested in portraying her," Lewis said.
Little under a year later, Betsy and Andrew were married. 
The couple settled in Chadds Ford, where Andrew's father, the illustrator N.C. Wyeth, had built the family home on a hill. Lewis explained that,
as a teenager, Andrew began to paint the everyday farming motifs of Chadds Ford. I
t was here that he discovered two of his most famous subjects: a local farmer and his wife, Karl and Anna Kuerner, after he happened upon their home during one of his walks near the family home.
Betsy took on the role of Andrew's business manager and cataloged every work he created in a catalogue raisonné (a comprehensive, annotated record of his artwork). "That was a massive undertaking because he was prolific. I couldn't tell you the number of works … throughout the years, but it's large because he did many studies for his tempera paintings," Lewis said. 
Betsy encouraged Andrew to persevere with tempera painting, something he'd learned from his brother-in-law, the artist Peter Hurd. It may have been on their first meeting that Andrew showed Betsy some of his tempera paintings and watercolor paintings, Lewis explained. Betsy pointed to the tempera paintings and said, "That's what you should be doing."
"She had very strong opinions, as did he. I think they had this great symbiotic relationship where he would bring his paintings home when he was ready to show them. He wouldn't show them before that. But he would bring the paintings home, and she would critique them and eventually give them titles. He valued her opinion," she said.
"They were intelligent critiques. They were not just passing critiques; they were worthy. They were meant to help him see something that maybe he didn't see in this work. So she really was a partner in his career: a muse, a partner, and also of course his great love," she said. 
In 1966, Andrew credited Betsy with galvanizing him and his work, shaping him into the artist that he became.
Many years later, he told his granddaughter Victoria Browning Wyeth: "She made me the artist that I am; without her I would be nothing," a sentiment Browning Wyeth recounts in a touching personal video tribute
on the
Brandywine Museum website
. 
Architect and Homemaker
"Another interesting thing about this exhibition is that you see her in her own setting," Lewis said. Betsy created endless inspiration for Andrew's compositions through her interior and architectural designs. She "understood architecture and created these homes both in Chadds Ford and in Maine that were more or less designed by her. She envisioned and created these worlds." And Andrew happily painted those homes many times with their beautiful but sparse interiors throughout.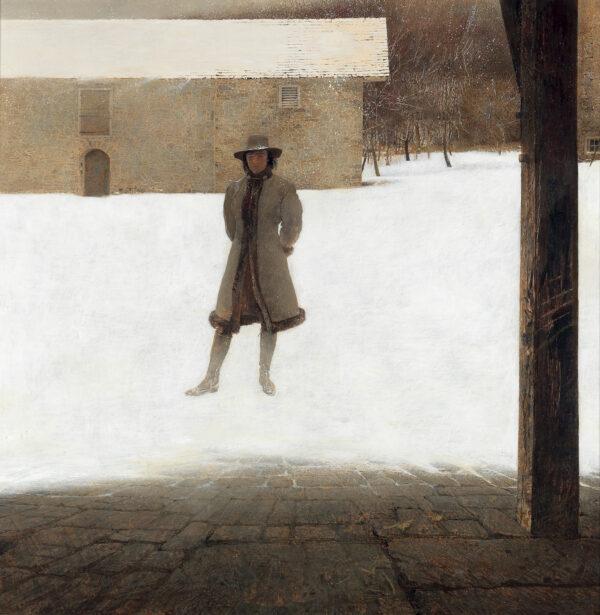 In Chadds Ford, Betsy found a dilapidated mill and worked with architects to restore and redesign it to become the family home. The home, Lewis believes, reflects the Wyeths' sensibilities: "It's kind of minimalist, very 'artist,' I'd guess you'd say."
"She almost created a sense of paradise for her husband to work in—not a paradise in the sense of beautiful—but a place where he could focus on his art," she said. 
A Sense of Legacy
Both Andrew and Betsy were committed to promoting American art, and they set up a fund, now called the Wyeth Foundation for American Art.
Betsy also contributed to the preservation of the Wyeth family legacy by researching the family's genealogy and publishing books of the family's art. 
For instance, after N.C. Wyeth's tragic death from a car accident, Betsy took it upon herself to collate and publish his letters, Lewis explained. "She took it on as a project, and I think that gives you a sense of how important she thought legacy was in the family. She really helped to move N.C. Wyeth's career further after his death and keep him in the public eye, in a sense."
In the late 1960s, Betsy encouraged conservationist and
artist George A. Weymouth
to transform what was a 19th-century gristmill, on the Brandywine River, into an art museum. Betsy promised to lend and donate artworks to the new museum from the
three generations of the Wyeth family, including N.C., Andrew, along with art from Betsy and Andrew's son Jamie,
and also Andrew's sisters Carolyn and Henriette, and other family members. 
For a long time, both Betsy and Andrew were regular visitors to the museum, and Betsy helped curate and install many of Andrew's exhibitions there. 
It's fitting that the Brandywine River Museum of Art's intimate tribute to Betsy, painted by her husband's hand, should be exhibited where her much-loved family's art often resides.
In the 2017 documentary "
Betsy's World
," by the Farnsworth Museum,
Jamie s
poke about how he was struck by his parents' remarkable partnership. "They both were two halves of this remarkable whole and, to the point, I feel that really she should have also signed his paintings. I mean she was that integrally a part of it, and she's as responsible for the paintings as he is." 
To find out more about the Brandywine River Museum of Art's small exhibition, "Betsy James Wyeth: A Tribute," which runs until Jan. 10, 2021, visit Brandywine.org