Bread pudding is as much art as it is culinary science. The elements, the ratios, the cooking times … these have remained constant for centuries. The flourishes, the personal preferences, the adaptations?
That's where the art comes in.
Soak dry, coarse, whole-grain bread in a mixture of eggs, milk, and honey, lace it with dried fruit, and bake it until toasty and you have a hearty breakfast treat. Dip airy-light French bread in sweetened cream and egg yolks, kiss it with vanilla-scented meringue, and anoint it with rum sauce and you have a dessert to rival any soufflé. 
Between those extremes are any number of humble, rich, savory, and sweet renditions of the classic dish. 
Necessity: the Mother of Recipes
Credit frugal British cooks of the Middle Ages for their resourcefulness. Eleventh-century homemakers brought forth sometimes extravagant, sometimes homey bread puddings in order to make the most of scraps. 
Families would throw leftover bread and stale rolls and biscuits into a pail. When enough discarded baked goods had been collected, cooks added fat, eggs, milk, and sweet or savory seasonings, then cooked the mélange over hot coals. In time, the effort yielded a firm, custardy side dish or dessert. Since the scraps and the stores of flavorings and dairy products varied from day to day, most puddings were unique: one might have been laced with wild strawberries and syrup, while another got suet, meat drippings, and spring onions.
Although the English looked on early bread puddings as a poor man's dish, the concoction quickly found favor in France and Belgium, then eventually the southern United States, the Caribbean, and South America—all places that still revel in making and serving bread puddings.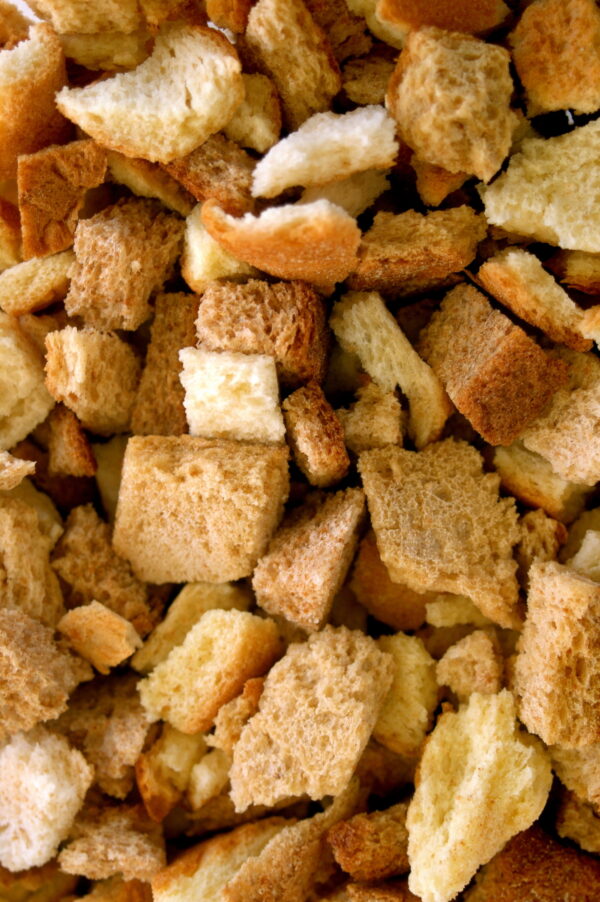 Poor No More
At one time, many bakeries featured bread pudding or cake pudding in the refrigerator case as a standard item. (Cake pudding, as one might imagine, was made from leftover cake layers as well as day-old pastries.) Now that inventories are more closely controlled, resulting in less excess production, bread pudding is less likely to be a retail offering, and far more likely to be a restaurant creation or home-kitchen affair. 
Today's versions are also less likely to reflect any hardscrabble origins, with cooks buying specialty breads and deliberately allowing them to go stale before adding rich and pricey ingredients. 
In South Louisiana, restaurateur Dickie Brennan Jr.'s white-chocolate bread pudding, served at the Palace Café in New Orleans, contains three cups of heavy cream, 10 ounces of white chocolate, and eight egg yolks for a 10-serving recipe!
Puerto Rico's coconut bread pudding with rum sauce resembles an ethereal cross between tres leches cake and flan, while Brazilian bread pudding is more like a smooth, rich crème caramel.
Sherry Stoppelbein, owner of Luvin Oven Catering in St. Augustine, Florida, notes that her bread pudding is a popular request among clients. They think of it as comfort food, she said, but still want the experience of it to be something special. 
"My secret is: after mixing the bread pieces with the cream and eggs, I wrap the mixing bowl and put it in the refrigerator overnight," she said. "The bread marinates and the flavors come together. When I put it in the oven the next day, the scent of it fills the room."
Before serving, she augments the pudding with a rich white-chocolate sauce.
"I add a bit of rum to give it a little kick," she said.
A Matter of Texture
Stoppelbein uses a gentle hand when combining ingredients, resulting in a moist, chunky bread pudding with custard-saturated pieces that hold together. Chunky bread pudding requires the bread pieces to be fully infused with the custard mixture, then stirred or lightly whisked, not whipped, before baking.
Other bread pudding traditions—such as Spanish torrijas—more closely resemble separate pieces of pain perdu or French toast. Still others fully incorporate the ingredients, bread and all, transforming them into a smooth, sliceable treat that can be eaten as a snack or layered with whipped cream or meringue. 
The trick to making a smooth bread pudding is to soak the bread pieces in milk or water for a time before blending in the other ingredients. Add sugar, eggs, and additional milk or cream, then mix the ingredients together with a hand mixer on medium speed. Eventually, the bread will dissipate, turning the mixture into a thick, creamy batter.  
A Matter of Flavor
Both chunky or smooth puddings can be laced with fresh or dried fruit, dabbed with jam, or drizzled with sauces and toppings. Southern homestyle bread pudding is usually sprinkled with cinnamon and dotted with raisins. 
Though most bread puddings are served as a dessert or tea time offering, there are also savory bread pudding recipes that deserve a nod. Milk-soaked toast layered with chopped herbs, browned sausage or crumbled bacon, cooked and chopped spinach, whipped eggs, and shredded cheese is an extraordinary make-ahead brunch dish ready to be served with a side of salad or fruit. Simpler savory options can be served beside roasted meats in lieu of other starches. 
Regardless of whether your tastes run to super-rich sweet bread pudding or savory stratas, it may take a bit of experimenting to get the exact custard-to-bread ratio to suit your tastes. And don't forget to sample your favorite recipe with different types of bread—sourdough in place of Italian, brioche in place of baguettes—and flavorings. 
Getting the texture just to your liking is part of the science of bread puddings. The flavor profile is strictly art. 
RECIPE: Southern Bread Pudding With Buttered Rum Sauce
RECIPE: Old-Fashioned Bread Pudding With Meringue
RECIPE: White Chocolate Bread Pudding
RECIPE: Savory Sausage and Cheese Bread Pudding
Louisiana native Belinda Hulin Crissman writes cookbooks and food articles from her adopted hometown of Atlantic Beach, Fla. She's the author of five cookbooks, including "Roux Memories: A Cajun-Creole Love Story with Recipes." When she's not writing, you'll find her scoping out old and new culinary delights.