Open Dan Dietz's "The Complete Book of 1920s Broadway Musicals" and you can learn which show featured the Charleston, the dance that has come to define the 1920s; you can read about "Pansy," the three-performance flop that included blues legend Bessie Smith in the cast. There's the musical "Tickle Me," which prompted an investigation by federal authorities when chorus members apparently passed out little bottles of alcohol to the audience.
Dietz's book is exactly as described. This 670-page oversize tome contains just about everything you'd want to know about the 287 book musicals (as opposed to revues) that opened on The Great White Way between Jan. 1, 1920, and Dec. 31, 1929. Often, more than one show opened on the same day. In fact, shows arrived so thick and fast that in January of 1925, when only one musical opened on Broadway in the space of seven days, the momentary dearth was enough to warrant comment in the press.
Each show covered includes detailed information on the cast and creative team, the number of performances presented, the Broadway theater(s) where the production appeared, a complete song list, and any promotional tag lines used (for example, "the best musical comedy in years").
There's also information on musical numbers dropped during the tryout process, any songs that were added during the run, and any recordings of songs from the production, along with details on subsequent stage revivals and film iterations. Also discussed are technical innovations that made their way to Broadway during this period. For example, "Good Boy" used treadmills to move the scenery about. This innovation got almost as much press as the show itself.
Names familiar to audiences today include George and Ira Gershwin, Richard Rodgers and Lorenz Hart, Oscar Hammerstein II and Jerome Kern. These composers had both successes and failures during this decade. (Anyone remember "Treasure Girl?") Some of the famous songs that first appeared during the 1920s included "I've Got a Crush on You," "I'm Just Wild About Harry," "Makin' Whoopee," "Let's Do It, Let's Fall in Love," and "You're the Cream in My Coffee."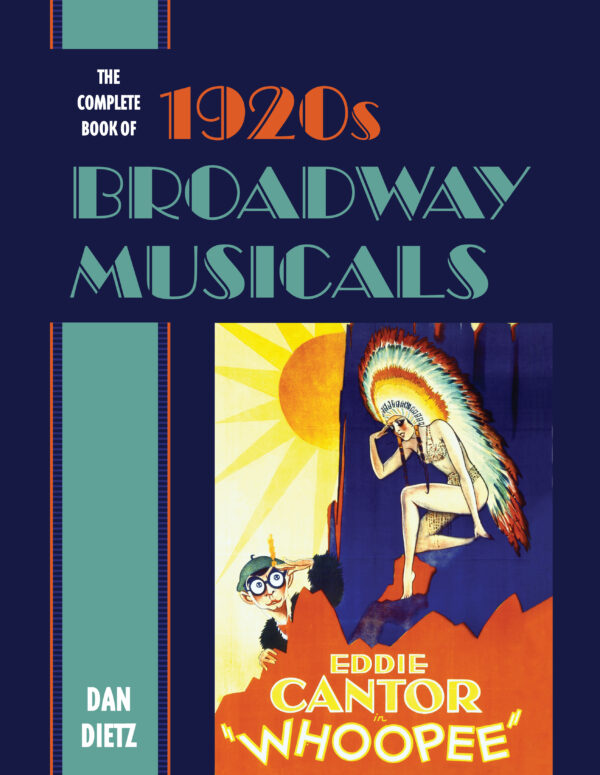 Just as important as the reams of factual information is Dietz's ability to describe the types of musicals then in vogue. Among them was the "Cinderella" story: A young woman, usually, from humble beginnings falls for a young man from high society, or perhaps royal descent.
Another popular plot was that of adopting false identities: A wealthy prince, princess, or child might pass as a member of the working class.
Dietz also notes that the 1920s was a time when the Broadway musical began to grow up and offer more serious elements. For example, "Deep Harlem" looked at the African-American experience from 19th-century Africa to America's Deep South to the nightclubs of Harlem. The high mark of the decade was the landmark musical "Show Boat," with its unflinching look at prejudice.
Those interested in caustic comments from theater critics of the era can find many examples: "The plot ties itself in so many knots it frequently dies of strangulation," and a "5 & 10-cent" musical "that seems to have been assembled by an auctioneer, tied together with a shoestring, and marked down for a quick sale."
Unsurprisingly, the book contains seemingly endless, fascinating trivia. It mentions the stage appearances of future film stars Jeanette MacDonald, Irene Dunne, Sydney Greenstreet, Bob Hope, Ginger Rogers, and Archie Leach (much better known under the moniker Cary Grant).
Dietz buttresses his work with 13 separate appendixes, all of which break down and add to the information found in the book. There's also a very extensive bibliography and index. It helps tremendously that Dietz is an old hand at this process. He'd previously written volumes chronicling Broadway musicals from the 1930s, '40s, '50s, '60s, '70s, '80s, '90s, and 2000s.
The greatest appeal of "The Complete Book of 1920s Broadway Musicals" is that readers can simply open the pages wherever they choose and be amazed at what they find—be it a show still fondly remembered or one long since forgotten.
'The Complete Book of 1920s Broadway Musicals'
Dan Dietz
Rowman & Littlefield, 2019
670 pages, hardcover
Judd Hollander is a reviewer for stagebuzz.com and a member of the Drama Desk and Outer Critics Circle.