It can be a challenge to create a complex portrait of a man when any mention of his name calls to mind a single film role, one from more than eight decades ago. But that is exactly what author Holly Van Leuven provides in the informative and entertaining "Ray Bolger: More Than a Scarecrow," the title referring to Bolger's iconic turn in the 1939 film "The Wizard of Oz."
Raymond Wallace Bolger (1904–1987) was a dancer, comedian, and actor, with a career spanning over 60 years. It included vaudeville, musical theater, movies, nightclubs, and television.
Born into a working-class Irish-Catholic family, Bolger grew up in Dorchester, Massachusetts. One of his early influences was the Frank L. Baum "Oz" books, which his mother encouraged him to read. Although he had an eye toward a career as an insurance salesman, his passion for dance manifested in his early teens.
Learning his craft on the streets of Boston, Bolger began to mimic other performers of the day, eventually coming up with a loose-limbed frenetic routine of movement combined with tap, splits, and high kicks.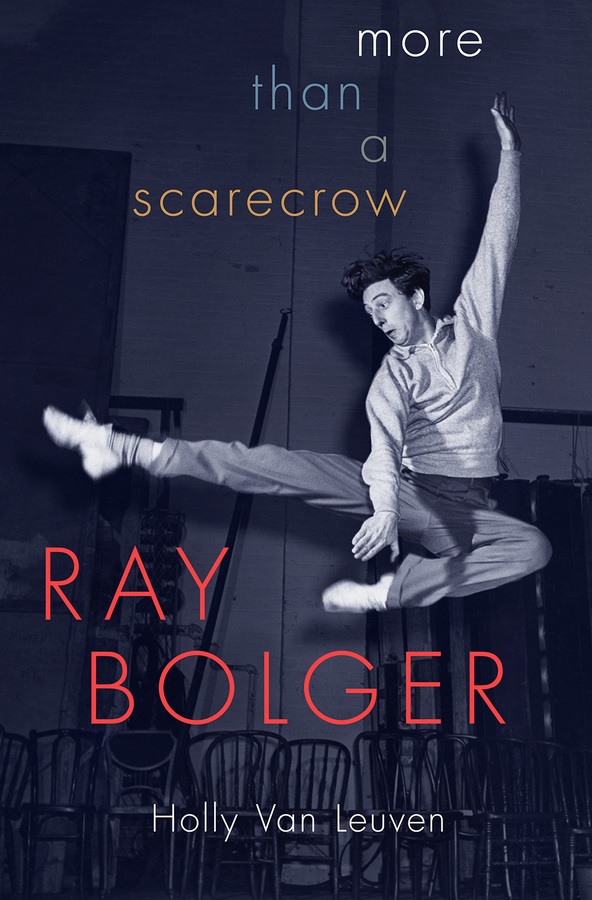 Unavoidable Gaps in Our Knowledge
Not only does Van Leuven provide an exploration of Bolger's life and career, but she also re-creates the eras in which he worked. Written in an inviting style without being overcomplicated, the author introduces readers to vaudeville in the 1920s, then the growing popularity of film, and later, television.
Van Leuven's research, a process that took seven years and saw her become the first researcher to gain access to Bolger's personal papers in the UCLA Special Collections Film Library, revealed several gaps in his history, particularly of his early childhood and his relationships with his family—subjects he refused to talk about.
The star remarked at one point, "No one will ever learn what I was before I made it." He preferred for people to know him through his stage persona: a genial soul, always ready to talk about the world of show business.
One personal aspect of Bolger's life which is explored is his 57-year marriage to Gwendolyn Rickard. It was quite loving from all accounts, despite the separations they endured when Bolger was on the road.
At one point, Gwen, an aspiring actress, became Bolger's confident, adviser, and greatest advocate. She was also an associate producer for the 1948 musical comedy "Where's Charley?" which netted Bolger the Tony for Best Actor. And she was deeply involved in Bolger's television series "Where's Raymond?" (1953–1955). The was renamed "The Ray Bolger Show" during its second and final season.
Bolger's work on the stage, where he felt most at home, is covered extensively. In addition to "Where's Charley?" his other Broadway appearances included the Rodgers and Hart musicals "On Your Toes" (1936), choreographed by George Balanchine—the highlight of which is Bolger's performance in the jazz ballet "Slaughter on Tenth Avenue"—and "By Jupiter" (1942).
While a tireless performer who took great delight in improvisation at the drop of a hat, Bolger's lack of formal training would prove detrimental later in his career as he could not learn complicated choreography properly.
Also working against him were the changing tastes. By the late 1940s, Bolger was already considered something of a nostalgic figure.
The Stage Here and Abroad
Bolger's film work is also covered nicely, including the film adaptation of "Where's Charley?" (1952), and, of course, "The Wizard of Oz." He developed a friendship with Judy Garland during filming and later, when the two appeared in the 1946 movie "The Harvey Girls," noted how drugs had taken their toll on her.
For the most part, however, Bolger was not happy working in film or television. He often felt constrained by restrictions of the camera and other technical aspects of the mediums. He projected an oversize personality when he danced, which worked far better on stage.
Perhaps the most intriguing section of the book concerns Bolger's work for the USO during World War II, when he headlined and managed a tour to the South Pacific. He often performed for soldiers quite close to the front lines. Bolger had a deep respect for those serving in the armed forces, many of whom just wanted a little taste of home before returning to the field.
The book closes with an extensive section of notes, some of which offer trivia that didn't fit into the book. The only thing really lacking is an appendix listing Bolger's theater, film, and television credits, which would have nicely rounded out the work.
When asked if he received residuals from "The Wizard of Oz," Bolger would usually reply: "Just immortality. I'll settle for that." As Van Leuven clearly shows, Bolger had quite the life—one that added up to far more than just a man of straw.
'Ray Bolger: More Than a Scarecrow'
Holly Van Leuven
Oxford University Press
256 pages, hardcover
Judd Hollander is a reviewer for stagebuzz.com and a member of the Drama Desk and Outer Critics Circle