For better or worse, actress Joanne Woodward (born Feb. 27, 1930) will always be linked with her late husband, Paul Newman. It's an issue brought up time and again in Peter Shelley's biography "Joanne Woodward: Her Life and Career," which looks at the couple's life together, interwoven with explorations of Woodward's professional career. Shelley notes that while there have been multiple biographies of Newman and of the two as a couple, this is the first work focusing specifically on Woodward.
While Shelley has certainly done his research on Woodward's career, including a detailed list of the actress's film, theater, and television credits, his efforts are not always so clear when it comes to Woodward as a person. All of the book's information come from sources of the time; that is, newspaper articles and television interviews, without any firsthand comments—such as from her children or longtime friends—to better put her life in perspective.
Though, as one reads, certain attributes of Woodward's personality do become clear.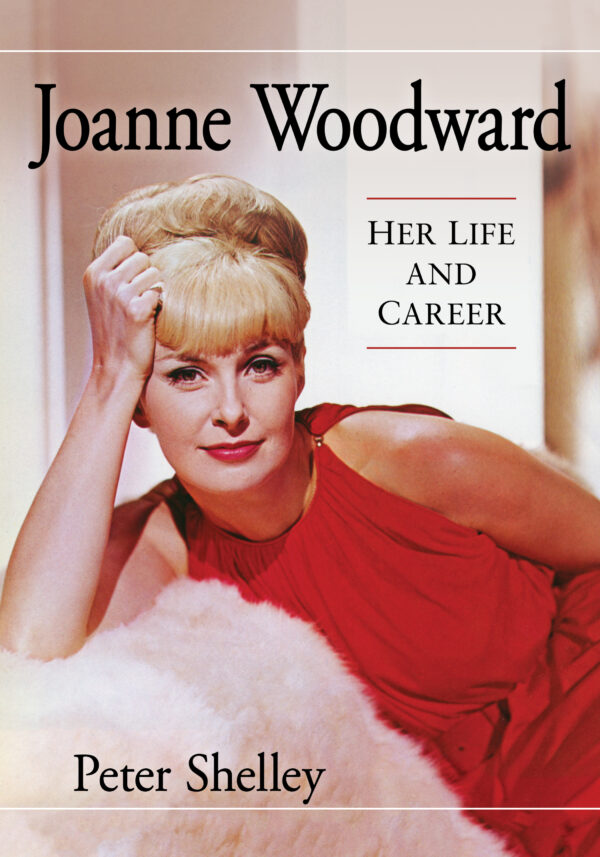 Named after actress Joan Crawford, Joanne Gignilliat Trimmier Woodward was born in Thomasville, Georgia, and decided at an early age to become an actress. She appeared in numerous plays in high school and enrolled at Louisiana State University in Baton Rouge with a major in drama. Dropping out after two years, she moved to New York City to study acting.
She was told almost immediately to lose her Southern accent as it would limit the roles available to her. However, in one of life's ironies, many of the parts Woodward is remembered for required a Southern dialect. Though after working to get rid of her accent, a process that required six months of vocal practice, it wasn't that easy to slip back into it again.
Woodward felt a good deal of turmoil when trying to balance marriage, children, and her career. She believed in the importance of family—a rare belief in Hollywood—due to her upbringing in the American South of the 1940s, and she often put her own career on hold to care for her husband and children. (She and Newman, whom she married in 1958, would have three children together.) At one point, Woodward refused to make films unless they were shot near where her husband was working.
Interestingly, while many considered Woodward to be the better actor and Newman the bigger star, Woodward was always thankful that she didn't have countless fans following her everywhere she went. She was also wary of the press, a factor that may have been a result of the couple's attempt to avoid officially commenting on their relationship while Newman was still married to his first wife.
It wasn't until later in life that she fully allowed herself to get back to her first love, the theater—both as an actor and a director. Woodward became heavily involved with the rehabilitation of Westport Country Playhouse, a well-known summer theater in Westport, Connecticut. She was the institution's artistic director for several years and helped to spearhead a massive renovation of the structure, turning it into a year-round performance venue. The Newmans also supported a variety of social, political, and environmental causes over the years.
Among the films of Woodward discussed are "The Three Faces of Eve," for which she won the Oscar for Best Actress; "Rachel, Rachel," a story that she and Newman, who directed the work, helped bring to the screen and which revitalized her career after a series of box office disappointments; and "Mr. and Mrs. Bridge," a project that Woodward tried to get made for over 20 years before it came to fruition. The book also looks at her many television roles, including the television movie "Do You Remember Love," in which she plays a woman diagnosed with Alzheimer's disease—a condition both she and her mother would contract in real life.
One won't find a lot of trivia in the book, though a few amusing stories do crop up. Joan Crawford made the comment that the night Woodward won the Oscar for "The Three Faces of Eve," she set Hollywood glamour back 20 years by wearing a handmade dress to the Academy Awards. Frugality was another of Woodward's qualities.
Also interesting is the effect that Woodward's character in the 1972 film "The Effect of Gamma Rays on Man-in-the-Moon Marigolds," a play about a terrible mother, had on her. She became depressed and suicidal during filming.
While Shelley mentions just about every acting role Woodward undertook, he focuses on minutiae rather than giving readers the big picture: His stream of comments on how her hair was styled and what costumes she wore for each of her roles quickly becomes annoying. He also lists nearly every public appearance she made.
The book also doesn't really have an ending. The final chapter deals with Newman's death in 2008 and the projects Woodward worked on after that until health issues forced her to retire. Yet there is no summing up of her life or career; rather, the work just stops with the reader left hanging.
"Joanne Woodward: Her Life and Career" presents some interesting incidents, but it goes too far into minute details while never offering a strong connection to the actress herself.
'Joanne Woodward: Her Life and Career'
Peter Shelley
McFarland and Company, Inc.
184 pages; hardcover
Judd Hollander is a reviewer for stagebuzz.com and a member of the Drama Desk and Outer Critics Circle.