An Arizona police officer's body camera captured a heart-in-mouth moment when the officer and his partner were assigned an unusual house call. They arrived to find a man pinned beneath his car after a minor mechanical errand had gone wrong.
Realizing that a speedy solution was imperative, the two Mesa police officers, Nolan Martineau and Josh Gardner, lifted the 3,000-pound (approx. 1,361-kilogram) car with the help of a neighbor in an extraordinary display of superhuman strength.
"I thought it was only going to take me a couple of seconds," the trapped man, Devon Haycock, told KPNX-TV. "I could slide right in, do what I needed, and slide right back out."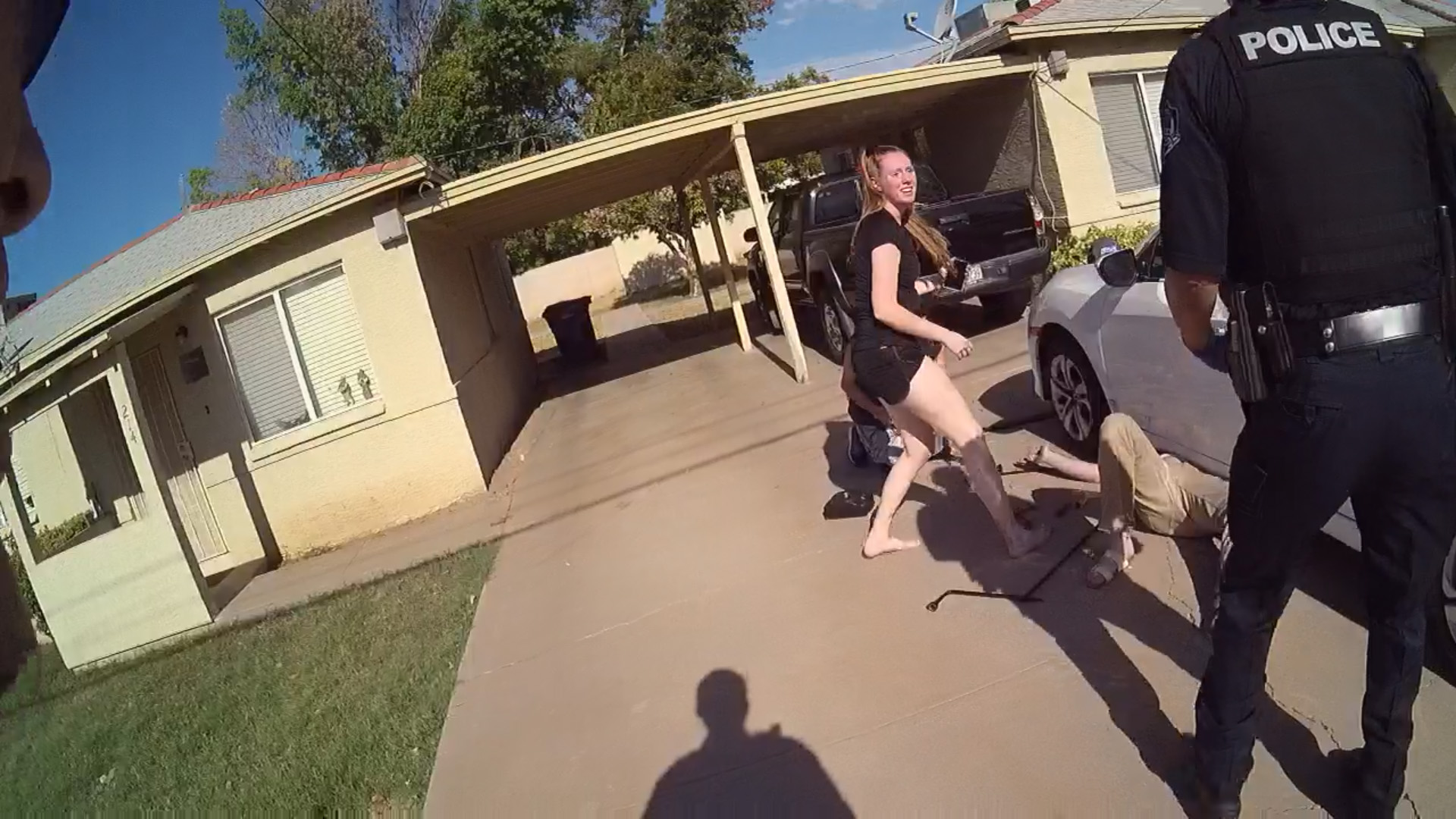 Devon was working beneath his Honda Civic on the morning of Aug. 11 when the car collapsed on top of his chest.
"I had just handed him a flathead and then he just barely shifted, just to get his arm in a certain position," described Devon's wife, Kaylin, "and the whole car came off the jack. It bounced down on him and he screamed, obviously. We both screamed."
Devon recalled the moment that "everything went dark." Miraculously, the handy husband did not lose consciousness, but he was struggling to breathe deeply. Kaylin called 911.
"[M]y face was pinned right behind the wheel well so I could see my wife the whole time panicking," Devon told 12 News, "and it was awful, the whole time just saying, 'I love you. It's okay.'"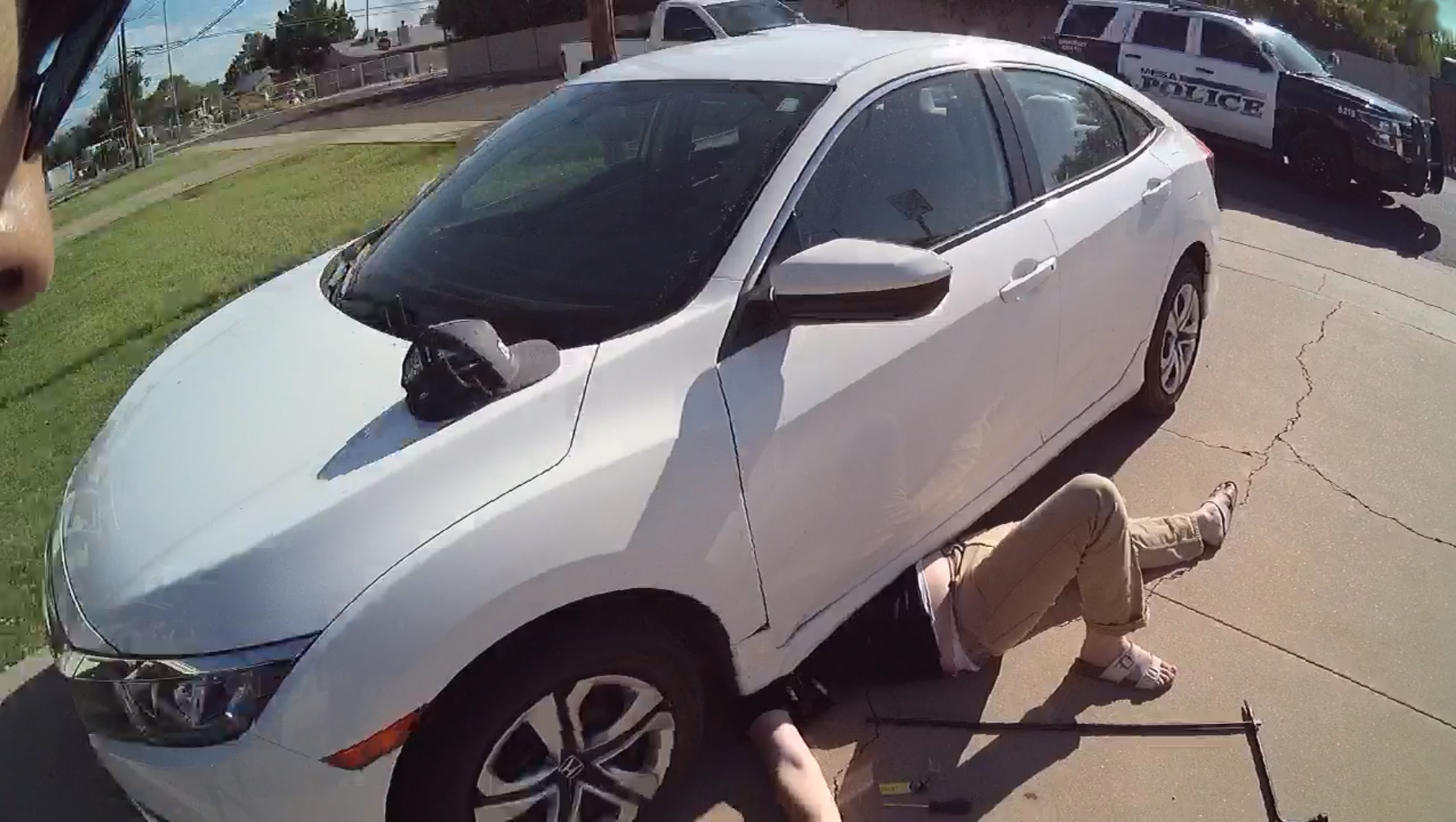 Martineau and Gardiner arrived within minutes and were greeted by the sight of Devon's legs sticking out from beneath the car. "I could see the jack that he had was kind of tilted," Martineau recalled; "it failed."
With Devon on the verge of passing out, the officers quickly decided to attempt to lift the car. With the help of a neighbor, the three men channeled their collective strength and managed to raise the front of the car high enough for Devon to roll free.
The dramatic body cam footage shows Devon lying on his back, meters from the car, gasping deeply. Kaylin stands over him, crying with relief, while rolling up her husband's T-shirt to inspect him for injuries.
Devon did not sustain any serious harm and later described feeling "just happy, happy to be alive!"
(Courtesy of City of Mesa Police Department)
The relieved husband—who has sworn off amateur mechanics for the foreseeable future—shared his experience on Facebook after recovering from the shock of the ordeal. "This morning my wife and I were trying to replace the silly little undercarriage clips on our Honda Civic when the jack fell down with me underneath," he began.
"After six minutes the police officers were able to lift it up and pull me out. I'm happy to still be here and alive," Devon reflected, adding, "I love my wife and I love our first responders."
The Haycocks revealed to KPNX that they are expecting a baby girl in the winter. Both parents-to-be expressed huge gratitude for the Mesa officers' quick thinking and gargantuan effort; their actions saved Devon's life.
Gardner, himself a father, congratulated the couple, adding that first-time parenthood "should be a happy, rewarding experience for them."
"Proper form, right?" the officer joked, commenting on the technique that allowed himself, his colleague, and a benevolent neighbor to lift a 3,000-pound car with their bare hands. "Use your knees, don't hurt your back."
We would love to hear your stories! You can share them with us at emg.inspired@epochtimes.nyc