An Alaskan whale-watching charter spotted a rare white killer whale swimming with a pod near the islands of Kuiu and Kupreanof off the Alaskan panhandle on Aug. 7.
Owner of Alaska Sea Adventures Dennis Rogers was out with a group of eight sight seers aboard the Northern Song charter near the Keku Strait west of Petersburg.
Orcas, which typically exhibit black-and-white patterns, normally "disappear" when underwater and are difficult to track, says Rogers. The pale apparition of this unusual white orca stood out and drew their attention, however.
"You could see him an easy 10 feet below the surface, this big white shape moving along there," Rogers later told local radio station KFSK.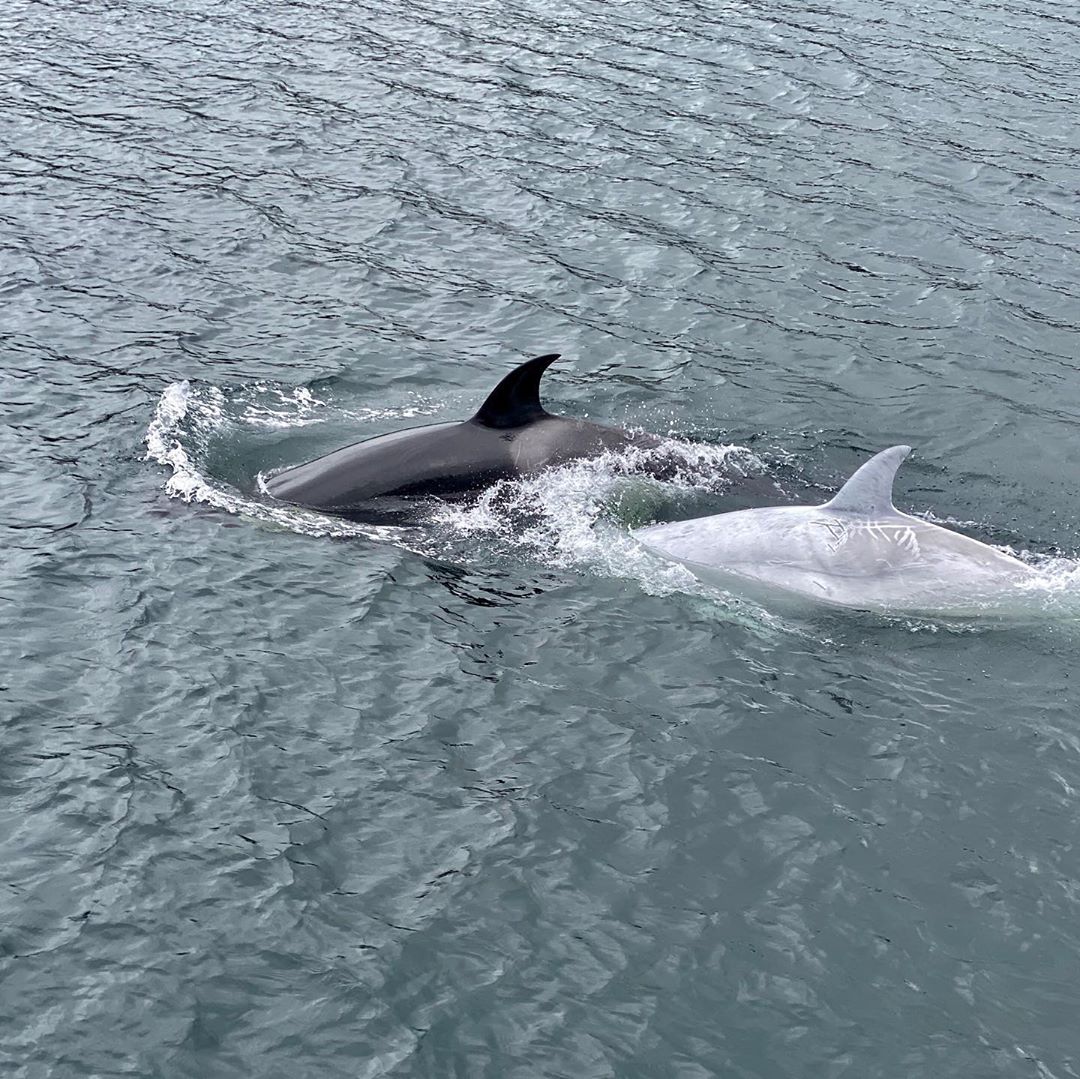 The boat's first mate Stephanie Hayes, a graduate student in marine biology at the University of Alaska Fairbanks, was able to snap some incredible photos of the orca.
"I saw kind of a glow under the water and I'm thinking, wow that's an awfully white killer whale, that's doing something funny," she said.
Jared Towers with Fisheries and Oceans Canada believes it is the white orca's first trip to Alaskan waters.
Based on some unique markings near the specimen's dorsal fin, the group were able to identify the animal, which had previously been cataloged by the Department of Fisheries and Oceans and given the name "T46-B1B." However, the researchers conferred the more inspired nickname "Tl'uk" (pronounced tee-uk), the Coast Salish word for "moon," to describe his luminous gray appearance.
Tl'uk was determined to be a 2-year-old Bigg's killer whale. His gray-white appearance isn't due to albinism, as one might think, however—albino orcas have pure-white skin and pink eyes. Rather, he is what is known as a "leucistic," which describes a wide range of pigmentation deficiencies in a variety of different animals and causes blotchy or palish skin, fur, or feathers.
Bigg's killer whales are predatory orcas among a variety of different orca species. They possess canine teeth like a grizzly bear's, and are known to hunt porpoises, dolphins, sea lions, and seals, according to the radio station.
Accompanying Tl'uk in the pod were two other killer whales (with normal pigmentation): his mother and his grandmother.
Despite his highly visible appearance, Tl'uk seems to be able to hold his own while hunting. The pod was later spotted off the coast near Petersburg in pursuit of food. "He looked like a healthy member of the pod and was successfully hunting seals, which is excellent," Hayes said.
The family of orcas have been more frequently sighted around Vancouver Island—although Tl'uk's mother and grandmother have been known to migrate up and down the Pacific coast. Bigg's killer whales travel continuously and inhabit the waters from Alaska all the way to California.
After the charter's Aug. 7 encounter, incredibly, Rogers was at his oceanfront home when his family was paid an unlikely visit off the shoreline in front of their house. His daughter-in-law spotted a group of orcas swimming nearby and cried out, and sure enough, the rare white orca Tl'uk was with them.
White orcas like Tl'uk are of spiritual significance to local indigenous tribespeople, Rogers told The Epoch Times. A local village elder informed him that white killer whales are supposed to bring peace to the people, he added.
Yet leucistic orcas are very rare indeed. There have been only five or six sightings over the past 80 years, and there are currently just two documented specimens alive today, the radio station stated.
We would love to hear your stories! You can share them with us at emg.inspired@epochtimes.nyc