A woman was arrested for pouring paint over a Black Lives Matter street mural outside Trump Tower in Manhattan, meanwhile calling for New York City to "refund the police."
On Saturday, street preacher Bevelyn Beatty, 29, showed up at the yellow street mural wearing a T-shirt with the slogan "Jesus Matters," and live-streamed herself dumping black paint on the mural on Facebook with several cohorts.
"Black Lives Matter. Black Lives Matter, right?" Beatty is heard saying. "For the black people. This is for the black people. They're destroying business for black people. They're looting for black people."
She adds, "We're not standing with Black Lives Matter. We want our police. Refund our police."
Later that night, Beatty painted over two more murals in Harlem and Brooklyn.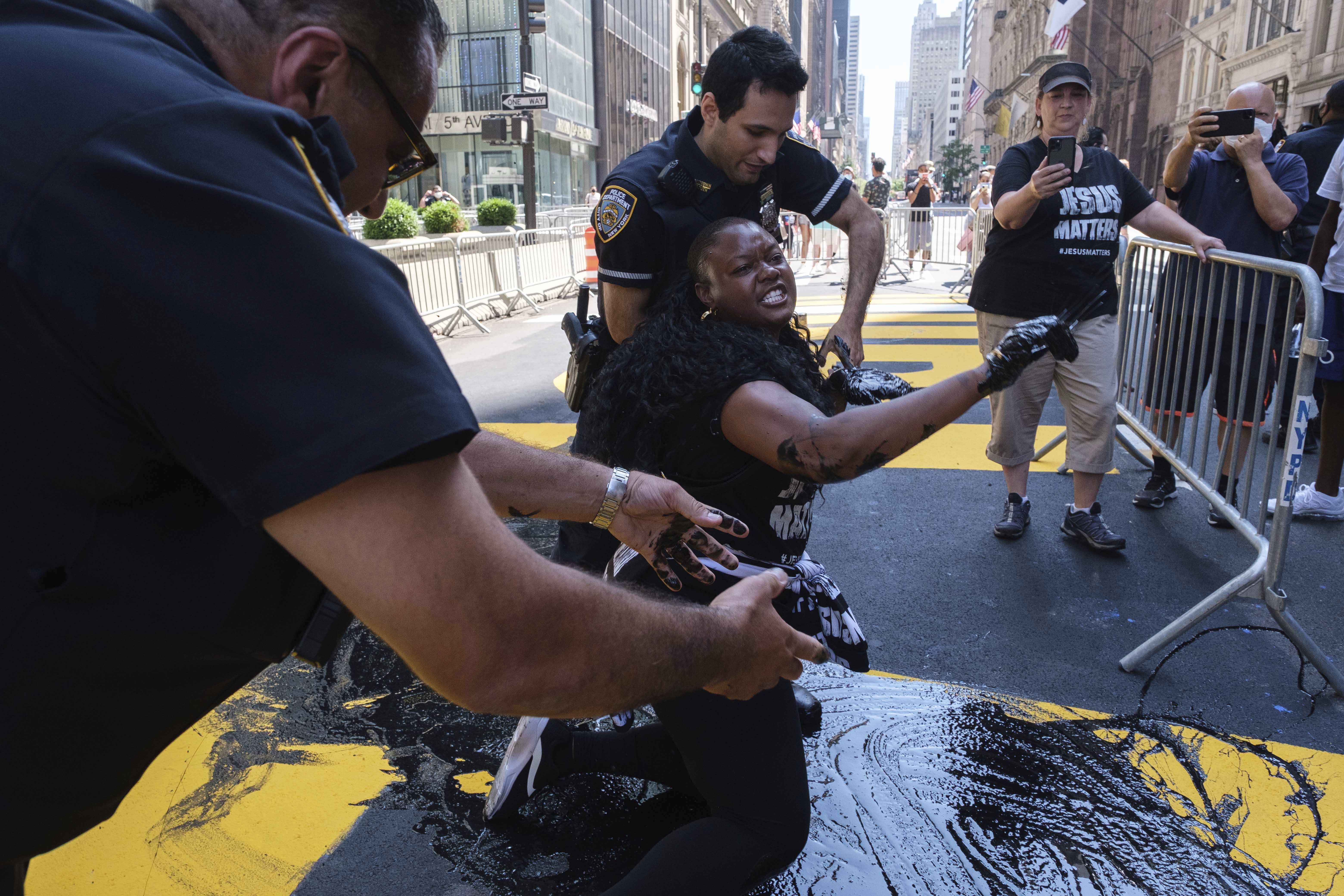 Eyewitness Nina Khan first captured photos of four women in a van with 10 gallons (approx. 38 liters) of black paint at around 3 p.m., reports the NY Daily News. Three of them poured the paint over the street mural outside Trump Tower and smeared it with gloved hands.
"It was very intense," Khan recalled. "I didn't want the police to get hurt. I didn't want anyone to get hurt."
An officer attempted to restrain Beatty, reported CBS. Beatty resisted, and the officer slipped on wet paint, hit his head and shoulder on the pavement, and was injured. He was taken away in an ambulance.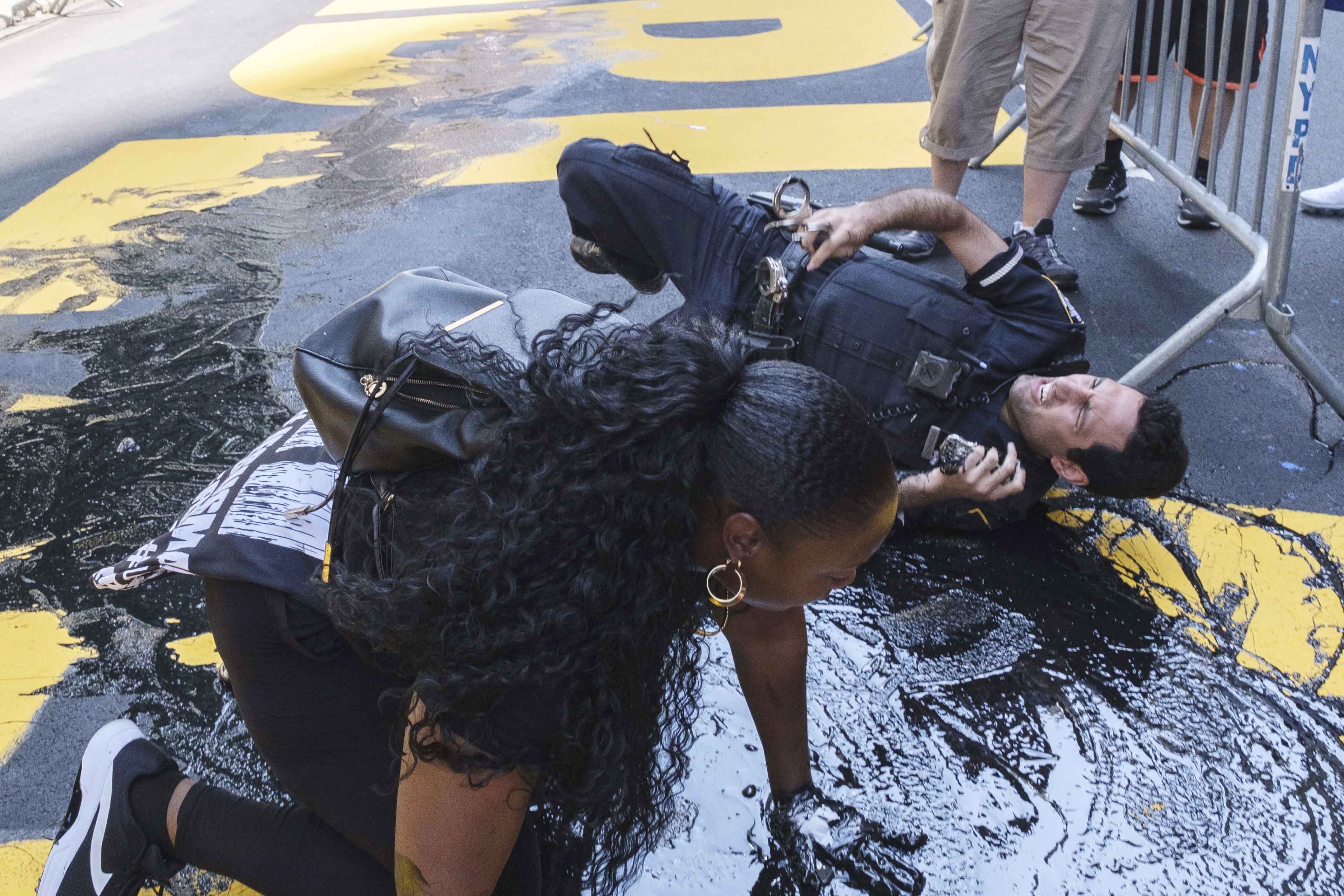 Afterward, the city's largest police union, the Police Benevolent Association, wrote in a tweet: "Thankfully our brother will be OK, but this nonsense needs to stop. Our city is in crisis. Paint on the street helps no one."
Beatty and one of her cohorts, 39-year-old Edmee Chavannes, were arrested and charged with criminal mischief before being released. The Christian preacher said police treated her well during the arrest.
The BLM mural has quickly become a target for vandalism and has been defaced with bucketfuls of paint three times in less than a week, AP reported.
It's not the first time Beatty has made headlines. On June 16, she was filmed confronting a group of white Democrat campaigners at Seattle's Capitol Hill Organized Protest (or CHOP), reports Fox News.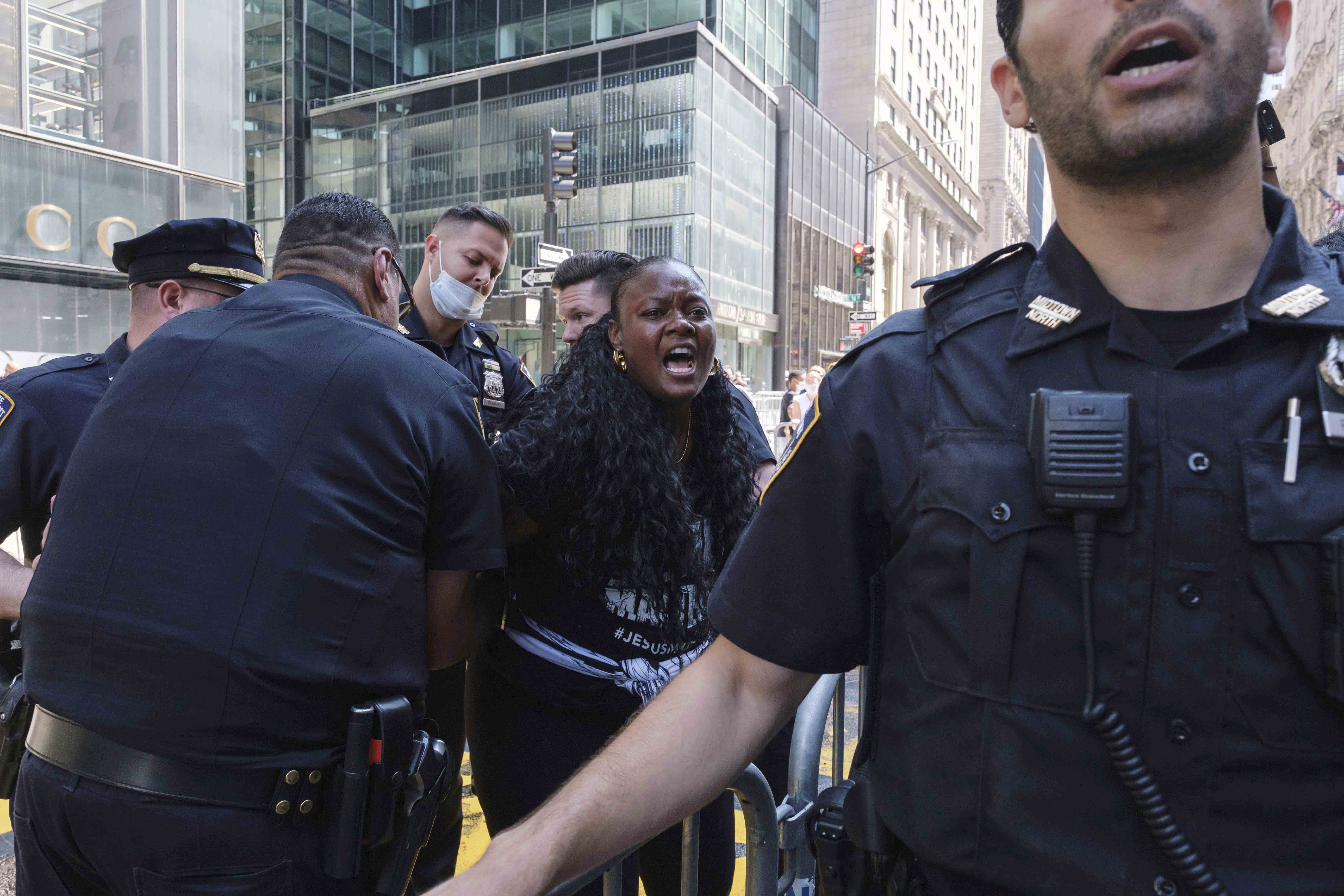 In footage shared on Twitter by Seattle journalist Katie Daviscourt, the Christian evangelist can be heard saying, "These Democrats, and I'm not trying to be racist, hate black people." Then, she denounced the Black Lives Matter and declared the Republican Party is "the party of the blacks."
"You want to see a bunch of black people go to jail by the next four years, put Joe Biden in," Beatty added. "Watch what happens."
AP contributed to this report.