Any trip you make is better when you can save money. Travel credit cards are plentiful and will enable you to save money on everything from air travel to hotels, restaurants, and groceries.
Not every travel card will fit your unique needs.  When choosing a travel rewards card, there are four key things to compare. These include points (or miles) given during the Introductory Offer period, the percentages at which points are earned per dollar spent, how easily you can spend those points, and the annual fee.  Some card companies also give bonuses annually.
Many travel rewards cards will offer enough introductory miles to get a free flight. Some travel card companies have boosted their benefits since travel restrictions have recently been loosened.
Travel credit cards award points at varying rates and it's important to understand the promotional language of these offers.  Generally "2X" means "2 points per dollar spent."  In addition, these cards usually offer bonus points on certain spending categories.
Here is a look at some of the best travel credit cards available right now. All of them require good to excellent credit scores.
Hilton offers two travel credit cards that reward cardholders with more than 120,000 points in the Introductory Offer. Both of them require good to excellent credit, and they are only beneficial if you travel a lot and stay in Hilton hotels:
Hilton Honors American Express Aspire Card (150,000 points)
Hilton Honors American Express Surpass® Card (130,000 points)

The Hilton Honors American Express Aspire® Card
The Aspire® card's benefits are among the best offered anywhere. After spending $4,000 on the card within the first three months, you will receive an incredible 150,000 points.
The points earned on this card surpass other travel cards in all categories: 14 percent on all hotel and resort expenditures, seven percent on travel costs and dining, and three percent on your other purchases. Cardholders are given the perks of Diamond Status automatically with this card.  They also earn a free weekend night with a chance to earn more, and $250 statement credits for staying at Hilton Resorts.
The Hilton Honors American Express Surpass® Card
If you are looking for excellent rewards and enjoy staying at Hilton Hotels when you travel, the Hilton Honors American Express Surpass® Card may fit your needs.
This card offers 12 percent reward points when you stay at Hilton hotels and resorts. Spending $2,000 within the first three months with your card will earn you 130,000 bonus points. You also receive 6X dollars spent on dining and groceries, as well as a $130 statement credit at the end of the year. After spending $40,000 on eligible purchases, you will earn Hilton Honors Diamond Status, which is good until the end of the following year.
The CapitalOne Venture X Travel Rewards Card
The allure of the CapitalOne Venture X Travel Rewards Card is the 10X rewards it offers on hotels and rental car purchases.   It also offers 5,000 miles after you have purchased $4,000 with the card in the first three months.
In addition, this card rewards you 5X the miles you spend on air travel and 2X the dollars spent on all other purchases. There is also an anniversary bonus of 10,000 miles every year, as well as a $300 travel credit each year. The card's annual fee of $395 should be easily offset by the bonuses and points earned.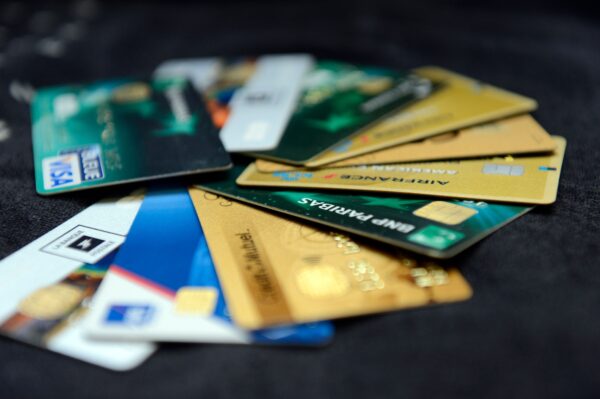 The Chase Sapphire Preferred® Card
Offering exceptional rewards with a more modest annual fee, the Chase Sapphire Preferred® Card could be just what you need.
The Introductory Offer gives you 80,000 points after you make $4,000 worth of purchases within the first three months. The points are worth $1,000 when redeemed for airfare and hotels, and $800 if redeemed for cash. Chase lets you redeem your points at a ratio of 1.25 percent, which means that you will earn $1,000 worth of rewards for 80,000 points.
The card rewards you with 5X points on travel purchased through the Chase Ultimate Rewards®, 3X points on dining and online grocery purchases; and 2X on all other travel expenses. Card owners are also rewarded with an additional 10 percent of their total spending for the year.
This card charges an annual fee of $95.
The Platinum Card® from American Express
If you do a lot of traveling and want luxury with it, the Platinum Card® from American Express may be your ideal card. Although it only offers rewards points for two areas—5X points on flights and prepaid hotels, and 1X for other purchases—this card gives you access to more than 1,200 airport lounges, credits for Uber, and more.
After you make $6,000 worth of purchases in the first six months of card ownership, you will be rewarded with 125,000 points. Each point is worth two cents, which means this credit is worth $2,500. This amount would easily offset the annual fee of $695.
You also receive $200 in hotel credit annually, up to $240 back in entertainment expenses, $155 Walmart+ credit, and more.
The Chase Freedom Unlimited® Travel Rewards Card
The Chase Freedom Unlimited® card has increased its bonuses during its 15-month Introductory Offer period, from 5 percent to 6.5 percent. Cardholders also earn 4.5 percent rewards for dining and takeout; 4.5 percent for drugstore purchases; and three percent on other purchases, up to a limit of $20,000 spent.  Once you reach this limit, each category drops the rewards percentage by 1.5 percent.
You will need a good to excellent credit score to be eligible for this travel card. It has no annual fee.

These credit card offers are likely available only for a limited time. However, the competition between companies is fierce and you may continue to see excellent offers for some time.
The Epoch Times Copyright © 2022 The views and opinions expressed are only those of the authors. They are meant for general informational purposes only and should not be construed or interpreted as a recommendation or solicitation. The Epoch Times does not provide investment, tax, legal, financial planning, estate planning, or any other personal finance advice. The Epoch Times holds no liability for the accuracy or timeliness of the information provided.