Carbonnade à la flamande isn't your typical beef stew.
A wealth of caramelized onions, brown ale, and brown sugar give this Flemish stew a distinct sweet and sour tang that makes it stand out from the crowd. With hearty, fork-tender chunks of beef and a rich, glistening gravy, it's the perfect comfort food to indulge in during these chilly winter days. 
Beef carbonnade is the stew of choice in historical Flanders, a region that spans parts of modern-day France, Belgium, and the Netherlands.
You can assuredly feel the strong influence of Belgian Flanders in the use of brown ale to braise the meat, instead of wine, as is usually done in the rest of French cuisine (think of the famous beef bourguignon or coq au vin, for instance). The Flemish region straddling the Franco-Belgian border is in fact too cold for growing wine grapes, but has gained worldwide fame for its breweries and ales, which are very often used in the local cuisine. 
In French Flanders, you can find carbonnade served in most estaminets, local bistros that serve typical food and drink. 
A traditional carbonnade is made with beef, brown ale, and brown sugar, but you can find different local twists on it—such as using rabbit instead of beef, or crumbling local speculoos cookies or gingerbread into the sauce as a substitute for the traditional brown sugar.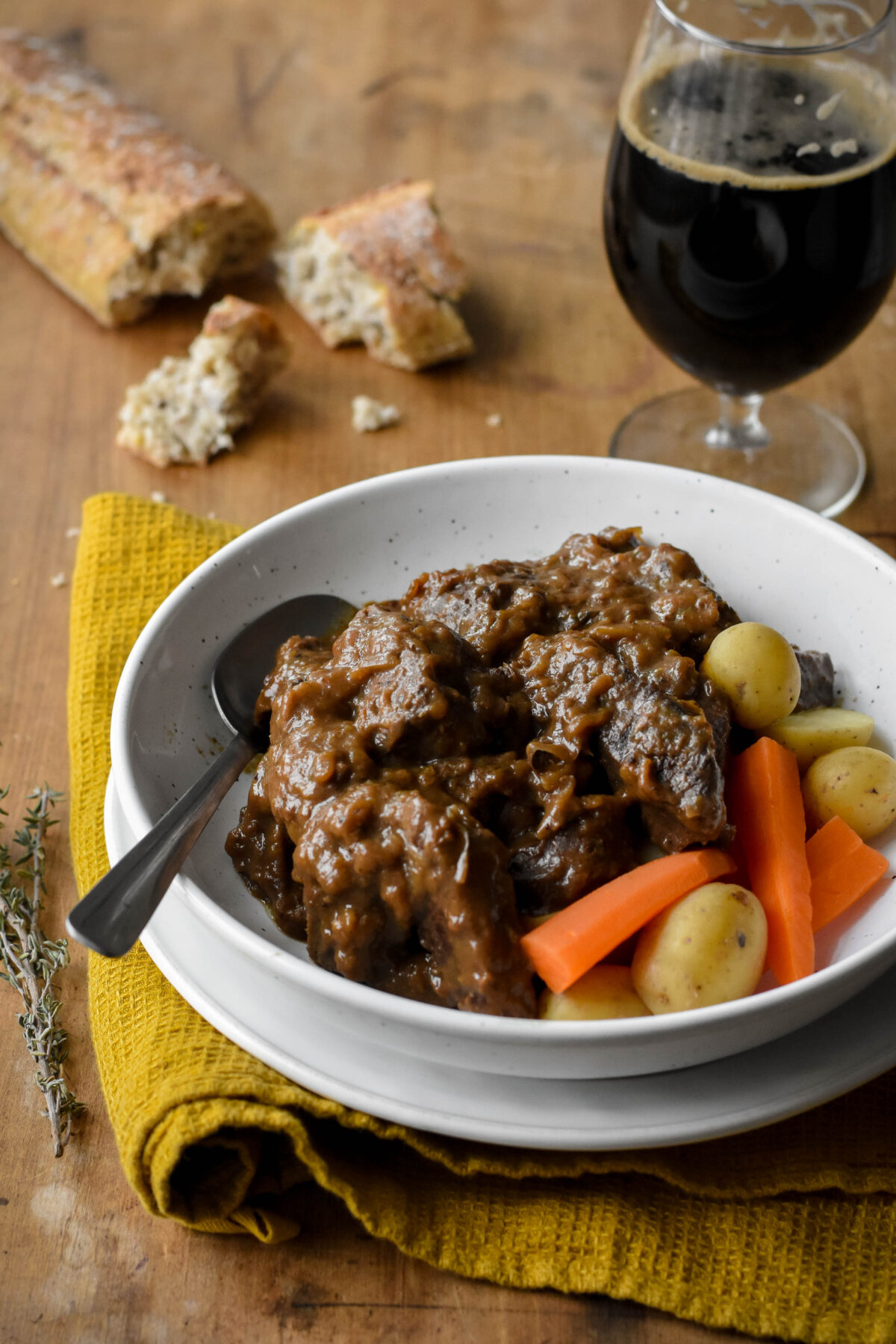 A Note on Brown Sugar
It's little known that brown sugar is a beloved ingredient in the north of France. 
In the 19th century, France's first beet sugar refineries established themselves around Lille, the capital of French Flanders, importing sugar from the French colonies and through the local port of Dunkirk. At the time, brown sugar became a common good in households, and gave cooks and bakers infinite inspiration for sugar-focused recipes. 
Today, brown sugar still holds a prominent place in the local cuisine. It's enjoyed in popular local specialities, including la tarte au sucre (sugar pie), les gaufres fourrées au sucre (sugar-stuffed waffle cookies), and perhaps the most popular of all, beef carbonnade.
What Beer to Choose?
In addition to brown sugar, carbonnade relies on brown ale to build a rich, sweet and sour gravy. Traditional recipes call for a dark, deeply flavored Belgian Trappist ale, such as a dubbel (examples include Westmalle Dubbel, Chimay Premiere, La Trappe Dubbel, or Rochefort 6) or a stronger tripel, if you want to build a darker, more intense gravy (examples include Westmalle Tripel, Chimay White, La Trappe Tripel, or Achel 8). 
These Belgian Trappist ales are dark brown in color, with a subtle bitterness and fairly heavy, round bodies, perfect for cooking rich, earthy stews. They have a great cereal character and sweet, caramel-like malty notes, which will shine through in a carbonnade, lending it that distinct sweet and sour quality. 
Belgian Trappist ales are usually fairly strong (6–8 percent ABV), but don't worry—most of the alcohol evaporates during the long cooking process.
The Maillard Reaction 
Another key to a great carbonnade is the proper browning of the beef. The browning occurs over medium-high heat, as the beef proteins melt with sugar to create new molecules with roasted aromas and flavors. This process, called the Maillard reaction, is essential for building flavor in a stew. 
Do not rush this step—it is well worth it. Brown the beef in several smallish batches and don't overcrowd the pan. Make sure that each piece has a brown crust on all sides before starting another batch.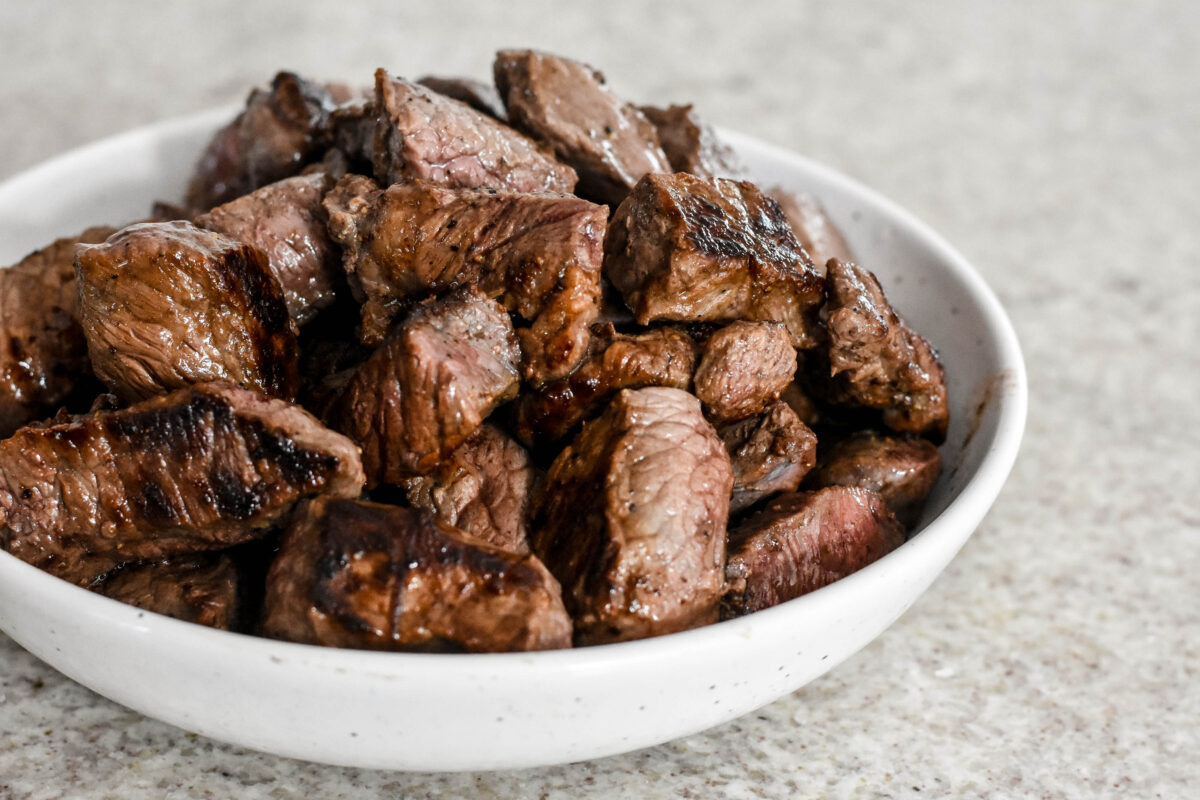 The beef cubes will release juices as they cook, but if there is enough space between them (about 1/2 inch), the juices will evaporate properly. If the pieces are too close together, the juices will surround and boil them, resulting in rubbery, grey-ish meat. 
Always resist the urge to stir the beef as it cooks. The pieces will likely stick to the pan at first, but will easily release once browned. 
To Cook and Serve
To make carbonnade, you will need a heavy-bottomed Dutch-oven (about six quarts) that can go from the stovetop to the oven. Carbonnade is best suited for a weekend when you can devote a few hours to being home. This is a simple recipe that requires minimal effort and prepping, but the stew takes about two hours to cook in the oven. 
Serve it with boiled potatoes and carrots, over noodles, or on a mountain of French fries like they usually do in Flanders. Finally, most locals will tell you that carbonnade, like most stews, is even better reheated the next day.
Carbonnade (Flemish Beer and Beef Stew)
Serves 2, with leftovers to reheat the next day
2 1/2 pounds chuck roast, cut into 1-inch cubes (or regular beef stew meat)
Salt and freshly ground black pepper, to taste
4 tablespoons butter, divided 
2 medium yellow onions, peeled and sliced about 1/4-inch thick 
2 garlic cloves, peeled and minced
3 tablespoons all-purpose flour
1 1/2 cups (one 12-ounce bottle) Belgian ale
1 cup beef stock
4 sprigs fresh thyme
2 bay leaves
1 1/2 tablespoon dark brown sugar
Pat the beef cubes dry with a paper towel and season them well with salt and black pepper. Let rest at room temperature for about 30 minutes before you start cooking. 
In a 6-quart Dutch oven over medium-high heat, melt 2 tablespoons of butter. Working in batches, add the beef cubes and brown them, about 3 minutes on each side. Be careful not to overcrowd or overlap any meat cubes, or they won't brown properly. It should take about 3–4 batches to brown 2 1/2 pounds of beef.  Transfer the browned beef to a separate bowl. 
Preheat oven to 325 degrees F with a rack in the middle. 
On the stovetop, lower the heat to medium and add 2 more tablespoons of butter to the Dutch oven to melt. Add the sliced onions and garlic and cook for about 15 minutes, until the onions are browned and caramelized. 
Add the flour and stir for 2 minutes, until the onions are evenly coated and the flour starts to brown. 
Pour in the brown ale and scrape up any browned bits at the bottom of the pot. Add the beef stock, thyme, bay leaves, brown sugar, and browned beef cubes and stir to combine. The liquid should almost cover all the beef cubes. 
Cover with the lid and place in the oven. Let cook for 2 hours, until the beef is fork-tender. 
Before serving, adjust seasoning if needed and remove and discard the thyme and bay leaves. Serve with boiled potatoes and carrots, or over noodles. 
Audrey Le Goff is a French food writer, photographer, and creator of the food blog "Pardon Your French," where she shares recipes and stories from her beloved home country, France. She is the author of the cookbook "Rustic French Cooking Made Easy" (2019). She currently lives in Niagara, Canada. Follow her on Instagram @pardonyourfrench