Rescuers first found the female pit bull with her muzzle bound, beaten, with her legs "hog-tied." Since then, she spent almost a decade in an animal shelter, though recently, the unfortunate animal's lot has improved, as she has found the perfect forever home.
A good Samaritan named Ernie Moss found the pit bull, now named Tatiana, "nearly frozen to the ground" in January 2011 while out walking his dogs in Michigan.
"[T]he larger of the Moss's two boxers started pulling Ernie toward a wooded ditch," Capital Area Humane Society (CAHS) explained in a Feb. 18 Facebook post. "Upon following the dog's lead, Ernie noticed a slight shaking motion underneath a blanket, beneath a fallen tree."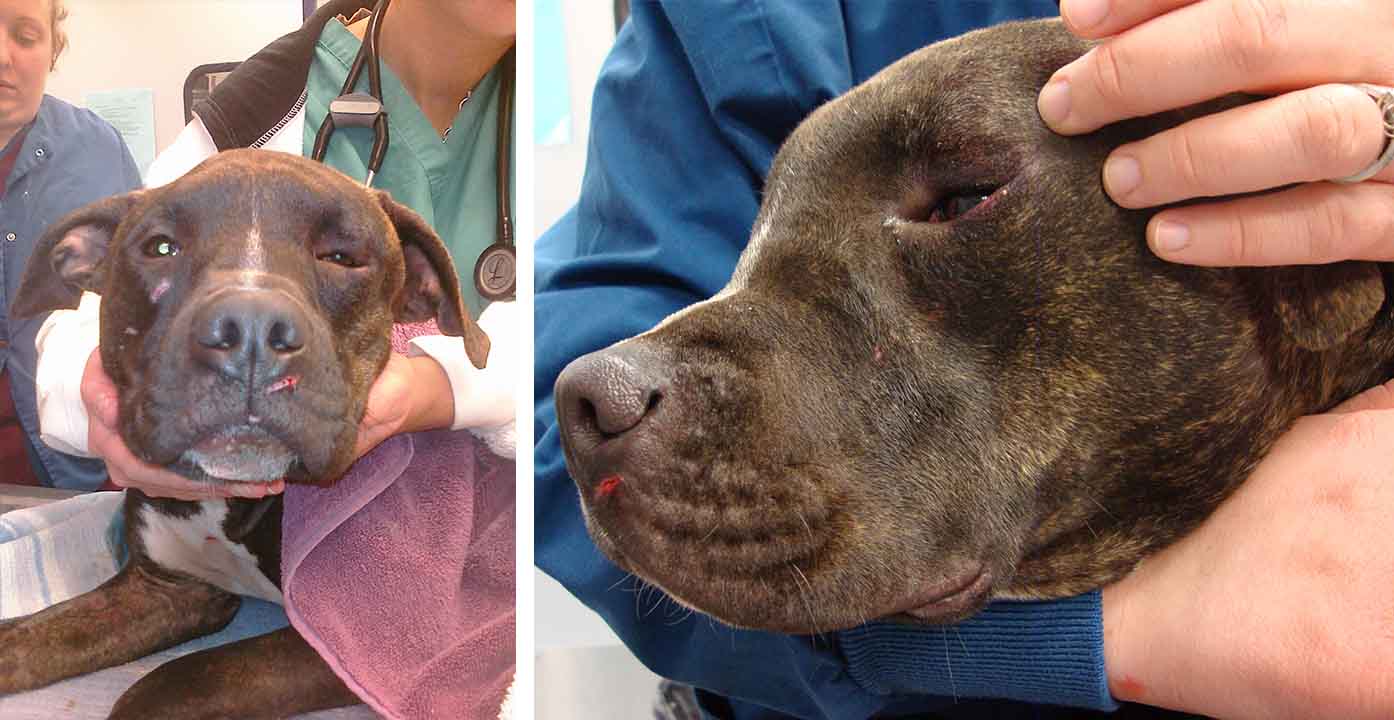 Moss quickly realized it was a dog, somehow still alive. "Tatiana's body heat had melted the snow beneath, and given the extreme cold weather, the ground had started to refreeze," CAHS explained, "nearly locking her body to the ground."
Moss's wife, Dawn, called for help. The electrical tape binding Tatiana's legs and muzzle was too thick to be torn with bare hands, so Moss ran home to fetch tools.
"In less than a half hour, CAHS had arrived to the unimaginable scene," the group continued. "It took nearly that time for Ernie to free [Tatiana's] limbs and mouth."
Even before Tatiana was transferred to a local veterinary clinic, the group could tell she had sustained severe contusions to the head. Yet, luckily, X-rays came back negative for skull fractures and severe injuries to her chest and stomach.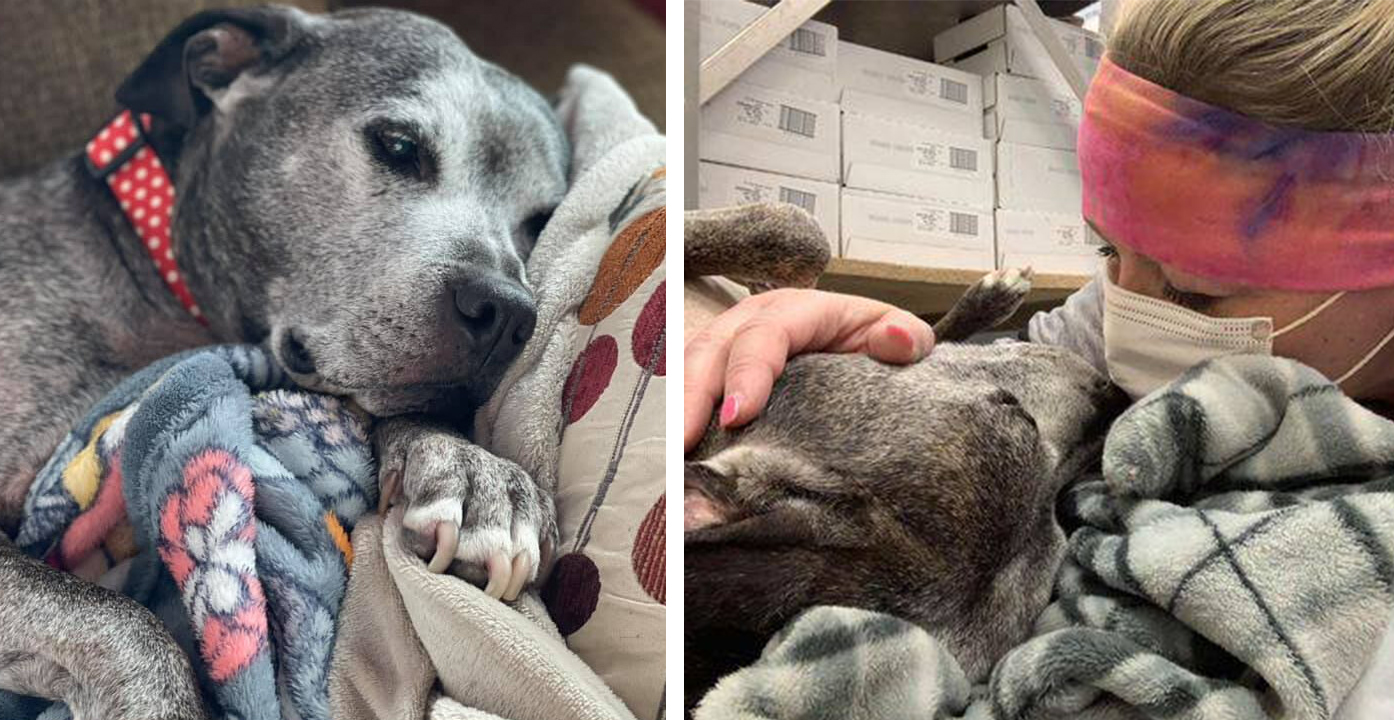 Tatiana stayed with CAHS for 18 months, where her rescuers affectionately nicknamed her "Tater Tot," and "Taters." She was then transferred to Mackenzie's Animal Sanctuary in Lake Odessa, Michigan, in 2012.
In a statement from Mackenzie's, shared with People, the shelter explained that they devoted time to working on Tatiana's aggression toward other dogs and building trust. "She was fearful around people, especially men, which was understandable given what'd she'd been through," they explained.
The once-traumatized pup eventually became a firm favorite among staffers and volunteers, but the process took years. As a senior dog requiring to be the only pet in a household owing to her past, Tatiana struggled to find an adoptive family.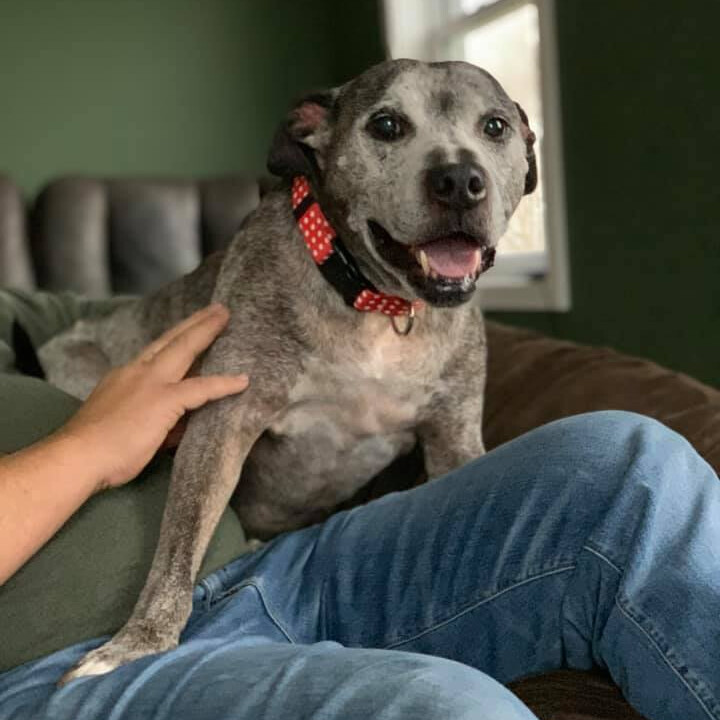 After nine long years at the shelter, an experienced Mackenzie's volunteer named Michelle stepped in to save the day. Michelle offered to "permanently foster" Tatiana full-time, alongside her husband, and it was the perfect fit.
"After everything Tatiana has been through, she'll now get to spend her golden years in a loving home," said the shelter.
While Tatiana has found the happiness she deserves, CAHS do not feel her past abuser's punishment fit his appalling crime. "Her abuser was found," CAHS posted on Facebook, "pleaded no-contest to a misdemeanor animal abandonment charge, and only spent 44 days of his 93-day sentence in jail."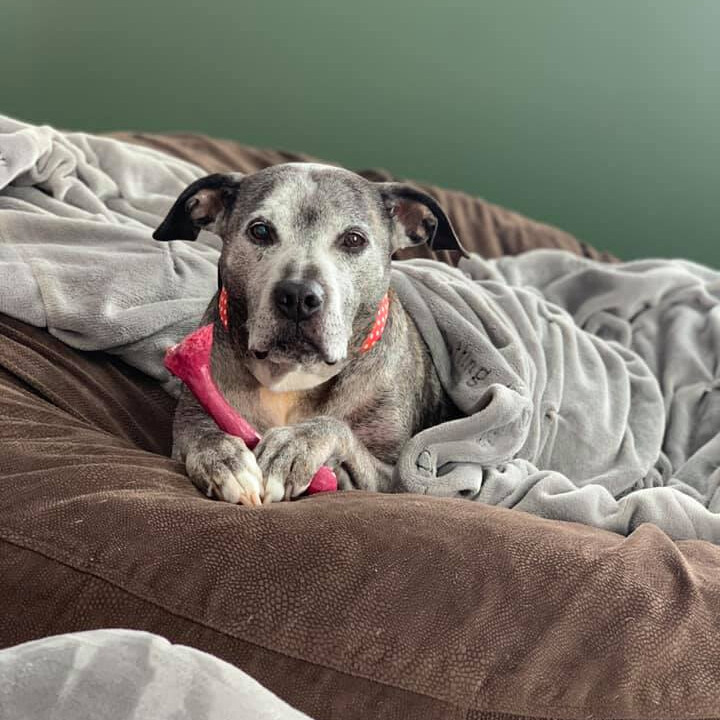 He was also ordered to pay $10,000 in fines and restitution to CAHS for Tatiana's 18-month rehabilitation, but they never received the money.
Despite all that, in the end, staffers rejoiced, declaring that "love wins!"
"She is one amazing girl that has come such a long way and has touched the hearts of so many," wrote CAHS, sharing Tatiana's story on their website. "All our staff and volunteers are over the moon that Tatiana will finally know what being in a forever home feels like!"
Share your stories with us at emg.inspired@epochtimes.com, and continue to get your daily dose of inspiration by signing up for the Epoch Inspired Newsletter here: TheEpochTimes.com/newsletter